Do you love to vacation outdoors? RVs and boats can make for relaxing and fun-filled holidays, but most people cannot or would rather not unplug completely. You will likely need some small appliances, but how should you power them?
By pairing 200-watt solar panels with batteries, you can acquire a surprising amount of power. Imagine running all of your small appliances with clean energy and not spending a penny on electricity from the grid. 
Did that catch your attention? Then, keep reading to discover the details, including:
How much power can I get from 200-watt solar panels?
The importance of batteries
What can a 200-watt solar panel power?
Is a 200-watt solar system enough?
200-watt solar panels outrank all other sizes because they provide a happy medium between size, power output, and cost.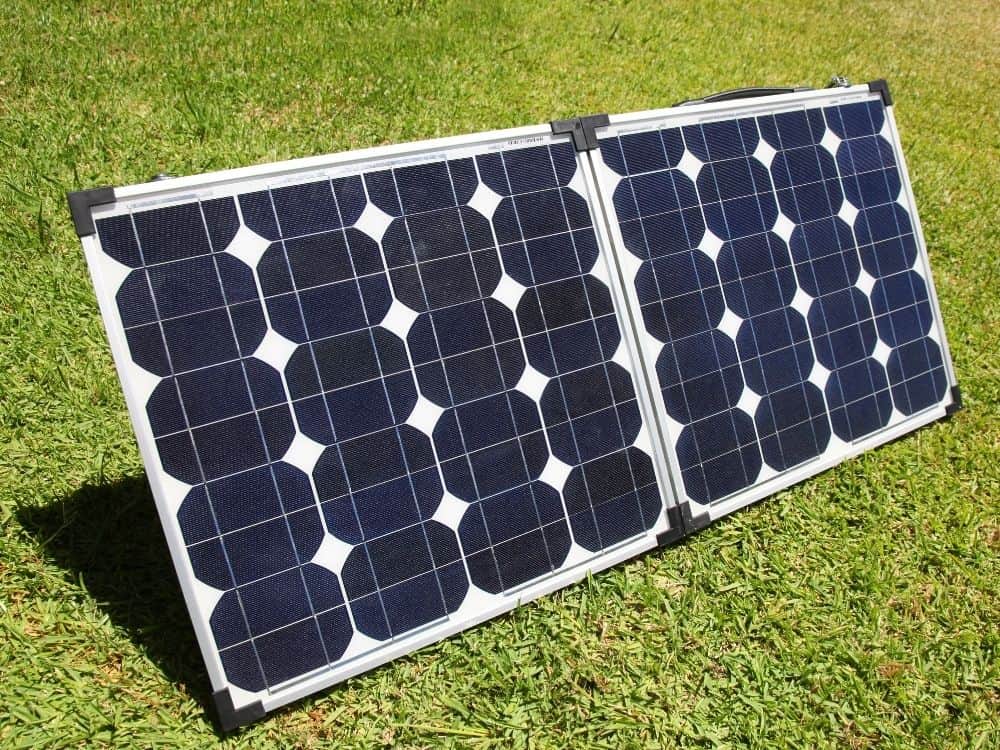 What Can I Power with a 200-Watt Solar Panel?
Although 200-watt solar panels are best suited for outdoor adventures, a system of 200-watt solar panels is also an option for some homes. Many variables are involved in switching to green energy, and educating yourself is the first step.
Read on to learn about these topics and more:
How batteries are involved
How many volts and amps are produced by 200-watt solar panels
Which appliances a 200-watt solar panel can run
How homes can use 200-watt solar systems
Are you ready to go green without sacrificing the quality of your everyday life? Learn more below. 
How Much Power Can I Get From 200-Watt Solar Panels?
Unfortunately, 200-watt solar panels provide an average of 160 watts per hour, not 200. This solar panel gets its name because, theoretically, it can provide a maximum of 200 watts per hour. Likewise, a 500-watt solar panel does not truly produce 500 watts per hour, and so forth.
To provide 200 watts per hour, a solar panel would have to be exposed to direct sunlight for eight hours every day, without any losses in transmission. 
It is impossible to assume that any location, during any season, would receive enough sunlight day after day. Additionally, generating and transmitting power requires a portion of the wattage produced. 
If we assume that a solar panel receives eight hours of direct sunlight on a perfect day, it will produce 1,280-watt-hours in a day.
Voltage and Amps
Average 200-watt solar panels provide 12 volts of electricity, but some can give as much as 25 volts.
They also provide 8 DC amps and 1.66 AC amps every hour if you assume 8 hours of direct sunlight.
What Can a 200-Watt Solar Panel Power?
100-Watt solar panels can run many small appliances, including these listed below. 
Can I Run a Fridge?
Although you cannot run a full-sized refrigerator using one 200-watt solar panel, you can run some smaller options. 
A mini-fridge or dorm fridge that is 80 to 100 watts can run off a 200-watt solar panel, but you will need a battery. This option is perfect for those vacationing in an RV.
Small Appliances
Let's take a look at a couple of examples. Assuming the average number of watts per hour is 160, and you are using the solar panel on a bright day with 8 hours of sunlight, you will have 1,280-watt-hours in a day. With this, you could run:
3 LED light bulbs for 5 hours (a total of 90W)
A laptop for 2 hours (a total of 200W)
A phone for 3 hours (a total of 60W)
A WiFi router for 8 hours (a total of 160W)
A TV for 3 hours (a total of 450W)
An electric fan for 5 hours (a total of 200W)
This scenario requires 1,160 watts throughout the day, providing a small buffer in case there is less direct sunlight than expected. 
If you are hoping to add a couple of additional appliances, your situation may look like this:
A coffee maker for 10 minutes (a total of 167W)
A microwave for 20 minutes (a total of 209W)
A phone charger for 2 hours (a total of 12W)
2 LED light bulbs for 4 hours (a total of 48W)
A laptop for 1 hour (a total of 100W)
A phone for 3 hours (a total of 60W)
A WiFi router for 6 hours (a total of 120W)
A TV for 2 hours (a total of 300W)
An electric fan for 4 hours (a total of 160W)
This scenario requires 1,176 watts throughout the day. Once again, you'll have a small buffer. 
Keep in mind that neither of these scenarios includes a fridge. If you want to run an 80W mini-fridge alongside other appliances, you will need an additional solar panel.
RVs
If you plan to run your RV on 200-watt solar panels, you will need batteries. After 12 hours of 50% sunshine, a solar panel this size will fully recharge the batteries. 
Portable solar panels make powering RVs easy because they allow you to park in the shade while the solar panel receives direct sunlight.
Plus, using solar panels benefits the very nature in which you love to vacation. 
Boats
Boats are perhaps the most obvious choice to pair with solar panels. Because a boat is exposed to direct sunlight without any shade nearby, you will rarely have to worry about having too little power. 
Additionally, 200-watt solar panels are the best size for a boat. They are compact, but they provide plenty of power for the appliances on board. 
Recommended Fixed 200 Watt Solar Panel
SALE
Renogy 200 Watts 12 Volts Monocrystalline RV Solar Panel Kit with Adventurer 30A LCD PWM Charge Controller and Mounting Brackets for RV, Boats, Trailer, Camper, Marine, Off-Grid Solar Power System
[Wide Application] 800Wh daily output depends on the 4 hours sunlight availability. This panel is suited for applications that require a smaller footprint, making it a favorite for those with RVs, campers, caravan, boat, Green house and more!
[Excellent Performance] 21% High solar cell efficiency. Corrosion-resistant aluminum frame for outdoor use, allowing the panels to last for decades as well as withstand high winds (2400Pa) and snow loads (5400Pa).
[Multiple Protection] The Renogy Adventurer-Li is a 30A PWM solar power charge controller that is designed for aesthetically clean flush mounting on RV or camper walls. It can prevent the battery from over charge, over voltage, discharge and short circuit, reversed polarity protection.
Recommended Flexible 200 Watt Solar Panel
Recommended All-In-One Solution 200 Watt Solar Panel + Power Station
BLUETTI AC200P Portable Power Station with Solar Panel Included 2000W Solar Generator Kit with 3pcs 200W Foldable Solar Panel, 6 120V AC Outlet Lithium Battery Backup for Home Use Outdoor Camping Van
【Portable Power Station with Solar Panel Included】1*BLUETTI AC200P solar power station (2000Wh/2000W,surge 4800W) and 3 Pcs 200W foldable solar panels(BLUETTI SP200, MC4 solar charge cable length 118inch) , all the accessories for BLUETTI AC200P( 1*AC Adapter Charger*1,Solar Charging Cable(MC4 to XT90,about 67inch)*1, Car Charging Cable(Car to XT90)*1,XT90 to Aviation Plug(input)*1, Manual*1
【BLUETTI AC200P 2000Wh Power Station】-Solar/AC/Car/Generator/Lead-acid Battery Recharge: Wide 35-150V/Max.700W/12A solar Input, MPPT, allowing full recharge AC200P within 3-3.5Hrs(Only if Max.700W solar input). About 5.5Hrs to fully recharge it by One 400W AC adapter & supports 3Hrs by dual AC adapters (need to buy the 2nd adapter+DC7909 to XT90 cable separately).You can fully recharge it by 24V/12Vcar in about 10Hrs/20Hrs. AC+PV recharge AC200P simultaneously in about 2.5Hrs.
【BLUETTI 200W Solar Panel】It's made of high qualified monocrystalline silicon cells which is 5% higher efficient than traditional monocrystalline. It features with ETFE lamination thus has better light transmittance, more durable, scratch-proof, and easy to clean by wet cloth. Foldable design with handle, weight only 14.3lbs. Convenient to carry around for outdoor camping. Easily adjust the angle by the kickstands for better solar absorption.
Batteries and 200-Watt Solar Panels
Batteries are crucial when you rely on solar panels for electricity because they provide emergency support. In addition, on particularly sunny days, solar panels can transfer excess energy into batteries, which you can use on a rainy or cloudy day. 
What Type of Battery Do I Need?
You can pair your 200-watt solar panel with Lithium Phosphate batteries or sealed lead-acid batteries. Manufacturers suggest using a 12-volt 40Ah 500-watt-hours battery either way.
If you are on a budget, you may have to choose lead-acid batteries. These function well and are the cheapest, but they are heavy, require a good deal of maintenance, and you must place them in areas with good ventilation.
Lithium batteries are more expensive but well worth the benefits if you can afford them. They are lightweight, rarely require maintenance, and can be placed in areas with no ventilation.
Is a 200-Watt Solar System Enough?
200-watt solar panels are ideal for RVs and boats, but they may not be powerful enough for your home. Most homes and businesses use 250 to 365-watt panels. Therefore, you would likely need to make some cutbacks if you decided to run your home with 200-watt solar panels.
Most solar systems for houses include 20 to 25 panels. Unfortunately, unlike your chosen vacation spot for an RV or boat, your home is unlikely to get an average of 8 hours of sunlight all year. 
How Much Sun Does a 200-Watt Solar Panel Need?
Assuming 5 hours of peak sunlight and 160 watts per hour from each panel, a 200-watt solar panel can provide 800-watt-hours every day. A system of 25 of these panels can produce 20,000-watt-hours per day. 
Most heaters require 1,500 watts per hour and run about 6 hours a day, which adds up to 1,368,000 watt-hours per year. An AC unit will require an average of 2,000,000 watt-hours per year. 
If you wanted to use both a heater and AC unit with your refrigerator, you would need to choose a smaller refrigerator rated at about 350 watts per hour. To use this fridge all day for an entire year, you would need 3,066,000 watts hours per year.
When you combine heat, AC, and a fridge, you require a total of 6,434,000 watt-hours per year. Luckily, a system of 25 200-watt solar panels receiving an average of 5 hours of daily sunlight will produce 7,300,000 watt-hours per year.
Thus, you will be left with 866,000-watt-hours per year to power small appliances, such as microwaves, coffee makers, TVs, and WiFi routers.
As you can see, using a 200-watt solar system for a home is possible, but you would be unable to leave the TV on all day, and you would require a smaller fridge, along with other restrictions.
Why Consider a 200-Watt Solar System?
Although they are small, 200-watt solar panels can be very powerful. The combination of this compact size and strong power output have made them quite popular. 
There are many things to consider when changing the source of electricity for a vacation or your home, but calculations like those above can help you find a solution. 
Once you know certain variables, such as how many hours of daylight your solar panel would receive and how much daily electricity you use, you can find the perfect solar panel.
Going green may not be easy, but it is possible and yields excellent benefits for the environment and your wallet. 
Sources