Our beloved sun provides us with free energy every single day, so why waste it? Many people in recent years have decided not to waste it by installing 12-volt and 24-volt solar panels to power up their homes, businesses, RV's, and more. 
Solar panels are those rectangular, shiny objects usually placed on rooftops that convert sunlight into electricity. 12V solar panels are ideal for smaller homes and buildings, while 24V panels are better for bigger installations. 
Environmental concerns raised by traditional energy usage drive some people toward solar panels, hoping to reduce their carbon footprint. Others get them to save money from energy costs, while some acquire them to do both—to preserve the planet and money in their wallets. 
These are some of the key points I will be covering, along with other solar panel information:
The process of converting solar energy into usable energy.
Differences between 12V and 24V solar panels.
How batteries are used to store energy.
Proper compatibility.
The amount of power you need will determine if a 12V or 24V solar panel is best for you. A variety of solar panels available can be overwhelming and create some confusion, but it is paramount to know which one fits your needs best before making any purchases.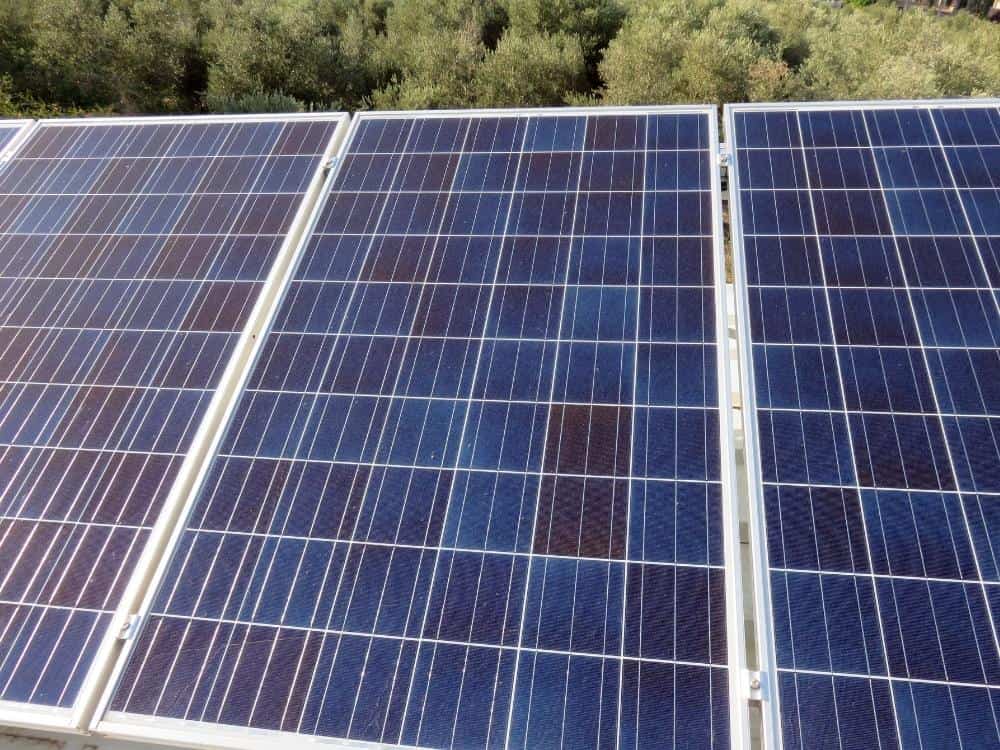 Are 24V Solar Panels Better Than 12V Ones?
24V solar panels can certainly provide more power than 12V ones, but that doesn't mean they are better. Both excel in different scenarios and have advantages and disadvantages.
12V solar panels are more common because most home appliances operate with a 12V power system. That fact alone eliminates the need for 24V panels for some people. 
Bigger homes and commercial buildings that require heavy loads of energy would be better suited with 24V panels. 
Many important factors can affect the performance of both solar panels, so let's look into how solar panels work first.
Why Some Solar Panels are 12V and 24V
The voltage of a solar panel determines how much power it produces and is usually located on the rear panel if you're not sure. 
Plenty of small photovoltaic solar cells that convert sunlight into electricity are linked together to form a solar panel. 12V panels contain 36 cells, while 24V ones have 72. 
Those photovoltaic cells absorb tiny particles of light from the sun – called photons – when sunlight comes in contact with the solar panel and turns them into direct current (DC).
Most homes use alternating current (AC) to power their homes, so inverters are usually required to convert the DC electricity into usable AC energy.
The AC electricity flows from the inverter to an external circuit that distributes the power within your home. Solar-generated electricity is now available for powering your light switches, fridge, televisions, and most home appliances. 
12V Solar Panels
12V solar panels are a popular, versatile choice for small off-grid homes, most of their appliances, and some vehicles. They can provide enough power for cabins, offices, street lights, phones, laptops, refrigerators, cars, boats, RV's, and more. 
Some people find 12V solar panels appropriate for their lifestyles, while others might find them quite limited. They are also cheaper to buy upfront than 24V panels, but 24V panels might save you more money in the long run. 
They are available in 10, 20, 40, 50, 125, 160, and 180 watts. 
Pros 
Works with most batteries, devices, and home appliances
Most common solar system with components widely available for repairs 
Light and easy to transport
Ideal for small buildings and DIY projects
Cons
Lower voltage means it loses more heat
Can only work with other 12V appliances
24V Solar Panels
24V solar panels look similar to 12V panels but are bigger and contain twice as many solar cells, with a total of 72 cells. They can still be installed in many places, despite their bigger sizes. 
They can produce much higher voltages that range between 1,500-2,000 watts. 
These powerful panels are ideal for bigger houses with higher energy needs and commercial buildings that need large amounts of electricity flowing all day, like hospitals, hotels, and banks. 
Pros 
More heat efficient and powerful
Can supply power for appliances of different voltages, including 12V
Saves you more money in the long run
Voltage drop is low
Cons
Expensive to pay upfront
Harder to find replacement parts because they are not as common
What is the Advantage of a 24V Solar Panel Over a 12V Solar Panel? 
As mentioned above, the biggest advantage to using a 24V panel is the amount of power you'll produce.
Not only will your system be more heat-efficient, but if you've got a bigger house that requires more energy, you're going to have a much easier time powering it with a 24V panel and battery than a 12V. 
This doesn't make a 24V system any better than a 12V one, but it does make it more powerful. Of course, the downside to needing that extra power is that 24V panels and batteries may not be as easy to find (and not as easy on the wallet). 
Similarities Between 24V and 12V Solar Panels
We've already covered the differences between these panels above, as well as which may be appropriate for your lifestyle, but are there similarities between them?
As it turns out, yes, there are a couple of similarities you can count on, regardless of which system you buy: 
Both systems can be cost-efficient, depending on how you plan to use them. 24V panels tend to be cheaper for bigger installs, while 12V are much more budget-friendly for smaller setups. 
They both produce varying levels of power that you can use to charge appliances, either in residential areas or commercial buildings.
Each system has relatively low heat loss for its size and power.
Both types of panels are fairly easy to transport and install, with most 12V panels being a little more lightweight than 24V panels. 
Generally, voltages should match with panels and batteries, and each panel type comes with a matching battery (such as 12V batteries or 24V batteries).
What to Keep In Mind About 12V and 24V Solar Panels
Solar panels and batteries need similar ratings to work together. That means that 12V panels should be used with 12V batteries, and 24V panels should be used with 24V batteries. 
Unfortunately, 24V batteries are not widely available in the market, but you can get the same results by using two 12V batteries in a series connection.
The same compatibility rules for batteries should also apply for inverters and charge controllers used with 12V and 24 V solar panels. 
So a 12V solar panel should operate with a 12V battery, a 12V inverter, and a 12V charger. Same for 24V solar panels. 
Solar Panel Voltage FAQ's
Here are the answers to some common questions about 12V and 24V solar panels. 
Can I use a 24V solar panel to charge a 12V battery?
Yes, you can charge a 12V battery with a 24V solar panel, but it is not recommended. Solar panels and batteries perform better when their voltages match. You can also overcharge and damage your battery if the solar panel is too big and without voltage regulation in place.
What is the best voltage for solar panels?
12V, 24V, and 48V are the most common types of panels for a solar system, and the ideal one will depend on the size and energy usage of the building you plan on installing them. 
Matching voltages should be set up for your whole solar system, so 12V batteries should operate with 12V panels. 
12V panels are better for small homes, RV's, and DIY projects, while bigger buildings that demand higher energy usage work best with 24V panels or higher. 
Are 24V inverters better than 12V?
No, a 24V inverter doesn't necessarily mean better  – in fact, the best inverter will be one that matches your energy needs and components. A 24V battery will perform best with a 24V inverter. 
Why does the military use 24V?
Heavy-duty military vehicles use the 24-volt system because their highly-compressed diesel engines require powerful starters. The 24V system is also more reliable with fewer voltage drops and ensures radio compatibility. 
Can you wire 12V solar panels to 24V?
As mentioned previously, it is possible to wire 12V solar panels to a 24V system  – but you'll need to wire them in a series, not separately. Two 12V solar panels equal a 24V system, so you can expect the same amount of power you'd get with a single 24V panel. Keep in mind that if you do choose to do this when you connect them in a series, it's usually ideal to connect them in a parallel arrangement. 
Sources: