Solar Power in the wild is a major portion of Adventure Kings' product line. The brand offers an extensive line of typical mobile solar products, as well as some unique items.
If mobile power is what you need, Adventure KINGS may have the solar products you are looking for.
Mountable Solar Panels
Solar Blankets
Mobile Solar Power Kits
Solar Components
Quality and Customer Care
Whether you want to mount an array to the rack on your SUV's roof or carry one to your campsite, KINGS can provide the tools you need.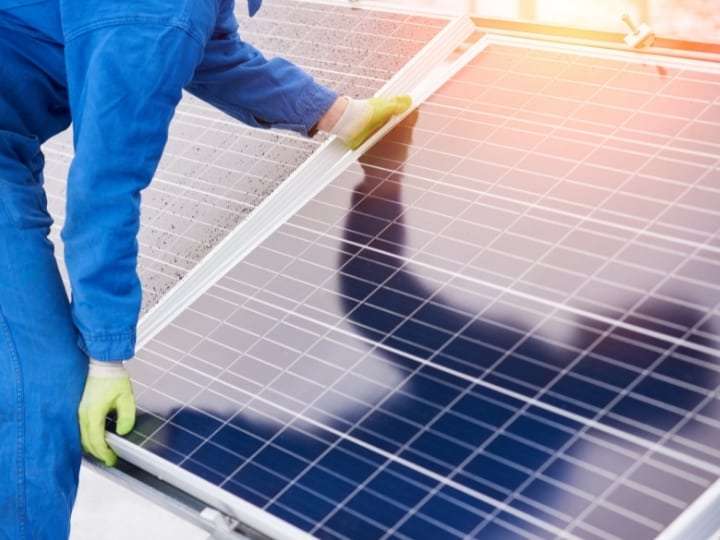 Kings Solar Panels Device Overview
Kings markets panels ranging from 10-watt device chargers to 250-watt portable Solar Blankets. Since Kings does not actually manufacture the products, the product line does fluctuate based on availability.
Rigid Solar Panels
If you feel comfortable moving rigid panels Kings has a few options. All units are 12 volts, monocrystalline panels with aluminum frames. 1-year Warranty.
See also: 5 Best Solar Panel Companies (Top Panels Compared)
110 Watt Rigid Panel
Max Volt = 18.2 Volts
Max Current = 6.04 Amps
Open Circuit Voltage = 21.5 Volts
Short Circuit Current = 6.49 Amps
Dimensions – 1005mm x 670mm
Weight = 7.4 kg
Cable Length = 1 meter with MC4 Connector
Mounting hardware is available for rack mount.
160 Watt Folding Rigid Panel
The 160 Watt Panel includes an MPPT Charge controller, Anderson Style and alligator connectors, and adjustable legs.
Max Volt = 17.6 Volts
Max Current = 9.1 Amps
Open Circuit Voltage = 21.0 Volts
Short Circuit Current = 9.96 Amps
Dimensions – Open = 1340 mm x 670 mm Folded = x 670 mm x 670 mm
Weight = 13.1 kg
Cable Length = 4.4 meters
250 Watt Folding Rigid Panel
The 250 Watt Panel offers two built-in Charge Controller options: PWM and MPPT. Both units include a 4.4-meter cable, alligator connectors, and adjustable legs, and a carry bag.
Max Volt = 18.2 Volts
Max Current = 13.74 Amps
Open Circuit Voltage = 22.3 Volts
Short Circuit Current = 14.62Amps
Dimensions – Open = 1060 mm x 1400 mm Folded = 1060 mm x 680 mm
Weight = 19 kg
Cable Length = 4.4 meters
Solar Blankets
Solar Blanket is the term Kings used to name their fold-up solar arrays. The fold-up units range from a 10-watt Personal Device Charger to a 250-watt array.
10 Watt Fold Up Device Charger
The 10 Watt charger is housed in a rugged plastic cover. It has a single USB port that enables charging of phones, tablets, radios, etc. The unit it lightweight. Includes a carabiner for hanging and suction cups for mounting in a window.
Max Volt = 5 Volts
Max Current = 1.65 Amps
Open Circuit Voltage = 6.72 Volts
Short Circuit Current = 1.85 Amps
Dimensions – Open = 320 mm x 250 mm Folded = 160 mm x 250 mm
Weight = 480 kg
KINGS Full Product Details
KINGS 120W Solar Blanket With PWM Regulator
The 120 Watt Blanket offers two built-in Charge Controller options: PWM and MPPT. These units are made from semi-flexible solar panels.
Sections are joined with heavy fabric, which makes it easy to fold and set up. Flexibility allows the blanket to lay on uneven surfaces.
Connectors include Anderson-style plugs and alligator clips. Everything fits into a convenient transport bag.
Max Volt = 17.8 Volts
Max Current = 6.75 Amps
Open Circuit Voltage = 20.8 Volts
Short Circuit Current = 7.54 Amps
Dimensions – Open = 1540 mm x 510 mm Folded = 510 mm x 400 mm
Weight = 4.9 kg
Cable Length = 4.4 meters
The Kings 120W Solar Blanket with PWM Regulator is a must-have for anyone who spends time outdoors. It provides continuous power to your devices, even when the sun goes down or if you find yourself caught in a storm.
This blanket is perfect for camping trips and hiking adventures because it has built-in hooks which allow you to hang it wherever there's sunlight so you can charge up at any location.
Just Fold It Out and Start Charging
If you're looking for a portable, lightweight, and easy-to-use solar blanket that will charge your batteries, then the KINGS 120W solar blanket is perfect.
The blanket can be folded out quickly and easily to start charging within seconds of exposure to the sun.
It's also designed with a reflective surface which means it has an extra-large charging area to charge more power cells at once.
It's Lightweight and Compact
If you're looking for a lightweight and compact solar blanket to keep your campsite warm, KINGS 120W solar blanket with PWM regulator might be the best option. This blanket is a durable polyester fabric with a reflective surface that provides heat retention.
It's also easy to fold and light enough for backpacking, making it perfect for camping trips into the mountains or anywhere else where weight matters.
Made With High-Quality Monocrystalline Solar Cells
Kings 120W Solar Blanket is a high-quality monocrystalline solar blanket. The cells used in the blanket are of the highest quality and are designed to last for decades without degradation.
Kings 120W Solar Blanket has an impressive efficiency rate. This means that it will generate significantly more power than any other type of solar panel or blanket on the market today.
It can be used in both residential and commercial settings because it generates enough energy to meet your needs at all times while being lightweight, durable, and easy to install.
Comes With a PWM Controller and All-In-One Kit
The included Pulse Width Modulation (PWM) controller that comes with KINGS 120w Solar Panel regulates voltage and charges devices safely.
The kit also includes a 4.4m extension cable and alligator clips to make connecting the solar blanket to your battery or box easier.
KINGS 250W Premium Portable Solar Panel
The 250 Watt Blanket offers two built-in Charge Controller options: PWM and MPPT. Sections are made of semi-flexible solar panels.
KINGS 250W Solar Blanket with 20A MPPT regulator is a perfect solution for anyone looking to charge their mobile devices on the go.
This blanket can be easily packed and carried without taking up too much space with its foldable design. After all, you never know when you might need it.
The KINGS solar blanket's built-in 20A MPPT regulator ensures that your device will receive the most power possible while charging from this portable solar panel.
This model also comes equipped with Anderson connectors, which allow for more versatility than traditional MC4 connectors and are compatible with many different types of connections.
Offers the Best Of Both Worlds
The solar blanket is an ultimate camping power option – combining the best features of both a traditional and folding panel. When packed down, it's compact enough for easy transportability while still providing you with so much electricity.
Offers Shingle Cell Technology
The blanket utilizes Grade A monocrystalline shingle solar cells. Each cell is slightly overlapping, like a tiled roof, which means there is improved actual area on each panel – there are no gaps between rows or cut-off corners.
This unique design allows for a significant increase in efficiency over conventional panels as well as increased durability during harsh weather conditions such as rainstorms and snowstorms because they're more efficient at handling water damage without fail.
Includes an MPPT Regulator Which Ensures 99% Efficiency
MPPT (Maximum Power Point Tracking) regulator helps distribute power from solar panels evenly, ensuring that all cells receive light exposure for maximum output without overloading any one panel.
The result is increased performance and reduced electrical loss.
An MPPT regulator ensures that solar panels operate at an efficiency level close to 99% and can produce up to 25% more electricity than a PWM controller. This means that your investment in solar is repaid faster with less maintenance.
Sections are joined with heavy fabric, which makes it easy to fold and set up. Flexibility allows the blanket to lay on uneven surfaces.
Connectors include Anderson-style plugs and alligator clips.
Max Volt = 19.8 Volts
Max Current = 12.6 Amps
Open Circuit Voltage = 22.68 Volts
Short Circuit Current = 14.2 Amps
Dimensions – Open = 2500 mm x 670 mm Folded = 670 mm x 550 mm
Weight = 14.9 kg
Cable Length = 4.4 meters
The KINGS 250W Premium Portable Solar Panel is perfect for any outdoor enthusiast looking to extend their off-grid adventures. The solar panel provides up to 250 watts of power, allowing you to charge your electronics on the go.
It weighs 19 KG and folds into a 1060 x 700 x 65mm size that can be easily carried. Its powerful portable design makes it great for camping trips, hiking, fishing expeditions, and more!
This solar panel has an efficient sun-tracking system, which means less time waiting around for things to charge up.
Offers High Output
KINGS 250W Premium Portable Solar Panel is a high output, portable solar panel. It can be used to charge laptops, tablets, and other devices with 20amps of power.
Its voltage at Pmax is 18.2V, current at Pmax 13.74A, and open-circuit voltage of 22.3V.
Has a Built-In MPPT Regulator
The KINGS 250w solar panel is a great purchase for looking for an affordable and efficient way to generate power while on the move.
The panels use the built-in MPPT regulator to regulate charge and ensure that your panels will be up and running all day long.
Offers Easy Positioning With Fold Out Legs
Have you ever been in a situation where you needed to set up your solar panels quickly and with no tools? Or have you ever wanted to place your solar panels on the ground but couldn't because it was too rocky or uneven?
The KINGS 250w Solar Panel has Fold-out legs that allow for easy positioning. This is great for those who want to position their solar panel at an angle or live in areas with unstable terrain.
Includes a Heavy-Duty Transit Bag
In a world where solar panels are becoming more and more mainstream, it's important to find a way to make them portable.
KINGS 250w is one of the most portable panels on the market. Its heavy-duty transit bag makes it easy to transport from location to location.
KINGS 160W Fixed Solar Panel
Kings 160W vehicle mountable Fixed solar panel is a great way to generate power when off the grid. It can provide up to 168 watts of energy.
The unit is designed to be mounted on vehicles, RVs, boats, or any other type of vehicle where it might not be feasible or convenient to run wires from an electrical outlet.
The Kings 160W vehicle mountable Fixed solar panel provides clean, renewable energy in all weather conditions with no noise pollution and no emissions.
Ideal For Permanent Power Setups
It's not uncommon to find yourself in the wilderness or off-grid for an extended period of time. It would help if you had a power supply that is reliable, durable, and flexible for your needs.
There are many solar panel options on the market, but KINGS 160W vehicle mountable fixed solar panel for permanent power setups has some unique features which make it stand out from the rest.
The most important considerations when making this purchase are durability and efficiency.
These panels deliver up to160 Watts while keeping their voltage constant over time with minimal degradation in power output due to weather conditions such as snow, rain, wind, etc.
Made From Grade A Monocrystalline Solar Cells
Kings 160W Fixed Solar Panel has Grade A Monocrystalline Solar Cells. This means that it is made of the most efficient solar cells on the market, which are more expensive to produce but have a longer lifespan and provide better energy output.
Includes Stainless Steel Mounts
KINGS 160W Fixed Solar Panel with its mountable solar panel is easy to place in an area where sunlight reaches it most and gets your power from the sun. It has a stainless steel mount, which makes it durable and rustproof.
You can use it for years to come without worrying about corrosion or other issues.
Solar Energy Packs
One of the unique aspects of Adventure Kings is their Solar Energy Packs. The packs come with everything you need to start a solar camp system:
Panels
batteries
charge controller
inverter
required cables.
Various power level kits, with folding or fixed panels, are available.
Of course, all charging components, inverters, cable sets, and batteries, are available individually.
Solar Camp Components
As primarily a camping supply company, Adventure Kings also provides a wide array of solar-powered camp devices.
The devices are highly efficient and run on 12-volt power. Everything from lights to refrigerators, and even some power tools finds its way into The Adventure Kings lineup. All the novelty is part of the brand's appeal.
Customer Care
Product Quality VS Novelty
The Adventure Kings has been providing low price, good-quality camping equipment since 2012. Their focus is on giving the customer a useful product at a reasonable price.
They also tend to push the envelope where solar technology is involved. While this is a fun and noble pursuit, it can backfire.
THE GOOD
Good quality on tried technology.
Nice prices on standard items.
Let's folk try solar camping without breaking the bank.
THE BAD
New technology is not always reliable.
Sometimes low cost equals low quality.
Failed devices can ruin a good trip.
In defense of The Adventure Kings, there have been occasions in which good-selling products have been discontinued by the company due to poor performance.
In several cases, these products re-appeared in the future with improvements in design and performance.
Customer Reviews of Kings Solar Products
Rigid Panels
When it comes to solar products, customer reviews of standard products have generally been favorable. The line of rigid solar panels, both fixed and folding, has a good reputation for reliability.
The one exception is concerned about the gauge of the cables on the units being a little light. If you have worked with low-cost solar panels, you know this is a common issue.
Since the panels are of lower power the light cables are adequate but feel a little flimsy.
Solar Blankets
One spot where Kings has gotten some poor reviews is with the 250 Watt Blankets. The units have a bad reputation for putting out very little, or no, power.
This is one item Kings has to take off the shelf at a time or two. Ironically, the 120 Watt Blanket has a fairly good reputation for being easy to put out, hook up, and put away.
However, even the 120 Watt units have some poor reviews related to the built-in charge controllers.
Other Kings Solar Components
The Kings line of Regulators, PWM and MPPT Charge Controller, Cable Sets, and AGM batteries all get good reviews. None of these devices are top-of-the-line or the newest technology.
They are, however, good, basic devices that do a good job at a nice price.
PROS
Nice Price.
A good way to start with solar.
A variety of products to choose from.
Usually a good product for the price.
CONS
The low price sometimes does indicate poor quality.
Can leave a bad memory of camping in the dark.
The NEAT product may be the one that does not work so neat.
Warranties
Kings have two warranties.
I Changed My Mind
First is the 30 Days I Changed My Mind Warranty.
This warranty allows the customer to return an item if they get it and decide they don't really want it. As long as it has not been used, it can be returned, no questions asked.
However, a refund is in store credit, not in cash.
2. 1 Year Manufacturer Warranty
The second, more significant warranty, is the 12 monthly, Defect in Design or Manufacturer Warranty. An online form is used to file a warranty application and the process takes place mainly via text and e-mail.
The item will be repaired or replaced if it is found that there is a flaw. Damage from use is not covered.
PROS
Can Change Your Mind – for 30 days.
1 Year – Manufacturer Warranty – Repair or Replace.
The warranty Application is online.
CONS
I Changed My Mind Warranty is Store Credit Only.
1 Year Warranty can be a long process.
Kings Solar Panels Overview
Overall, the Solar Products from The Adventure Kings appear to be worth a look. The company provides a good variety of solar devices of good quality at a nice price.
Whether you are an avid hiker, a solar power enthusiast, or want to help the environment by using renewable energy sources, King solar panels have something for everyone.
The key is deciding what your needs are before making any purchasing decisions to find the right panel.
As with any unique or unusual device, look at some reviews and steer clear if other customers are having troubles. Good Luck and Have Fun!