The Anker 555 is a great power station for anyone looking for a robust and reliable way to charge their devices. With its power-management technology, this device safely charges your electronics fast.
It's designed for portable power use at home or on a road trip. It's big enough to power most devices but not too heavy to move from your vehicle to a campsite.
Anker 555 provides up to 1024 watts of total output power and features five USB ports with dedicated current outputs that reduce charging times. There's also a five-year guarantee with Anker. But is the Anker 555 enough for you? Let's see.
I've tested the Anker 555 Power Station and Anker 625 100 watt Solar Panels, so I've put them through their paces to see if they really deliver.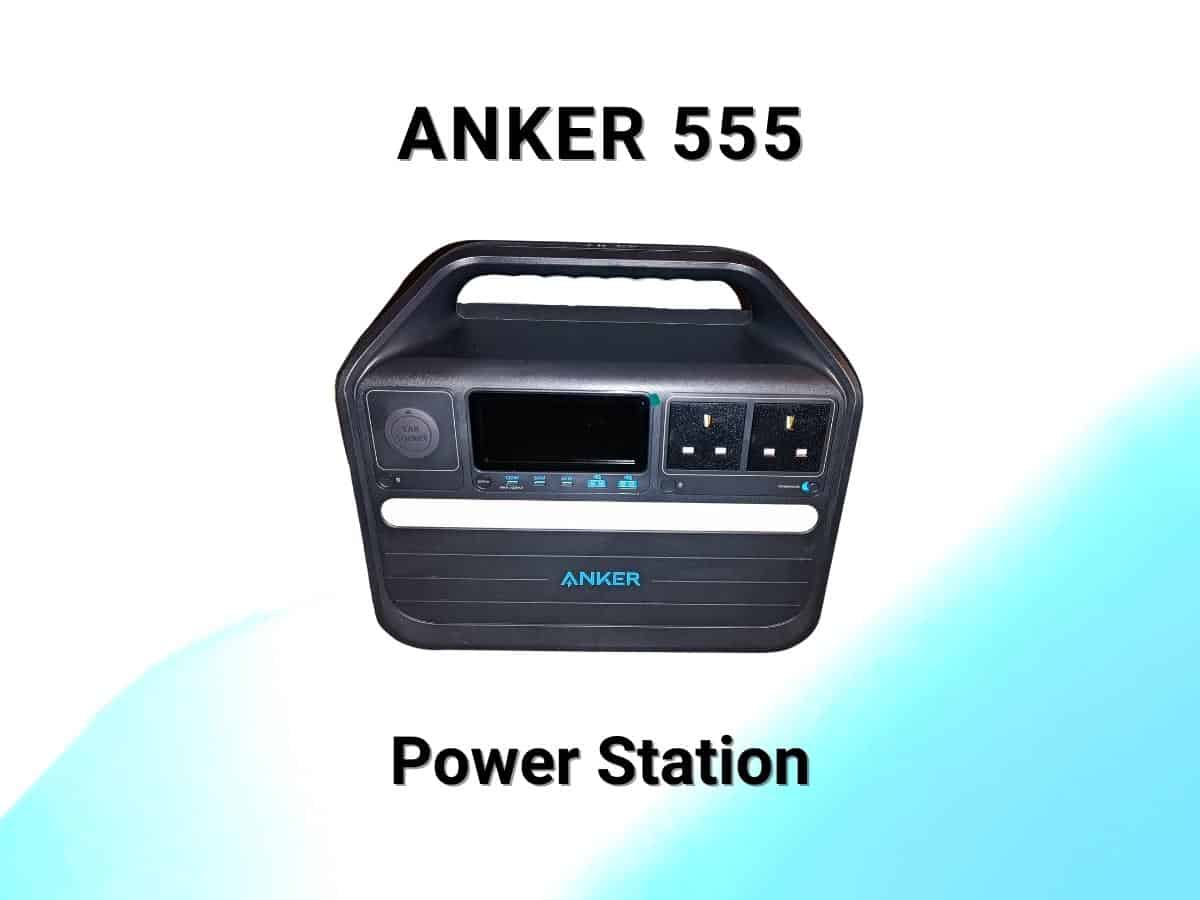 Anker 555 Power Station Overview
We need to take serious consideration when purchasing a power station, they are not cheap, and you want one that lasts for several years.
Fortunately, with the recent switch from lead batteries to lithium, we can safely say lithium batteries are the current technology and are here for the future.
There's nothing worse than buying a product for an update to come out the following year.
Here's our 5-point checklist;
Build quality – Is it designed and manufactured to last
Connections – Will we have enough for our general needs
Features – Does it tick all the boxes
Specifications – Is there enough power
Power – Will this power station power our appliances
Anker 5 Series
There are three products in Series 5 of the same design, with varying power and outlets.
Anker 521 – 256Wh at 200W
Anker 535 – 512Wh at 500W
Anker 555 – 1024Wh at 1000W
Today we will be looking at the 555. Let's take the Anker 555 out of the box to see what there is.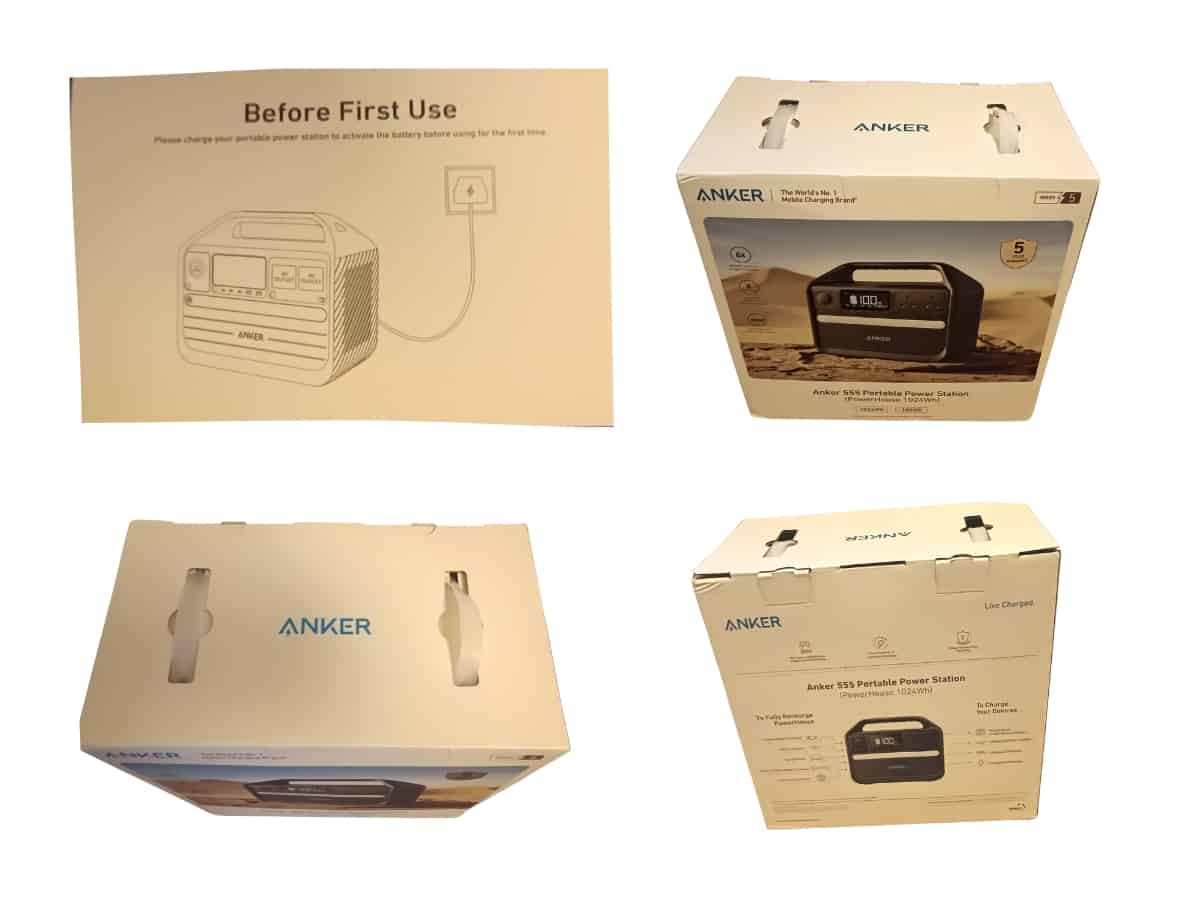 Build Quality
Handle
The handle across the top of the Anker 555 has enough room to get your hand in easily. It's solid and feels secure when carrying it.
I'm glad the unit can be picked up centrally, as I've seen other power stations with handles on two sides, which make them difficult to carry.
One thing that I would prefer is a rubberized grip. My power tools have rubber in the holding places which makes them secure. Instead, it's all plastic.
Buttons
The three buttons and switch have a nice feel and don't feel like breaking as with some products. They nicely press and slide, and you know they are activated. They are a little small, so you need to get them on point.
The car charging socket is sealed with a rubber plug, I guess to stop dust from entering. Some other manufacturers put rubber plugs in each inlet, which could be beneficial in dusty environments, but for me, they get in the way.
Base
Along the bottom of the Anker 555 are two thick strips of rubber. They are on the left and right, making the unit secure on the ground.
Packaging
The package arrived in store-bought condition. The outer cardboard box kept the nicely designed product box in perfect condition. The foam padding in the box kept all of the contents secure.
What's in the box
You get the main power station unit, the Anker 555, and a cable for each port. So we are not shopping again to get the unit running. It's all there.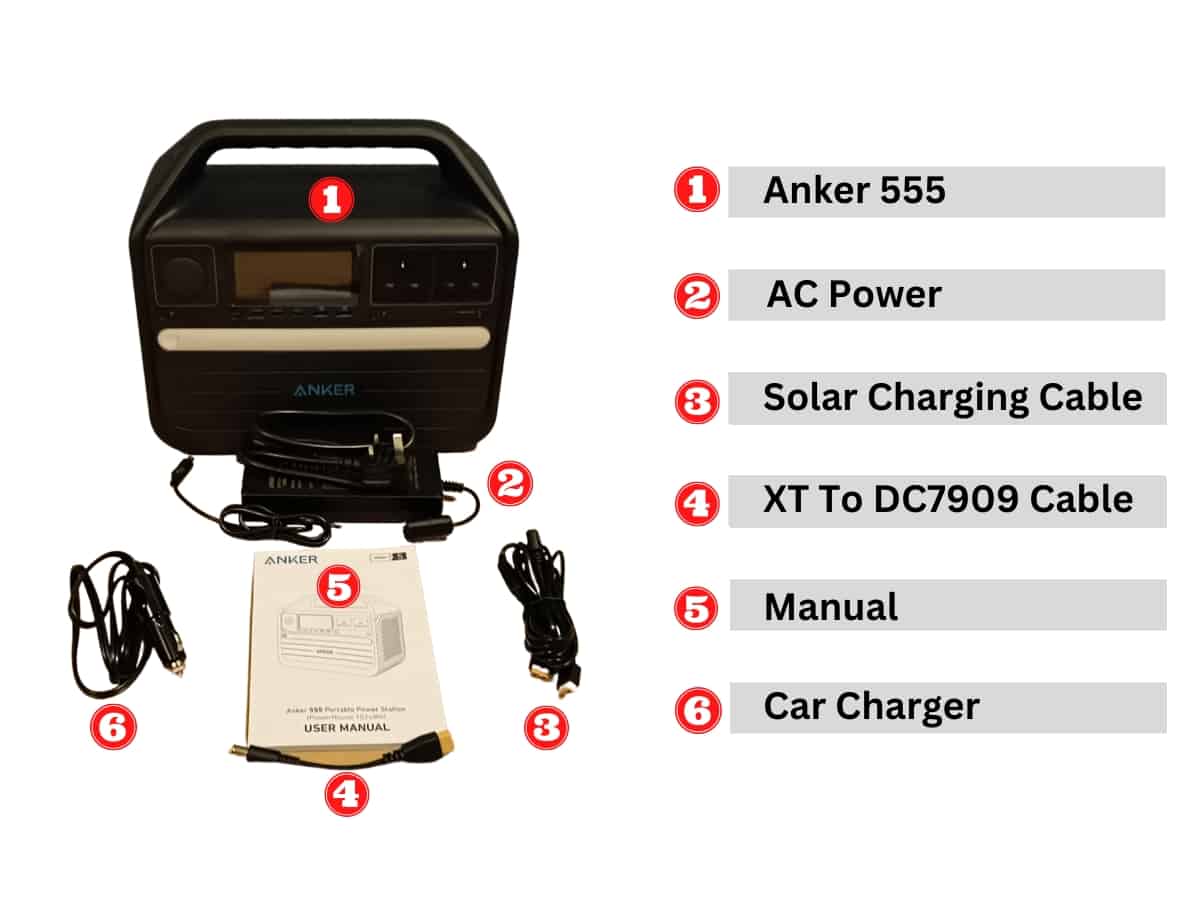 Connections
There are enough connections on the Anker 555 for my needs. It's nice to have the AC and two different types of USB connections.
The UK version is limited to two AC outlets due to the European power rating of 230 volts for outlets, whereas the US get six AC outlets because of their 120 Volts.
| | |
| --- | --- |
| connections | Number |
| AC Power (US version) | 6 |
| AC Power (UK Version) | 2 |
| high-speed USB-C 100W | 1 |
| high-speed USB-C 60W | 2 |
| Standard USB-A | 2 |
ANKER 555 Connections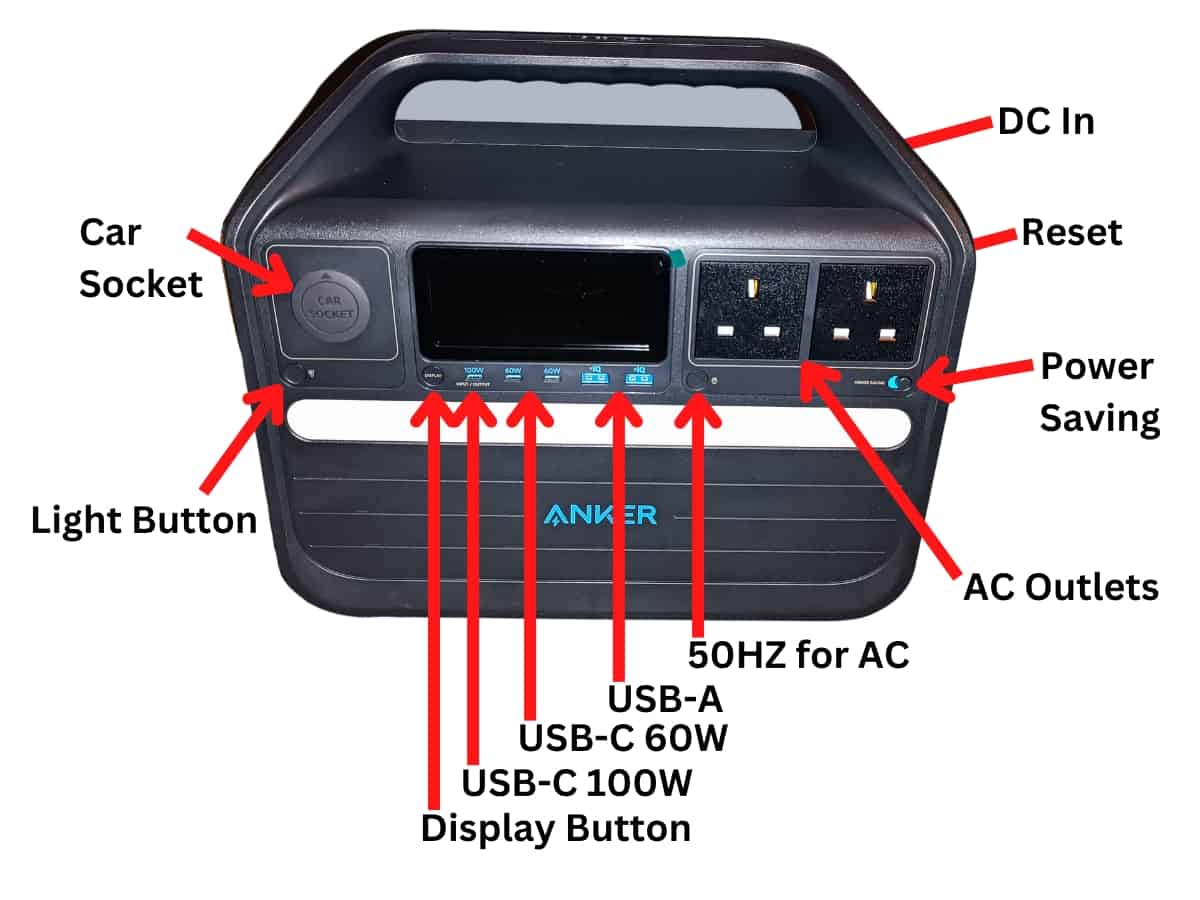 Features
| | |
| --- | --- |
| Features | Details |
| Capacity | 1024Wh |
| Wattage | 1000W |
| AC Recharge Time to 80% | 4.1 hours |
| Weight | 13.1kg |
| Battery Charge Cycles | 3,000+ (LifePO4 Batteries) |
| Warranty | 5 Years |
| Expected Life | 10 Years |
ANKER 555 Features
Display
The display on the Anker is bright with all the information you need. The main ones are the battery, shown as a bar and in percentage, with additional details along the bottom and top.
I prefer a more compact design with a smaller bar, allowing the other icons to be bigger. It's okay on a table, but it takes some effort on the floor to see what the input and output are.
However, it's great to see how much power is left from a distance and to know your power consumption so you can plan your day. The display shows;
Battery percentage + Bar
Incoming power in watts
Outgoing power in watts
Time to recharge
Power saving mode
Light on
50Hz set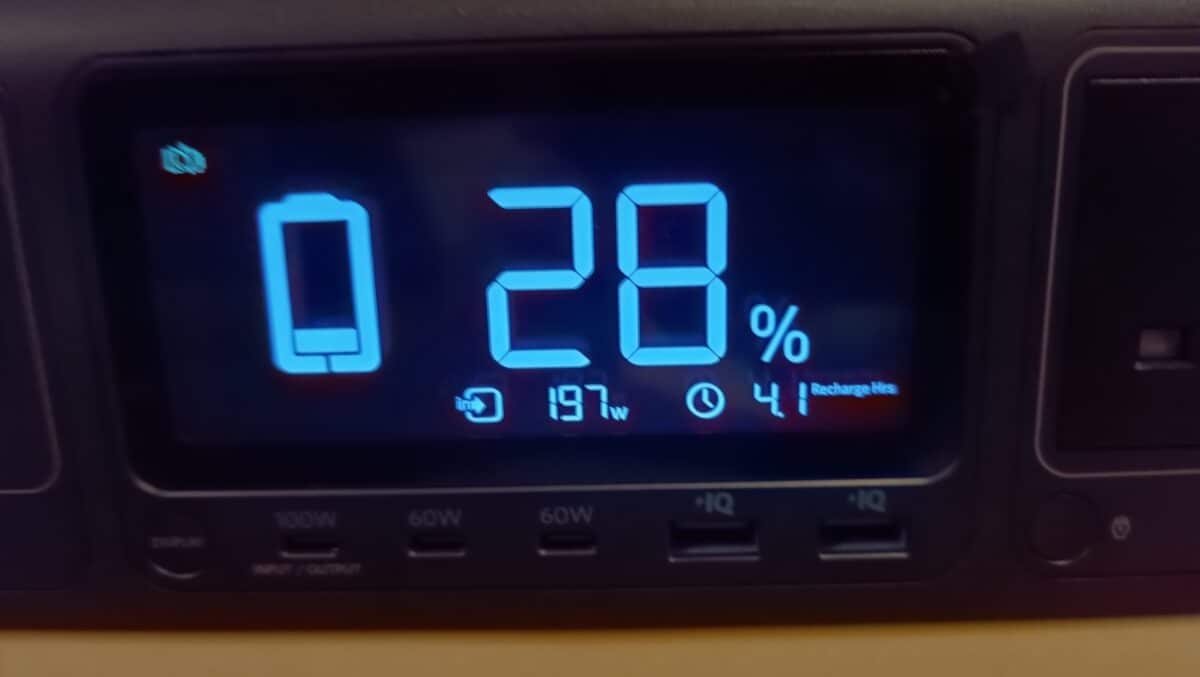 Anker 555 Specifications
Here are some of the more technical details. It's good to know the surge power, in incase the power station gets tripped out.
The USB-Cs also offer a high rating at 100W, and the temperature is standard – I keep the unit out of the sun if possible.
| | |
| --- | --- |
| Type | Ratings |
| Battery Capacity | 25.6V/40000mAh 1024Wh |
| AC Surge Power | 1500W |
| Solar Input | 2 x 100W IN PARALLEL |
| USB-C Input | 100W Max |
| USB-C1 Output | 100W Max |
| USB-C2 Output | 60W Max |
| USB-A Output | 2.4A Max Per Port |
| Car Charger Output | 12V⎓10A |
| Charging Temperature | 32°F-104°F / 0°C-40°C |
| Discharging Temperature: | -4°F-104°F / -20°C-40°C |
ANKER 555 Specifications
What the Anker 555 Power Station Can Power
Now, we need to know if the appliances that we have or are going to buy will be powered by the Anker 555, this is important.
Below is a table with typical RV, portable products, and the power output and surge power. These are designed to work at lower watts, so not every coffee maker will work with the Anker 555.
For most people, the products below are all you will need a Power Station for, unless you've already got high-rated items.
In the next image, my laptop was playing a video while being powered by the Anker 555 and it only took 14W.
| | | | |
| --- | --- | --- | --- |
| Appliance | Type and Model | Power Output (Watts) | Surge Power (Watts) |
| Air conditioning | Rv roof mount 11000 BTU | 1010 | 590 |
| Coffee maker | Hamswan drip | 1000 | 0 |
| Refrigerator | Norcold 2-way | 800 | 1200 |
| Water pump | Flojet Triplex pump | 800 | 1300 |
| Television | Proscan tv/DVD | 85 | 250 |
| Chargers for cellphones | Various | 60 | 0 |
| Chargers for laptops | Various | 60 | 0 |
| Chargers for tablets | Various | 60 | 0 |
| Sattelite dish and receiver | Personal choice | 30 | 250 |
| Lighting | LED Fittings | 11 | 0 |
Portable RV/Camping Appliances – Running Power and Surge Power Below 1010 Watts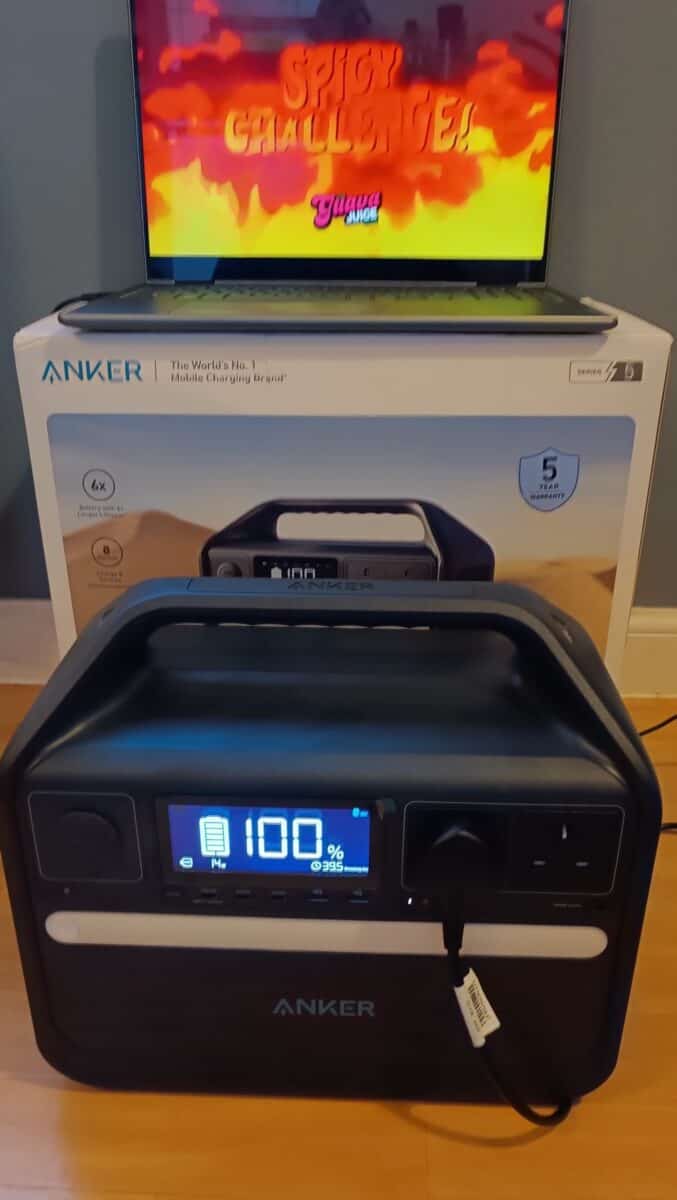 What the Anker 555 Power Station Cannot Power
Again, here is an example table for other appliances' power output and surge power. They are just an example, and your products will vary.
These larger items or more power-hungry will cause the Anker 555 to trip out, which can be easily reset. But it gives you an idea of what type of products you need to double-check.
It is possible to find a hairdryer, stove, and microwave at 1000W — check when purchasing, check your labels and manuals.
| | | | |
| --- | --- | --- | --- |
| Appliance | Type and Model | Power Output (Watts) | Surge Power (Watts) |
| Water Heating system | Takagi indoor | 4000 | 0 |
| Air fryer | Dash compact | 1500 | 0 |
| Dishwasher | Vesta Rv | 1500 | 1500 |
| Hairdryer | Conair travel smart | 1250 | 0 |
| Electric stove | Climax | 1200 | 1725 |
| Toaster and oven | Elite gourmet | 1200 | 1200 |
| Washing machine | Gizmos portable | 1150 | 2300 |
| Microwave oven | Sharp R1874T | 1100 | 0 |
Portable RV/Camping Appliances – Running Power and Surge Power Above 1000 Watts
Light
A great feature of the Anker 555 is the full-length light with a warm yellow color. It gives off enough light to see what you're doing in complete darkness, although you will struggle to read a book.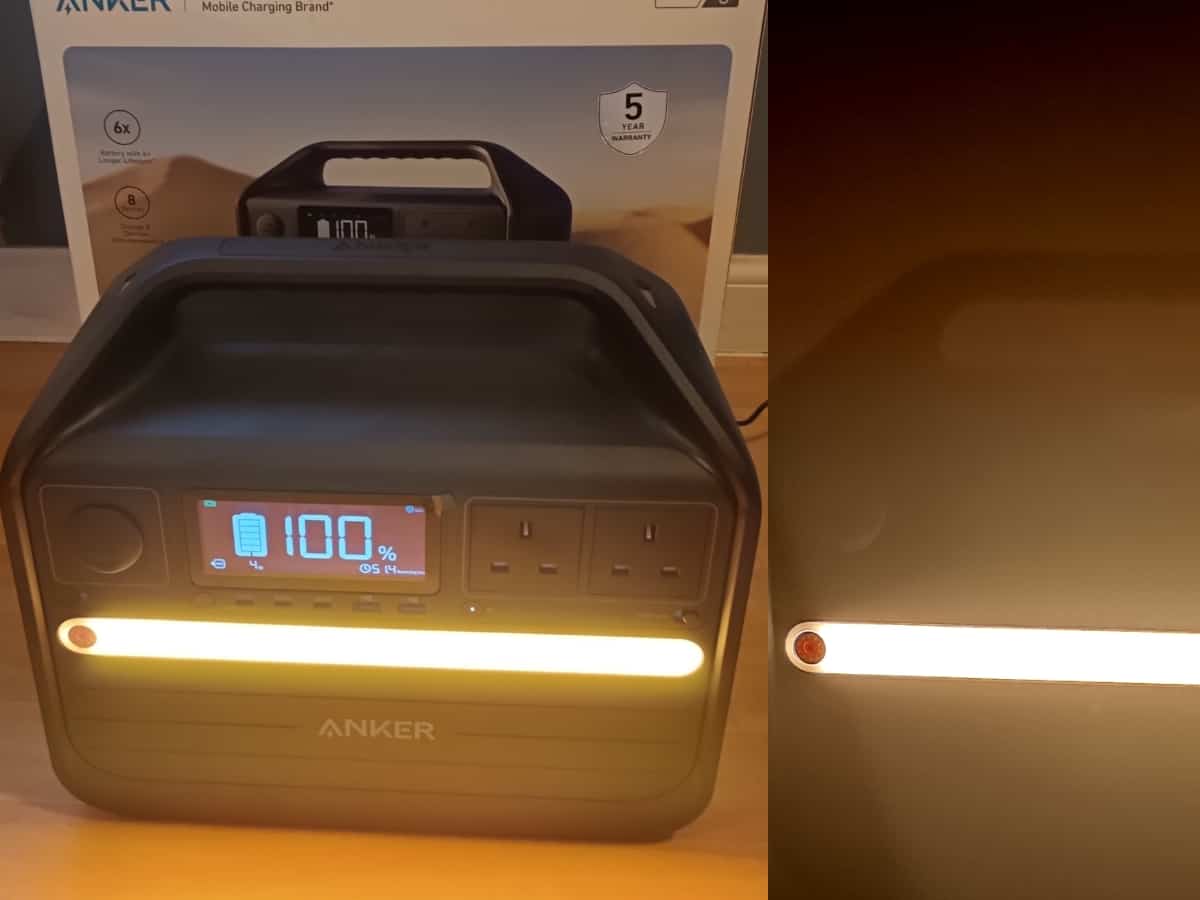 Photos of lights at night never give a clear impression of what they are like, but I've included them below to give you an idea. While the light was on, it only used 4W of power!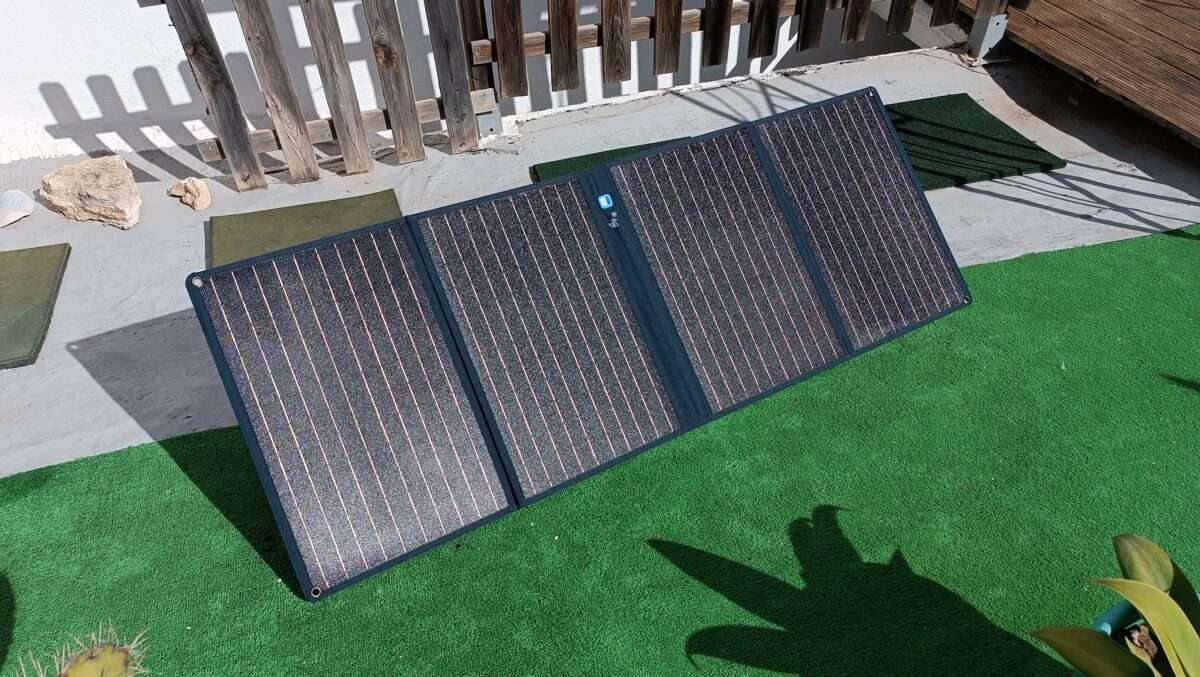 Solar Charging – Anker 625 Solar Panels
To recharge the Anker, you can hook it up to the mains or your vehicle. But if you use it during warm sunny days, solar panels are worth the additional bucks.
You can charge with two 100-watt solar panels that are in parallel. It's possible to use any solar panels with an XT60 connection. You can also use Anker's solar panels, which are optional with the 555.
I tested the Anker 625 solar panels connected to the Anker 555, and the results were impressive.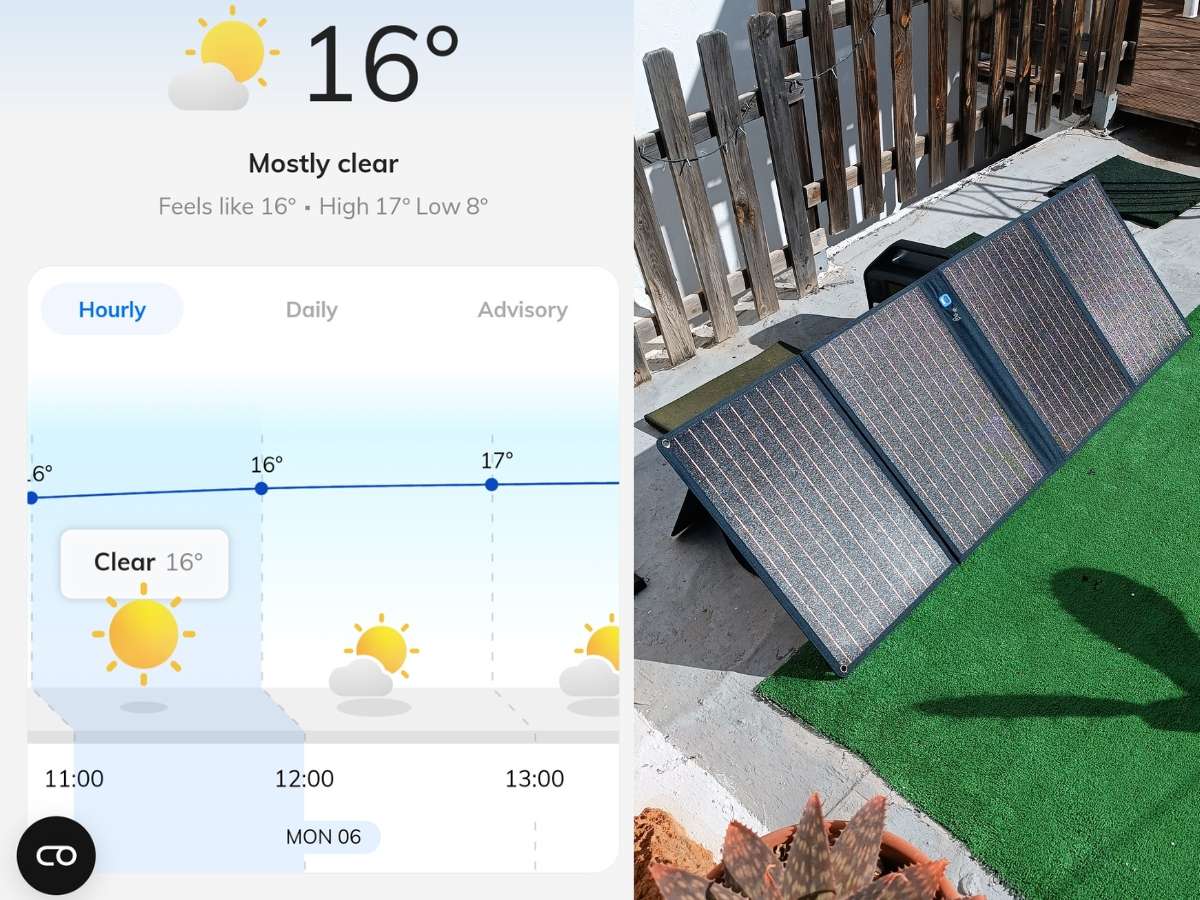 The Anker 625 100-watt solar panels have an impressive efficiency of 23%, which is great for folding, portable panels. Most of the top-rated, rigid solar panels have this efficiency.
Anker 625 Solar Panel Features
100 Watts
23% Efficiency
1 x USB-A
1 X USB-C
Sunlight Alignment Feature
Weather Resistant and Durable
18 Month Warranty
The features are impressive. I like the direct USB connections to the solar panels. If your Anker 555 is fully charged and the sun still shines, use the battery when it's dark.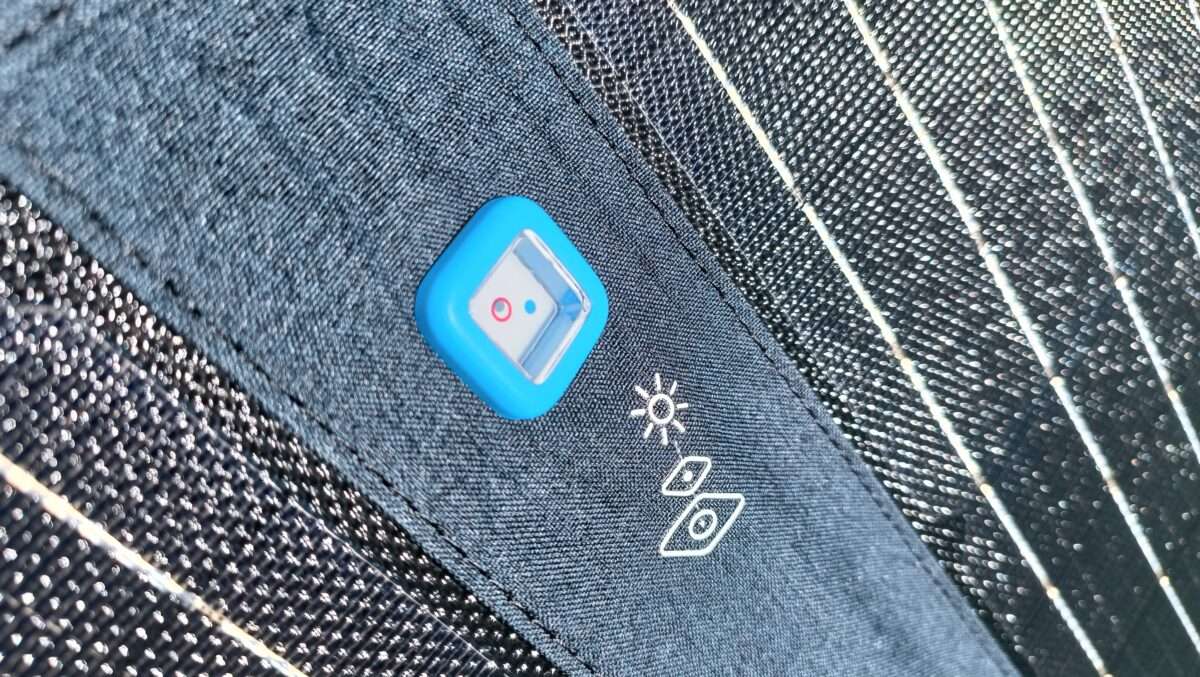 The other stand-out feature is the sun alignment dial. It's a bit like a spirit level and aligns on a central point. The power station and solar panels are a great combination.
During my tests on a sunny but cool day, the panels easily charged the Anker 555 with 92 watts with a registered temperature of 16 °C, which was not at the peak time of the day.
The display also shows that the power station will be fully charged in 11.5 hours, which is nice to know so I can plan my day and power usage.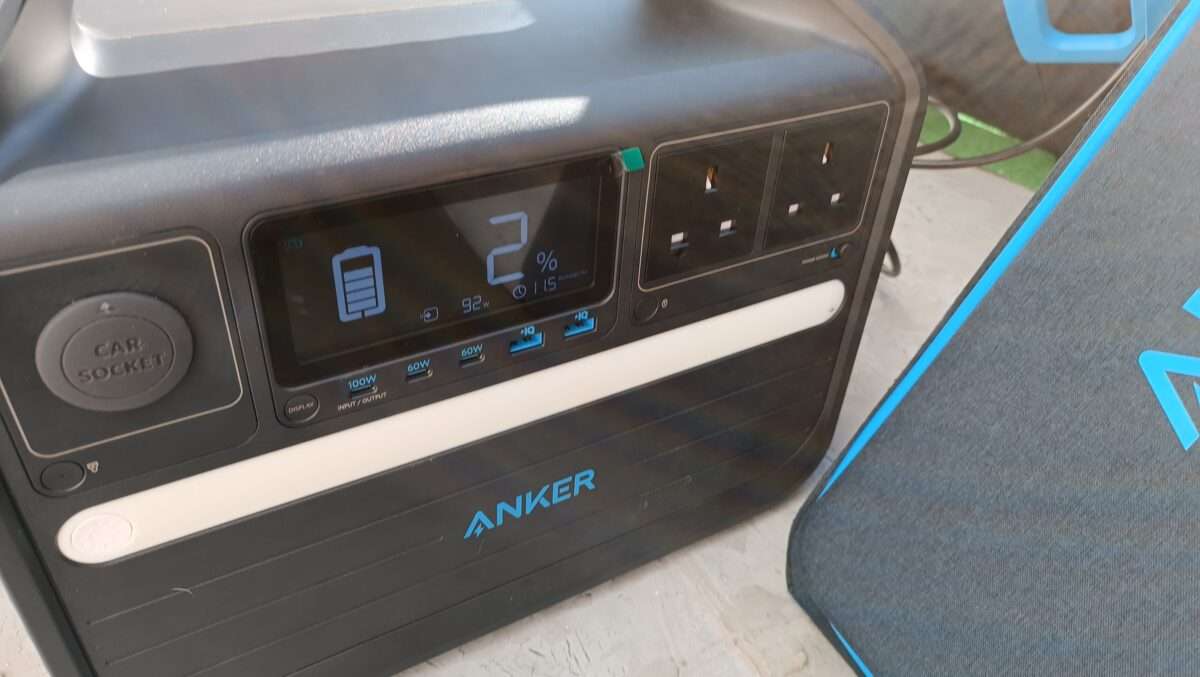 The solar panels and very well made with all of the connections you need, and I'm happy to recommend them.
Overall
The Anker 555 combined with the Anker 625 solar panels work well together and give you enough options for connectivity and power the majority of devices you need.
The products are built well with the user in mind. It's rare to see a five-year guarantee on any product, so when a company does, it gives you peace of mind.
I've used both products, and they live up to the numbers. I only recommend high-quality products, and I certainly recommend these.
They are ideal for camping, fishing, and day trips where space is limited, and they are not too weighty to carry around. Be sure to check your appliances and their outputs, so you know what power you need.
If You Need More Power
If you always have power cuts at home or are an RV'er, you need more power to operate those highly demanding devices.
From the example tables above, 1500 watts is enough to power portable/compact equipment. For your everyday needs, then consider the Anker Series 7.
Anker 7 Series
The Anker PowerHouse 767 could be just what you need for heavy-duty and inclusive power. It's portable, on wheels due to the weight. But it could solve blackouts and a family with heavy power consumption.
With a power of 2400W, it will power 99% of your appliances. Just apart from a boiler, clothes dryer, and jacuzzi!