Whether you are powering your home, some extra gadgets on a road trip, or anything in between, you might be wondering which type of battery is best for use with a 50-watt solar panel.
The world of solar power can be overwhelming.
Here, we will discuss which battery options are best if you are using a 50-watt solar panel. Some options work well with multiple panels, which we will specify.
This article covers the following:
Different types of batteries and their applications with solar power
The best batteries to use with 50 watt solar panels, both alone and in combination with multiple solar panels
Why you should not rely only on a solar panel to charge your battery if you are using it for van life applications
Read on to discover the pros and cons of each battery on our list. We hope you can find the right one for your situation here!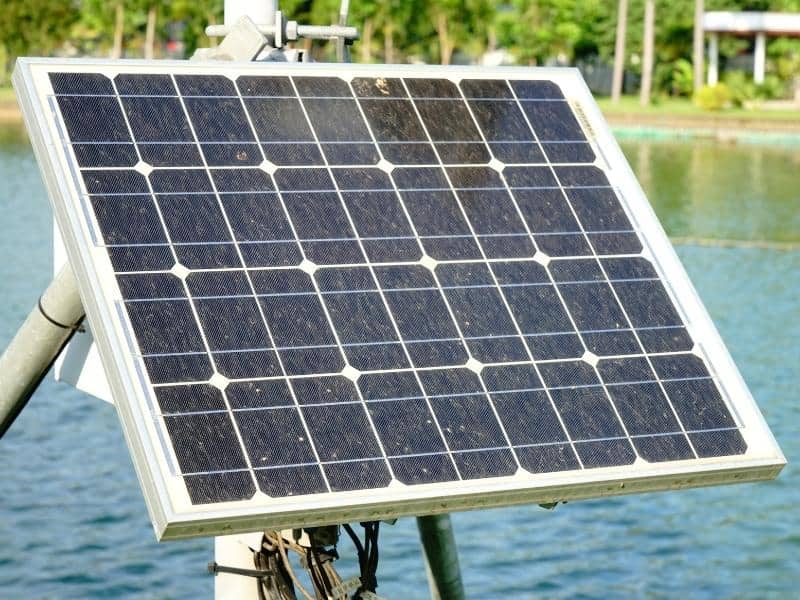 Types of Batteries
Among other sources, solar batteries are made to be used with solar panels. These batteries convert and store the energy the solar panel takes from the sun so you can use it later.
Solar batteries store solar electricity until they are fully charged, then send the energy to your power grid or converter.
Lead Acid Battery
Lead-acid batteries are cheap and deep cycle, allowing for longer and steadier electricity output.
This type of battery is reliable but slow to charge.
Lithium-Ion Battery
Not to be confused with lithium batteries, lithium-Ion batteries are popular amongst van dwellers and RV campers because of their low maintenance.
What is the difference between lithium and lithium-ion?
Lithium batteries are not rechargeable, making them pretty useless for solar panel systems. Lithium-ion batteries are rechargeable and therefore perfect for use with solar. They will hold the energy from the sun for when you need it.
This type of battery is great for pairing with your car's alternator. Find out why this is a good thing in the Extra Charge section at the end of this article.
Nickel Cadmium Battery
Nickel-cadmium batteries are known for withstanding extreme temperatures.
You might think this would make them a great option for road trippers who like to adventure off-grid in peak winter or summer months.
However:
Because of their low energy density and necessity to dispose of, especially due to their high toxicity, they make for cumbersome energy system companions.
Sodium Nickel Chloride Battery
This type of battery is great for backup supply and produces little to no toxicity to the environment.
They are also completely recyclable!
So what's the downside?
These batteries can cost up to $20,000 to install in your home. If this is the route you want to go, we recommend reaching out to your local solar power experts. Look for someone who is accredited with the Installers & Manufacturers (MCS) board.
Best Battery Recommendations for 50 Watt Solar Panels
Renogy Deep Cycle
The Renogy Deep Cycle AGM Battery 12 Volt 100Ah for RV, Solar Marine, and Off-grid Applications is a popular option. We recommend pairing two 50 watt solar panels together to charge this battery faster, but it will do fine with just one.
The Renogy comes in higher amp hours as well.
Since it is a deep cycle battery, it will allow you to have longer and steadier amounts of power rather than the short, strong bursts of a regular battery.
The Renogy 12-volt battery runs even below-freezing temperatures, making it a good choice if you live in or travel to colder climates.
This battery is also one of the most affordable on our list at $169 on Amazon. However, you will need to get an energy converter as well to monitor your batteries levels.
The Goal Zero Collection
If you want a system that is no muss, no fuss, Goal Zero is a great line for you. If you have yet to purchase a 50-watt solar panel and want to choose the best battery and panel together, Goal Zero's power systems are attractive and effective.
The Goal Zero website has a great selection and makes it easy to decipher which batteries work best with which panels, and vice versa. Of course, if you already have a 50-watt solar panel, the Goal Zero Yeti Power Station is still a great choice.
The Goal Zero Yeti is a lithium battery and can be charged using solar panels, an AC plug-in your wall, or even your car's 12V port.
The only con of this system is the price point. The Goal Zero Yeti Lithium 500X Portable Power Station will cost you more but it will last for years.
It has AC and USB ports built-in, so you don't need to worry about extra products to power your devices. It also tells you how much energy it has right on the power station, so no need for an extra converter.
EcoFlow RIVER
Like the sound of that, but not a fan of the price?
The EcoFlow RIVER Mini Portable Power Station can power up to 8 devices at once and costs a fraction of the price of the Goal Zero Yeti. The EcoFlow Mini holds 210W. You could pair a second 50-watt solar panel into this system for a faster charge if you wanted to.
Extra Charge For Your 50 Watts
If you've chosen a battery based on our recommendations above, you might be wondering what you can do to ensure your battery stays charged for emergencies.
If you are using solar as a backup power source in your home, this won't be too much of an issue. You can charge it over days and monitor your battery to ensure it is ready before an emergency.
But if you are a van dweller or planning a long RV trip, you might run into some cases where your battery is your only source of power.
In this case, we highly recommend charging your battery using your alternator as an additional source of power. If you have a cloudy day or days, using the alternator will keep your battery charged up and healthy.
Sources