On 22 February 2022, LG Electronics announced that it would exit the solar panel market and focus its resources on growth sectors such as energy storage and home energy management systems.
SunPower® features in the top five best solar panel manufacturers globally, and their SunPower Maxeon® solar panels are highly regarded by solar installers and customers alike. A comparison with LG Solar panels would be of little value as LG has announced its exit from the market.
The decision by LG Electronics to exit the solar panel market will adversely affect about 160 employees and 60 contract employees in their Huntsville, Alabama facility. The exit of LG to focus on other solar industry opportunities is a good sign for consumers.
Solar panels have become significantly cheaper and more efficient, with many outstanding manufacturers vying for supremacy. In a recent survey, the following solar panels were rated as the top five in the market in 2022:
Silfab Elite 380 W Black by Silfab
Q.PEAK DUO BLK-G10+ by Q-Cells
REC Alpha Alpha Pure Black 410 W by REC
Panasonic EverVolt 410 W by Panasonic
SunPower Maxeon 5 Generation by SunPower
Over 300 solar panel manufacturers are all offering market-quality products and services at present. Let's compare the top five solar panel manufacturers' premium products.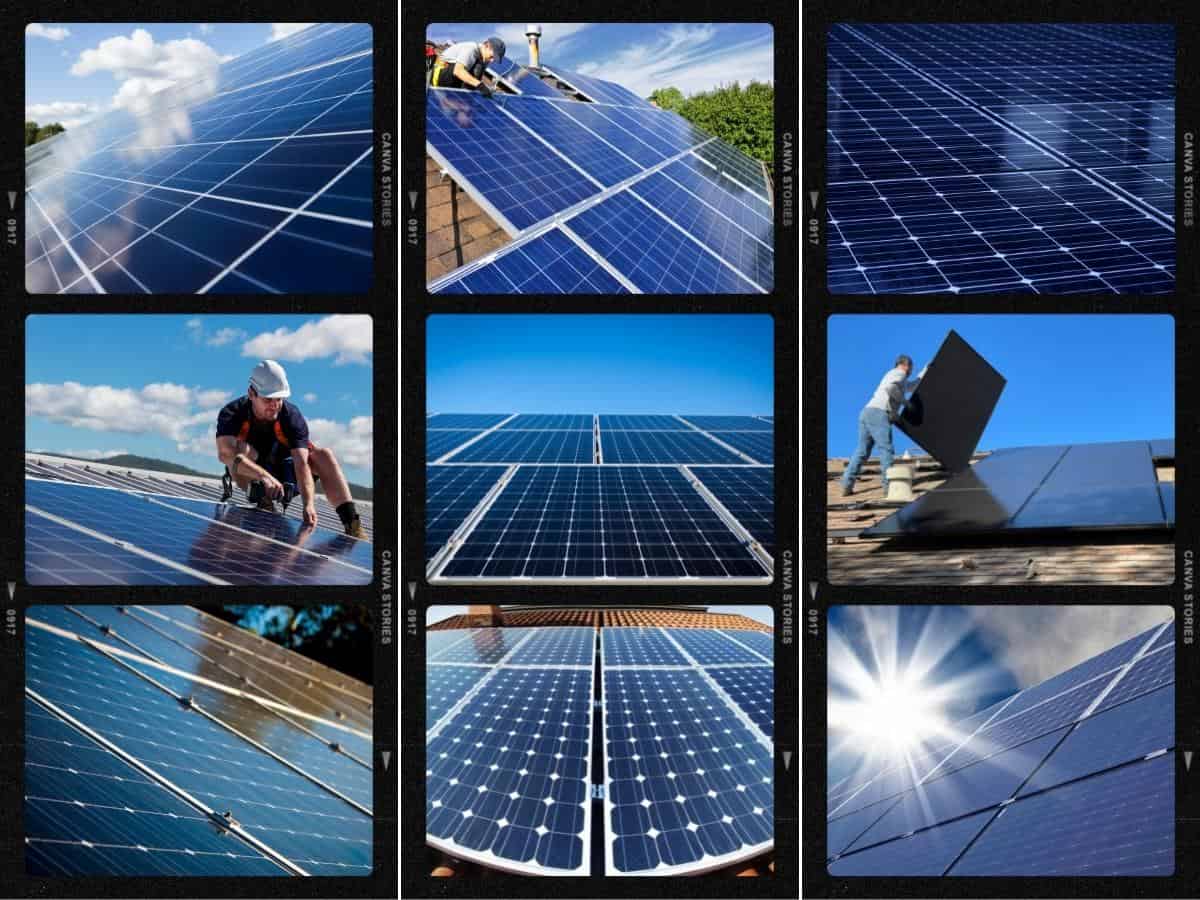 What Are The Top Five Solar Panel Companies In The US?
The top five solar panels and solar companies were rated by Solar Time USA, a Texas-based solar installer with over 32,000 installations worldwide.
SunPower
Panasonic
REC
Q-Cells
Silfab
The rating was based on panel efficiency, power density, and performance after 25 years, warranty, and price.
Company Name
Panasonic
SunPower
Top Panel
EverVolt EVPV 410H
Maxion 5 Gen SPR-A420
History in Solar Industry?
1975
1985
Watts @ STC (Wp)
410
420
Watts @ NMOT (Wp)
312
316
Temp Coefficient
-0.240%
-0.290%
Panel Efficiency (%)
22.20%
22.50%
Power Density (Wp/SF)
20.6
20.9
25 Yr Performance Guarantee
92%
92%
Warranty
25-year
Product, Performance & Labor
25-year
Product, Performance & Labor
Priced 10kW System
$ 30 K to $ 32 K
$ 35 K to $ 38 K
Panasonic Vs. SunPower – Their Best Solar Panels
With LG Electronics announcing its exit from solar panel manufacturing and sales in February 2022, Panasonic and SunPower are two giants that have been around the longest.
We compare the EverVolt EVPV 410H from Panasonic with the Maxion 5 Gen SPR-A420 from SunPower in the table above. These two solar panels have been credited as being the two premium solar panels in the market at present.
Panasonic EverVolt EVPV 410H
The EverVolt EVPV 410H is rated to produce 410 W at Standard Testing Conditions (STC) of 25 degrees Celsius or 77 degrees Fahrenheit at constant solar radiation of 1000 Watt per square meter (W/m2).
The Maxion 5 Gen SPR-A420 is rated to produce 420 W at STC. A more realistic set of conditions to evaluate solar panels is NMOT or nominal module operating temperature at an air temperature of 45 degrees Celsius and solar radiation of 800W/m2.
The nominal module operating temperature (NMOT) is defined as the solar panel power production at:
Irradiation on the solar panel = 800W/m2.
Wind velocity = 1 m/s.
Air temperature = 45°C.
The NMOT rating is a more realistic power output for the solar panel during summertime operation. During winter, you can expect better production from the solar panel as they produce more power at low temperatures.
See also: Best Cheap Solar Panels: Top Affordable Options for Your Home
Maxion
The temperature coefficient loss measures the loss of power generation per degree Celsius temperature increase above 25 degrees Celsius. The EverVolt is rated with a lower power loss factor than the Maxion.
The solar panel energy conversion efficiency of the Maxion is slightly better than the Maxion, making the power density per square foot of solar panel surface of the Maxion also better than the EverVolt.
See also: Flower Solar Panel – Smartflower (Pros and Cons)
Panasonic Vs. SunPower
Panasonic and SunPower guarantee that the solar panels will retain efficiency of 92% after twenty-five years of use. Both products also come with a twenty-five-year warranty on the solar panel, the performance, and the cost of labor to repair or replace.
The most significant difference between these two great solar panels is the price. The Panasonic EverVolt is significantly lower in cost by comparison. A comparison of the costs to set up a 10kW system was made between the two manufacturers.
See also: BougeRV 200W 9BB Solar Panel Review (quality RV Solar)
Cost
A cost of $30,000 to $32,000 was obtained when using the Panasonic EverVolt solar panels, which compared very favorably to the $35,000 to $38,000 for the SunPower Maxion solar panels.
See also: KINGS 110W Solar Panel (What You Need To Know!)
Silfab Vs. QCell Vs. REC
Three American brands that are also well worth considering are Silfab, QCell, and REC. Silfab has only been in the industry since 2010 but produces a very attractive and cost-effective solar panel range.
QCell is another US solar panel manufacturer that has been operational since 1999. REC is an excellent manufacturer, and their Alpha Pure 410 Wp is comparable to the Maxion from Panasonic but is significantly lower in cost.
There is speculation that the Panasonic Maxion may be manufactured by REC and only branded as Panasonic. All the critical data on the back of the solar panels appear to be precisely the same.
Company Name
Silfab
Qcell
REC
Top Panel
SIL-380 BK Elite
Q.Peak 405W Duo BLK ML-G10+
Alpha pure 410 Wp
History in Solar Industry?
2010
1999
1996
Watts @ STC (Wp)
380
405
410
Watts @ NMOT (Wp)
284
304
312
Temp Coefficient
-0.377%
-0.340%
-0.240%
Panel Efficiency (%)
21.40%
20.60%
22.20%
Power Density (Wp/SF)
19.86
19.16
20.6
25 Yr Performance Guarantee
85.10%
86%
92%
Warranty
12-year Product
30-year Performance
25-year Product
25-year Performance
25-year
Product, Performance & Labor
Priced 10kW System
$ 27 K to $ 28 K
$ 27 K to $ 28 K
$ 28 K to $ 30 K
Silfab Vs. Qcell Vs. REC – Their Best Solar panels
See also: Noma Solar Panel (Review + Products)
What Will Happen To Customers With LG Solar Panels?
Although LG Electronics will no longer manufacture and sell solar panels, it will maintain a strong presence in the solar market with products in other segments. They will honor their product guarantees and supply replacements from an equivalent quality and reputation manufacturer.
There are more than three hundred companies manufacturing solar panels for the market.
The product quality of the solar panels on sale in the US market is subjected to testing by Underwriters Laboratories and is either certified by the manufacturers as compliant with UL standards or is tested by UL and carries the UL markings.
It is highly recommended to purchase solar panels that carry the UL marking, which indicates that they have been independently tested and certified as compliant with all the standards laid down by regulators in the US.
Resources
See also: Adventure Kings Solar Panels and Devices (Full Review)
See also: Solar Panels Under 1000$ (What You Need and Why)
See also: Are Rich Solar any Good – (Company Review)
See also: Rich Solar Review (Quality + Best Choices)
See also: Best Solar Panel For Hot Weather (Awesome Results)
See also: Best Solar Panel For An Ice House (Shanty + Fishing Solutions)
See also: Best Solar Panel For Fish House (Full Guide)
See also: Ecoflow Solar Panels (Compatability + Efficiency)
See also: Grouphug Solar Panels (Eco-Friendly Indoor Power)
See also: KickAss Solar Panel (Your Best Choices)
See also: Tesla Solar Panel Review (Specs – Is It Worth It?)