The lakes are frozen, and the fish are waiting – walleye and perch, burbot, and lake trout! And, you've got your gear ready, packed in your ice house, ready to go. It's ice fishing time! While heating may be a top priority for icehouse owners, so is having power for a host of gadgets and gizmos essential to the sport of ice fishing.
Propane, gasoline, and pre-charged batteries are the standard power sources for ice house fishing, but solar panels for extra power are now a viable option for an ice fishing shelter.
The best solar panels for an ice house will depend on the type of ice fishing shelter, including:
Portable 100Watt solar panels for ice fishing tents.
Rigid and portable 200Watt solar panel array for ice shanties.
Rigid, flexible, and portable 400Watt solar panel array for ice house RVs.
Ice fishing for more than a couple of days isn't possible without gallons of gasoline to power a generator and a large propane cylinder for heating and cooking. Is solar power the answer for extended ice fishing excursions?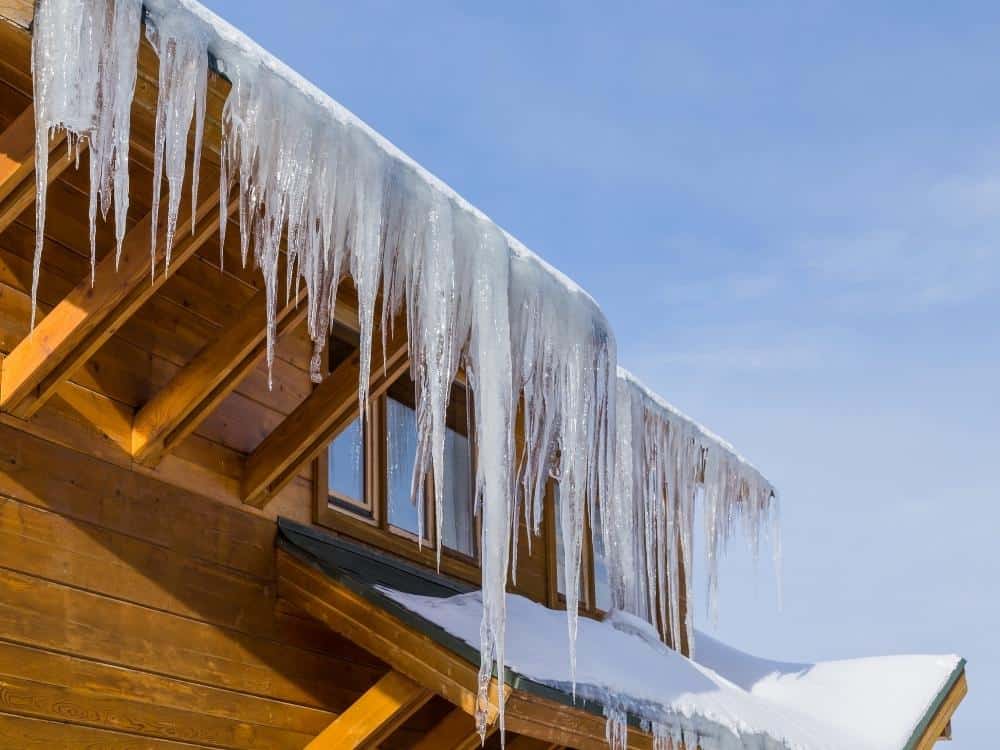 Here's What Well Look At
When we speak of ice houses in the context of solar panels, we use the term broadly to include traditional ice shanties and ice shacks and modern, pop-up ice fishing tents and ice house RVs. All of these ice fishing shelters, however rudimentary or luxurious, can benefit from solar panels.
Powering electronic and electrical devices is a major consideration in any off-grid camping situation. Ice fishing has become an electronic gadget-intense sport, and batteries deplete rapidly.
In this post, we'll answer that question by looking at solar panel options for:
Ice fishing tents
Ice shanties and ice shacks
Ice houses and ice fishing RVs
We'll also cover:
DIY solar panel hacks
Portable solar panel solutions
But first, let's drop our lines in and see what needs powering during a catch-dedicated ice fishing excursion.
What Energy Sources Power an Ice House?
Ice Fishing could be considered an extreme form of boondocking. A host of off-grid gadgets are needed to make the shelter livable and geared for technology-enabled ice fishing. Typically, propane, butane, gasoline, and batteries power cookers, heaters, ice fishing equipment, and lights.
A propane heater or furnace is the go-to gadget to heat an ice house, shack, or tent.
Cooking healthy, hot meals is another vital ingredient to a successful ice fishing trip. Once again, propane is the most common source of ice fishing cooking fuel.
Butane is another liquid gas often used for ice house cooking and heating.
Gasoline is used for portable generators and ice augers.
Batteries of varying types and sizes power electric ice augers, lights, fans, electronic fishing tools like sonar, underwater cameras and monitors, mobile phones, TVs and radios, digital cameras, tablets, laptops, and sundry camping appliances.
There's the quick audit of what chews juice, as they say. Now we need to determine where solar can step in and add DURATION to the ice fishing excursion – MORE TIME ON THE ICE is what we want.
See also: 5 Best Solar Panel Companies (Top Panels Compared)
How Can Solar Panels Serve an Ice House?
Solar panels can be used in an ice house to power electric and electronic equipment essential for overnight ice fishing. Solar-powered battery banks and solar generators provide onsite battery charging of ice fishing electronics and power tools, effectively extending fishing time.
If it runs on AC or DC, solar can probably power it. That's not too bold a statement when we're talking ice fishing, where electrical power draw is relatively low.
Let's list the most common electric/electronic gadgets and gizmos used in an ice house that a solar system can power:
LED Lights
Headlamps and Torches
Fans
TVs
Cell Phones
Two-Way Radios
Laptops and Tablets
Wi-Fi Routers
Digital Cameras
Sonar Fish Finders/Transducers
Underwater Cameras
Underwater Camera Monitors
Electric Ice Augers
Cordless Drills
All of these devices are low power-draw and can be run on 12V DC power, with perhaps the exception of power tool chargers (electric ice augers and cordless drills), TVs, monitors, and fans, depending on their respective power draws.
With suitably specified solar panels, a charge controller, battery bank, and a 12V multi-adapter, many ice fishing devices can be powered via dedicated battery chargers and USB connectors.
A pure sine wave inverter is best to power AC items that can't run on 12V DC power such as power tool charging docks, large TVs, and certain laptops.
How Do I Calculate My Ice House Solar Requirements?
To determine your ice house's electrical power draw, you'll need to calculate how many combined Watt-Hours (Wh) your arsenal of ice fishing gadgets consumes over 24 hours. With a total Wattage estimate, specify your solar panels, solar charge controller, and battery bank accordingly.
To determine the Watt-Hours of an appliance, multiply its Amp rating by its Voltage and multiply by 24.
Example – a 12V fan drawing 0.2A: 12V x 0.2A x 24 = 57.6Wh.
Add the Wh of all your gadgets and gizmos to get a total Wh figure.
Calculate your Ah battery requirements from this total Wh figure: Total Wh / Volts = Ah.
Once you've calculated your battery storage needs based on the combined draw of all your equipment, you can then determine how much solar (PV panels) power you'll need.
Let's say your combined Wh figure is 1200Wh, and your system is 12V (1200 / 12 = 100) – you'll need a 100Ah battery.
To determine the required solar panel size for your battery bank, divide total Wh by hours of sunlight (considering winter and latitude):
1200Wh / 6 hours = 200W.
You'll need 200Watts of solar panel energy.
With the numbers crunched, let's look at icehouse solar panel options, starting small with a pop-up ice fishing tent with modest electrical power needs, working our way up to a full-blown ice house RV.
What Solar Panels are Best for Ice Fishing Tents?
When ice fishing with a pop-up tent, traveling light is a top priority. Avoid heavy batteries and cumbersome solar panels. Portable solar generators with compatible foldable solar panels are the lightest, most compact, and most portable solar system available – ideal for ice fishing tents.
The new generation of solar power generators has lithium-ion or lithium iron phosphate batteries, capable of storing charge for extended periods and delivering charge more efficiently than any other type of battery.
Lithium-ion and lithium iron phosphate batteries can be discharged 100% with zero risk of damage to the battery.
Lead-acid and AGM deep cycle batteries should not be discharged beyond 50%.
Solar generators are compact and relatively lightweight, considering what's in them. Ranging in weight from around 40lbs to 60lbs, the most popular solar generators for 2022 are effectively a complete solar system in a box – a plug-and-play, no-fuss solar solution for the highly mobile off-gridder.
The best solar generators include:
Solar Panels
MPPT Charge Controller
Lithium Iron Phosphate Batteries
Pure Sine Wave Inverter
Battery Management System
Comprehensive LED Display Monitor
AC/DC/USB Ports
The latest portable solar power generators range in power delivery from 200W to 2000W can power most ice fishing accessories and equipment, including electric ice auger charging docks, big TVs, and underwater camera monitors.
Portable solar generators can power several devices simultaneously.
The foldable solar panels are compact, portable, and easily repositioned to catch direct sunlight.
Five Portable Solar Generators:
Alternatives Available
If you find the price of a solar generator prohibitive, there are DIY solutions that will reduce the costs of getting your ice fishing tent solar-powered. But we'll get to those later, so read on.
What Solar Panels are Best for Ice Shacks and Shanties?
The best solar panels for an ice shack or shanty will mount easily on the exterior walls of the shelter to catch optimum sunlight. Both rigid and flexible solar panels can be used to charge battery banks. Portable solar suitcases and custom-made portable solar panels are also excellent options.
Traditionally, ice fishing shelters on frozen lakes were solid-walled shacks or shanties, akin to the huts gold mining prospectors erected back in the days of the Gold Rush. And they're no less popular today, despite the arrival of hi-tech ice fishing trailers and RVs.
It's not uncommon for ice shacks to remain on the ice for an entire winter season, making them semi-permanent structures ideal for mounting rigid solar panels.
Now here's the thing about solar panel placement on an ice house, shack, or tent –
Due to the sun's low arc across the horizon during winter months in far northern latitudes, solar panels should ideally be hinged to the sides of an ice house rather than secured to the roof.
The ideal tilt angle for solar panels on frozen lakes will range from 60-80 degrees.
Rigid solar panels, be they polychrystaline or monochrystaline, an MPPT charge controller, a couple of lithium-ion batteries, and an inverter, will make an affordable DIY solar system for an ice shanty.
Mounting the solar panels to the walls of the ice shack will take a bit of ingenuity, but that's par for the course for ice shack builders anyway.
Check this video on how to mount a solar panel on an RV wall as if it were a movable window awning – applicable to ice shacks and shanties too:
You'll notice in the video that flexible solar panels were used, secured to a homemade PVC pipe frame – a clever design for lightweight but secure solar panels.
Consider these top-selling rigid and flexible solar panels ideal for ice shacks on Amazon.com:
WEIZE 100 Watt Monocrystalline Solar Panel
HQST 100 Watt Polycrystalline Solar Panel
SunPower 100 Watt Monocrystalline Flexible Solar Panel
How many solar panels you fit in your ice shack will depend on your power requirements, as will your choice of charge controller, batteries, and inverter.
Follow our solar power audit guidelines and check Amazon for the necessary components.
Watch this video for a solar system component tutorial:
What Solar Panels are Best for Ice Houses and Ice Fishing RVs?
Ice houses are suited to multi-solar panel installations using rigid, flexible, and portable solar panels. With more wall space than the average ice shack, an ice house RV allows for large battery banks and control panels. On larger ice house RVs, as many as six 100W solar panels could be mounted.
The pundits call them wheelhouses, but they're ice houses on wheels, RVs that sit flush on the ice. And they can be luxurious or rudimentary converted cargo trailers with holes in the floor. Either way, solar panels, and associated components will add more life to the ice adventure.
Let's look at a 200W solar panel option, the RICH SOLAR 200 Watt Monocrystalline Solar Panel, to optimize the wall space,
Boasting excellent low-light efficiency and weighing 26.5lbs for the 200W solar panel. At just under 60 inches long and 27 inches wide, you can double up on your wall space power generation capacity, feasibly getting a six solar panel array pushing out 1200W.
With batteries to match, you're sitting pretty for as long as your propane lasts. That's right…running an electric furnace in sub-zero temperatures is not a solar-friendly exercise!
Ice house Solar Panel Hacks & Tips
High winds on the ice will threaten solar panels on the ice house. Portable solar panels standing free around the shelter face an even greater risk of being blown away.
Secure your portable solar panels to the ice using ice pegs.
For securing flexible solar panels to the walls of the ice house, use Velcro-like Secure Lock from 3M. Easily remove solar panels when not in use and ensure they stay on your ice house wall when they are in use.
Set your solar panels to the optimum tilt angle and get the best of daylight using an app called Optimal Tilt Angle for PV System, available on Google Play.
Bring a squeegee along to get snow and ice off the solar panels.
Buy a 12V auto defogging fan heater to circulate air in the ice house. Place it near your batteries to help keep them warm and efficient.
It's early days for solar in the ice fishing community, but things are changing rapidly. Gasoline-powered generators and ice augers won't be around for much longer, and solar energy will become the power provider for electronic and electric ice fishing gear.
Learn as much as you can and configure a customized system for your specific requirements. You will save money, and you'll get hooked on renewable energy. And, you'll catch more fish!
Resources