I recently bought a beautiful pop-up camper. But the power system was outdated, So I researched the best solar panel for pop-up campers. In this article, you will learn a lot about the following :
Common questions about solar systems
Best solar panels for a pop-up camper
Choosing solar inverters for a pop-up camper
Choosing solar batteries for a pop-up camper
Tips for installing solar systems on a pop-up camper
Solar systems do not have to be complicated, and with a bit of research, the correct tools, and a few practical skills, you can also install a solar panel to your pop-up camper.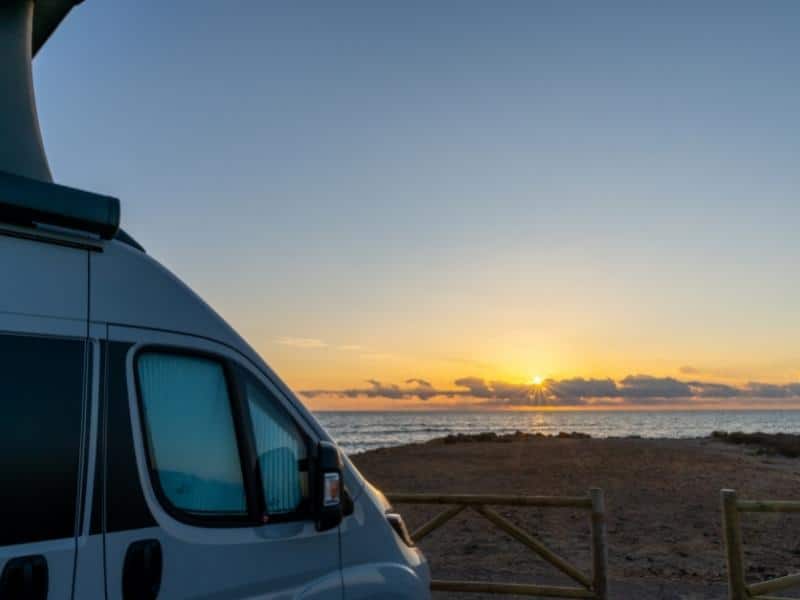 Common Questions About Solar Systems
In my quest to find the perfect solar panel and ultimately the best solar system for my pop-up camper, I had to answer the following questions first:
What Materials Do I Need For A Solar System?
I realized very fast that I didn't only need a solar panel for my pop-up camper but also required other components, so here is a list:
A good solar panel – The solar panel is the component that recharges your battery, so you need to ensure that you choose a panel that will get the job done efficiently.
A good deep cycle battery – you need to choose a battery that can store a lot of energy, and it needs to be able to handle a 12-volt inverter. It is the job of the battery to feed the inverter
An inverter has enough wattage capacity for the components that need to run from it. It is the job of an inverter to convert the power of the battery, which is 12 volts, to the 110 volts that are required.
A charge regulator– it is the regulator's job to ensure that the battery does not overcharge and that energy from the battery does not go to waste.
Other consumables – The list of consumables will depend on what you will need and how much you need. How do you do the installation, and what else might be required for the installation.
I have to add that it is recommended to use an approved technician for any installation.
See also: Best Solar Panels for RV: Your Ultimate Guide to Optimal Off-Grid Living
How Much Power Do I Need?
This question was not easy to answer, and I had to analyze what my power needs were going to be. Lighting, heating, refrigeration, and charging play a role here.
The best option I had was to install a solar system for my lights, charging needs, and water pump. I opted to run my water heating and refrigeration on liquefied petroleum gas (LPG).
The points to consider are:
It is essential to calculate the energy you will consume, so you must make sure that you take everything that requires a power source into account.
It is essential to look at the wattage of all the components that you want to run from your power source. It requires some calculations; otherwise, the solar panel might not recharge the battery enough.
It is vital to source all the right components for the power source; careful planning is needed, or the system will not work correctly, and you will run out of power.
What size solar panel do I need?
Solar panels come in different sizes and wattage ratings, so finding the right panels to mount on the pop-up camper can be challenging.
Here is what I needed to get from my power source:
I have 3 Led Motion sensor lights, and they each consume 10 watts of energy. So if each light runs for 3 hours, then it will be 3 lights X 10 watts X 3 Hours = 90 watts to power each for 3 hours
I have a submersible pump to get water from my tanks, and it consumes 30 watts of energy; it runs 2 hours a day so that it will be 1 pump X 30 watts X 2 hours = 60 watts to power the pump for 2 hours
I looked at the ratings of all my electronic equipment, and they consume 180 watts of energy. So to charge all my electronics takes 3 hours so it will be electronics X 180 watts X 3 = 540 watts to power the chargers for 3 hours.
So my total consumption would be 690 watts together; I won't always run everything simultaneously. I usually pump out enough water to get me through the night so that the solar panel can charge the battery to full capacity
I also make sure that I charge my electronics during the day so that I do not tap into my reserves.
We divide the daily watts needed by the number of sun charge hours for the season to get the panel size (for summer conditions).
690 watt-hours/ 6 h = 115 Watt panel.
Similarly, the calculation for winter daylight hours gives:
690 watt-hours / 4h= 172.5 Watt panel.
After I did these calculations, I opted for two 120-watt foldable solar panels. I made this decision to ensure that I would get enough charge from my panels.
What Battery Do I Need For A Solar System?
There are many different batteries on the market, so which one do we choose? We are going to look at deep cycle batteries.
Deep cycle batteries come in 6-volt, 12-volt, 24-volt, and 36-volt variants. All variants obviously have different prices so make sure to do your homework.
Below is a calculation you can use to make sure that the battery you choose will work for you:
If you choose a 12-volt battery and it is 200 AH or amps per hour, you can work out the number of hours you would be able to run a certain amount of watts on it.
12V X 200AH = 2400WH, which is the watt-hours, but most batteries should not be discharged by 50 %, so we now only have 1200 watt-hours.
Using a single 12-volt battery for only my lights would mean that I can get 40 hours of use without charge; using my chargers and lights will still give me 5.7 hours of use without charging.
It's why I charge my electronics during the day and pump my water during the day. This way, the solar panels can keep my battery fully charged.
You can also use a 24-volt battery, which would double the watt hours, or even a 36-volt battery, which will triple.
Remember to get a charge regulator; otherwise, you might damage the battery from overcharging or drainage.
What Size Inverter Should I Get?
Inverters are a crucial part of the solar system for a pop-up camper, and they range in size from 120 watts to 20000 watts. The inverter converts power from the 12 volts it gets from the battery to 110 or even 220 volts in some other countries.
Before buying an inverter, it is essential to understand that it has continuous power and spike or peak power. That means that even though some inverters say it is 2000w on surge power, it can handle that load for a short time.
Some appliances like fridges only pull strong currents when the compressor kicks in, which is the peak rating we are talking about in this case.
Using inverters to double the wattage rate is common to compensate for the surge rating. So even though I only require 690 watts of current, I decided to get an inverter rated at 1100watt. It has a peak power of about 2200 watts that way, it ensures that I will have enough current to handle the load.
Best Solar Panel For A Pop Up Camper
Solar power has really changed the way we look at power solutions in terms of leisure vehicles. I still remember going to campsites where nearly everyone had a generator. Boy, those gas guzzlers can sure cause a ruckus; let's look at some tips for solar panels on a pop-up camper.
In most cases, it is a very good idea to install the entire solar system by a qualified solar technician. I did my own installation with the assistance of a qualified electrician. How do I know I am getting the best solar panel for my pop-up camper? Here is some info:
Some solar panels are not made for the harsh conditions that you may encounter on your trips. So make sure that you choose a rigid solar panel like the JA 325 watt mono percium solar panel.
Some solar panels might be too big for a pop-up camper so ensure that you get your measurements correct. You get solar panels that are bendable as well, like the Renogy 175-watt flexible solar panel.
Some solar panels will not be fixed onto the camper, so to make them more mobile, they fold up to a rather small size and are not that heavy. Because I wanted a portable solar system, this is the option I opted to get.
Solar panels need to catch as much sun as possible that is why some camping fans prefer to keep their solar systems mobile, but moving the camper in line with the sun's direction also works.
As mentioned earlier, I opted for two 120-watt foldable solar panels from Aeiusny. I chose these panels because they are mobile and easy to store. It was also affordable in comparison to some other solar panels.
Choosing Solar Inverters For A Pop Up Camper
There are a lot of choices in this case, and it is crucial to make a well-informed decision on this front, seeing as the inverter is a critical part of a solar system.
In the case of sourcing a solar system for a pop-up camper, it is crucial to understand that we need an off-grid –inverter. Here is a list based on specific criteria.
The cost will always play a factor when choosing an inverter, but there is no point in just getting the cheapest option. A hot deal sometimes means that the product is the one burning. I suggest shopping around a bit to find the best deal.
One of the best value inverters that are also cost-effective is the GoWise power 1000w inverter. I did not go for this option because the output was more than I needed.
Quality will also be a factor; sometimes, the best quality products leave a huge chunk in your pocket, like the Renogy 3000w inverter. It is high quality but was too expensive for me.
So I went for a Krieger 1100 watt inverter because it was in the mid-cost region and also carried a decent warranty.
Choosing Solar Batteries For A Pop Up Camper
Like with the inverter, we will look at the price and quality of batteries for a pop-up camper. Here it is essential to get the battery with the correct voltage.
Once again, Renogy 200ah would be the option, but I went with something cheaper and opted for the Mightymax 12 volt 200ah battery.
Tips To Install Solar Systems On A Pop Up Camper
Here are some tips for doing a solar system installed on a pop-up camper :
Do proper planning before the installation in terms of layout and position. Remember, the solar panel needs to catch the sunlight, so the angle is critical. Keep the inverter and the battery well protected from the elements.
Always read the user manuals and watch some tutorials on specific topics. If you are unsure, get a qualified person to do the installation.
Make sure to use the correct tools and equipment, including proper Personal protective equipment.
Make sure that solar equipment is isolated at all times and do not do installations when the equipment is on. There is still the risk of electrical shock, so be careful.
Having a fire extinguisher available during an electrical installation is essential. Make sure to read the information and follow the instructions.
Doing a solar system installed on a pop-up camper is not that complicated because it is a mobile install, and it is mostly plug-in and use, but some things require basic skills.
Resources