Introduction
The Anker PowerCore III 10K Wireless Power Bank is considered one of the best wireless power banks for iPhone due to its high-speed charging technology and sleek design. Additionally, the Yoobao Wireless Portable Charger is also highly ranked for its large capacity and compact design. Both can wirelessly charge iPhones and have USB ports for additional charging.
Best Power Banks with Built-in Lightning Cables and Fold-Out Wall Plugs
On any list of the best wireless power bank for iPhone, you can't skip over models that come with built-in Lightning cables and fold-out wall plugs. These devices bring convenience and multi-functional use to the next level. Let's delve into some of my top picks:
See also: Best Solar Power Banks (Camping + Home For Phones)
Infinity Lab InstantGo 5000
The Infinity Lab InstantGo 5000 hides a surprise under its compact and sleek appearance – a built-in lightning cable for immediate iPhone charging. It elegantly solves the problem of constantly carrying around charging cables. Plus, it has a fold-out wall plug to recharge the power bank directly from an outlet.
Features & Benefits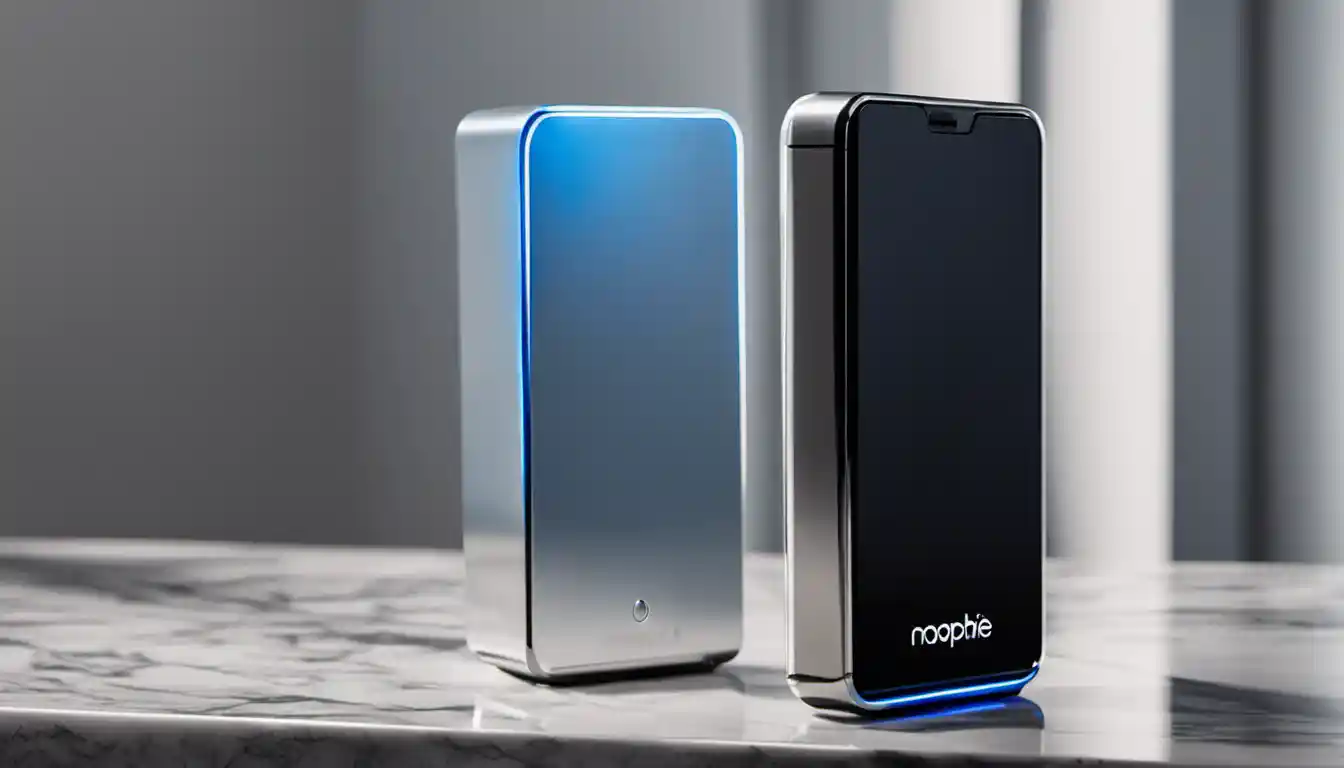 5000mAh battery offers at least one full charge for an iPhone.
Built-in Lightning cable and fold-out wall plug.
LED battery level indicator.
Pocket-size, lightweight design for easy transport.
iWalk LinkPod Y2
The iWalk LinkPod Y2, like the Infinity Lab InstantGo 5000, has an integrated Lightning cable and a fold-out plug. With its 6000mAh capacity, it can fully charge most contemporary iPhones twice.
Features & Benefits
6000mAh battery provides multiple full charges.
Features a fold-out wall plug and built-in Lightning cable.
Four built-in LED lights to display battery level.
Sleek, portable design.
Naturally, each power bank offers its own unique features. That's why I've included a variety, hoping that you'll find the best wireless power bank for iPhone suited for your personal needs.
Best MagSafe-Compatible Magnetic Battery Packs for iPhones
One of the great features of newer iPhones is the inclusion of MagSafe technology, which allows for magnetically attaching accessories, including power banks. In 2022, several companies have stepped up their game in this field, rolling out some impressive models. Here, I'll share the ones that won a place on my list.
Anker 622 MagGo Magnetic Battery
One of the best in class, the Anker 622 MagGo offers MagSafe compatibility, enabling your iPhone to stick to it like a magnet. It's pretty impressive: no cords, no fuss – just snap and charge.
Features & Benefits
5000mAh battery capacity.
Fully charges iPhone 12 and iPhone 13 models.
MagSafe-compatible, for cable-free charging.
Slim and portable design.
Your hunt for the best wireless power bank for iPhone might as well end here if you're looking for something simple, reliable, and innovative. But there's more. Let's see the other contenders in this category.
Best Battery Packs for iPhones with Fast Charging USB-C Output
When time is of the essence and you need your iPhone charged up in a flash, fast charging USB-C output power banks come in handy. Here are some of my top choices.
Mophie Power Station Mini (2022)
This particular model of the Mophie Power Station Mini is perfect for iPhone owners who are always on the go. Its 5,000mAh battery isn't enormous but it charges quickly thanks to its USB-C output.
** Features & Benefits**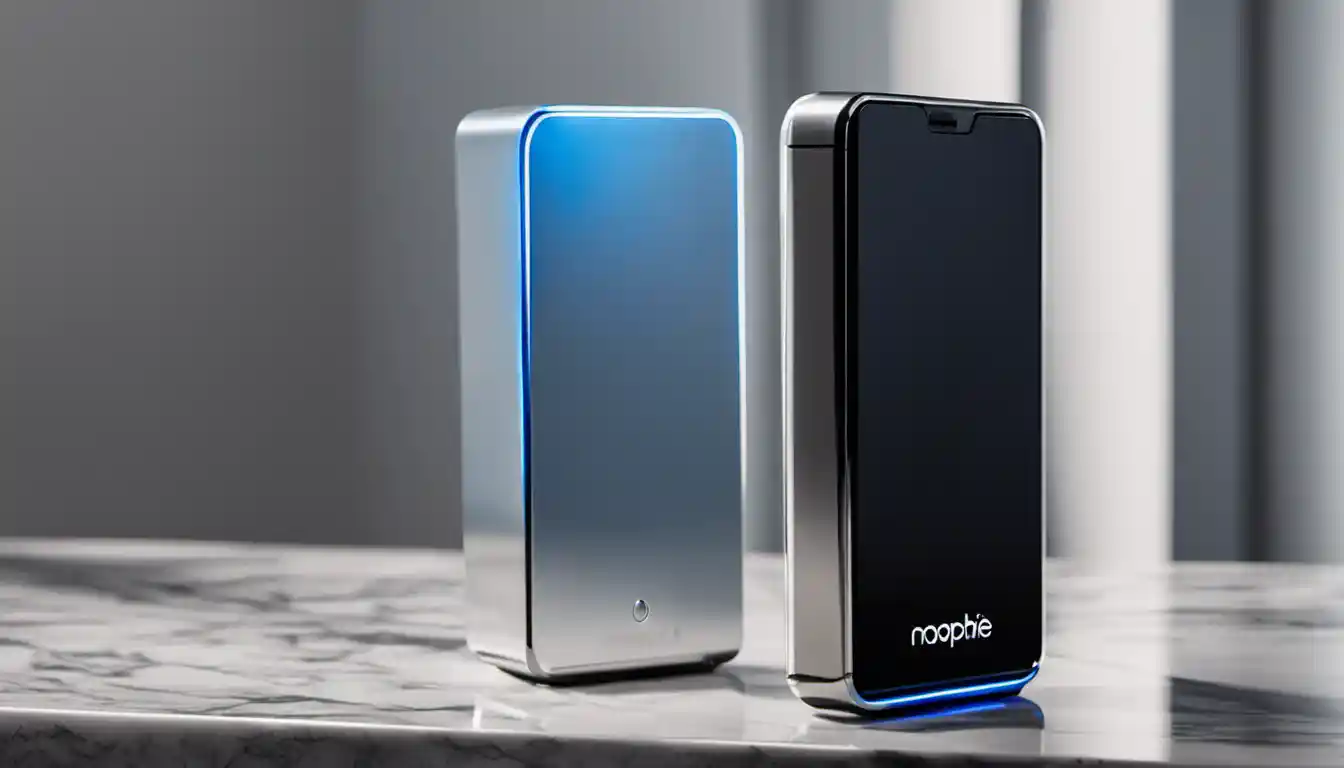 Compact and portable, perfect to fit in any pocket or purse.
USB-C output for fast charging.
5,000mAh battery can recharge most iPhones at least once.
Available in multiple colors.
There are several other models worth mentioning, but the Mophie Power Station Mini represents a nice balance between charging speed, battery capacity, and portability.
Best Battery Packs That Convert into Wireless Charging Stands
With the advent of wireless charging, the best power banks have evolved as well. Some are now designed to double as wireless charging stands, adding an extra touch of convenience to their list of benefits.
Otterbox Folding Wireless Power Bank
The Otterbox Folding Wireless Power Bank outshines the competition in this category. As a power bank, it has a generous 10,000mAh capacity. Unfold it, and it becomes a handy wireless charging stand for your iPhone.
Features & Benefits
High capacity 10,000mAh battery.
Folds out into a wireless charging stand.
Compact and versatile, perfect for travel.
Provides multiple charges for any iPhone.
Best Solar Power Bank for iPhone
Ever found yourself in a situation where you desperately need to charge your iPhone, but there's no power outlet in sight? These are the times when the best solar power bank for iPhone really shines (pun intended).
Addtop Solar Charger Power Bank
The Addtop Solar Charger Power Bank combines a large 25,000mAh battery with four solar panels, giving you power wherever the sun shines. For campers, hikers, or those hit by a power outage, this is a perfect solution.
Features & Benefits
Massive 25,000mAh battery offering multiple charges.
Four solar panels for efficient solar charging.
Two USB outputs to charge two devices simultaneously.
Waterproof and durable design.
How to Choose a Power Bank for Your iPhone
Choosing a power bank might not be as straightforward as it seems. There are several key factors that you need to consider. A power bank's capacity (measured in mAh), size, weight, and the presence of additional features, such as solar panels or MagSafe compatibility, can greatly influence its usefulness and convenience.
Understanding mAh
The capacity of power banks is commonly measured in milliampere-hours (mAh). The larger the number, the more times it can charge your iPhone. However, larger capacities typically mean bigger, heavier power banks.
Important Factors to Consider
Battery capacity: Enough to fully recharge your iPhone at least once.
Size and weight: Should be portable and handy.
Recharge time: A good power bank should recharge quickly.
Extra features: Consider features like built-in lightning cables, fold-out wall plugs, or solar charging capabilities.
What is the Best Power Bank for iPhone?
The best power bank for your iPhone really depends on your specific needs. Need something compact and handy with a built-in lightning cable? The Infinity Lab InstantGo 5000 could be just the ticket. Or are you after the best solar power bank for iPhone for your outdoor adventures? Then give the Addtop Solar Charger Power Bank a look.
From the MagSafe-compatible Anker 622 MagGo for newer iPhones to the highly versatile Otterbox Folding Wireless Power Bank, there's a fit for everyone in 2022's top-notch assortment of iPhone power banks.
Conclusion
Power banks are a lifesaver in this digital world where a dead iPhone battery can seem like a catastrophe. So, it's crucial to invest in the best. Now that you've gotten a comprehensive overview of these top power banks fit for an iPhone, you can make an informed decision and live your life with one less worry. Remember, it's not just about the mAh. It's also about the best wireless power bank for iPhone that suits your lifestyle and needs. Be it for casual use, outdoor adventures, or fast charging on the go, you now have a diverse selection to choose from. Happy charging!