With the concept of security, there are many factors to consider when finding the ideal camera for your home. These factors usually consist of high-resolution video, night vision, a smartphone app, and two-way audio.
One of the cameras synonymous with home security is Amazon's Blink Camera. One of its add-ons would be its solar panel feature powered by the sun during the day. At night, it uses the camera's lithium batteries to power it.
Are you trying to figure out if Blink Solar Panels are the best option? Here we will go over:
The advantages and disadvantages of using solar panels with Blink Cameras
If they are the right fit for you
What are top products are compatible with it
Keep reading to learn all about how these devices work and the answers to the most commonly asked questions.
Amazon Blink Solar Panel
Blink Security cameras by Amazon are a reliable, effective solution for home security and are at a lower price point than other brands. All of these cameras are HD 1080p.
There are a few options for you to choose from in the Blink range, with a suitable option for most buyers. There are two for indoors and three for outdoors.
Although you might think you won't use a solar panel for an Indoor Blink camera, you might position it on a porch protected from the rain, but within reach of the sun to power it.
By mounting this add-on accessory to your Blink Camera, you won't have to worry about charging your device during the day.
Blink Camera Range
See also: Solar Panel Cameras (Full Guide)
Blink Mini
The Blink Mini is a great option for a basic set-up with a variety of uses. It can be a two-way intercom for security and it even hooks up to Alexa. The only downside is it needs to be plugged in.
Blink Indoor
For a wireless option, there is the Blink Indoor, which has an amazing battery capacity that will keep it going for up to two years. Plus, this has a temperature monitoring sensor. It also has a two-way intercom feature.
Blink Outdoor
For an outdoor camera, the Blink Outdoor is a great choice, Which also has a two-year battery life, is waterproof, and is in HD. This is great for well-lit areas or places you already have lights.
Blink 3rd Gen
The Blink 3rd Gen has all of the features above but includes a high-powered security light that will give you a clear picture during the night. And with a 2-minute setup time, it's perfect for a quick 'set and forget'.
Blink Doorbell and Camera
For just a camera at your door or gate, the Blink Doorbell with the camera is a two-in-one solution. The added feature for the doorbell is an infrared camera which will give you sight at night.
blink solar panel review
Solar panels can easily charge the Blink cameras and you won't need to change batteries for 5-15 years. Personally, because of the low power requirement of the Blink cameras, I would use high-powered lithium batteries (some included in the purchase).
Although 'up to two years' is at a very basic level of use and if you are a high user of the two-way system and have it connected to Alexa the battery power will drain down pretty quickly.
I would get a solar panel if you're a high user of the features and I would definitely recommend one if you go for the Blink 3rd Gen – the batteries will soon be out of power with the security lights.
Wasserstein Solar Panel
The Wasserstein Solar Panel is specially designed to be compatible with Blink products. Like the official Blink add-on, this solar panel is equipped with internal batteries, efficient solar cells, and versatile mounting as it has a 360 adjustable bracket.
Aside from being equipped with energy-saving technology, the panel and USB cable are weatherproof, so you can charge it with ease without worrying about any weather elements damaging it.
With its compatibility with Blink, if you buy it, it also comes with screws and wall anchors.
iTODOS Solar Panel
The iTODOS Solar Panel is another product that works efficiently with Blink Cameras. It provides unlimited power for your outdoor camera. It not only is weatherproof, but it can withstand temperatures from -4°F to 120°F (-20°C to 48°C).
This might be the more ideal option for battery energy because it has a built-in 2600mAh capacity rechargeable battery and can hold its charge for up to 365 days! Although it does not have a 360 mount feature, it is adjustable by angle.
This solar panel is the cheapest out of the previously mentioned, but it does provide a standard amount of features. It is waterproof and equipped with a 9. 62WH battery and 8ft/3m charging cord.
It can charge in complete darkness and withstand any weather environment.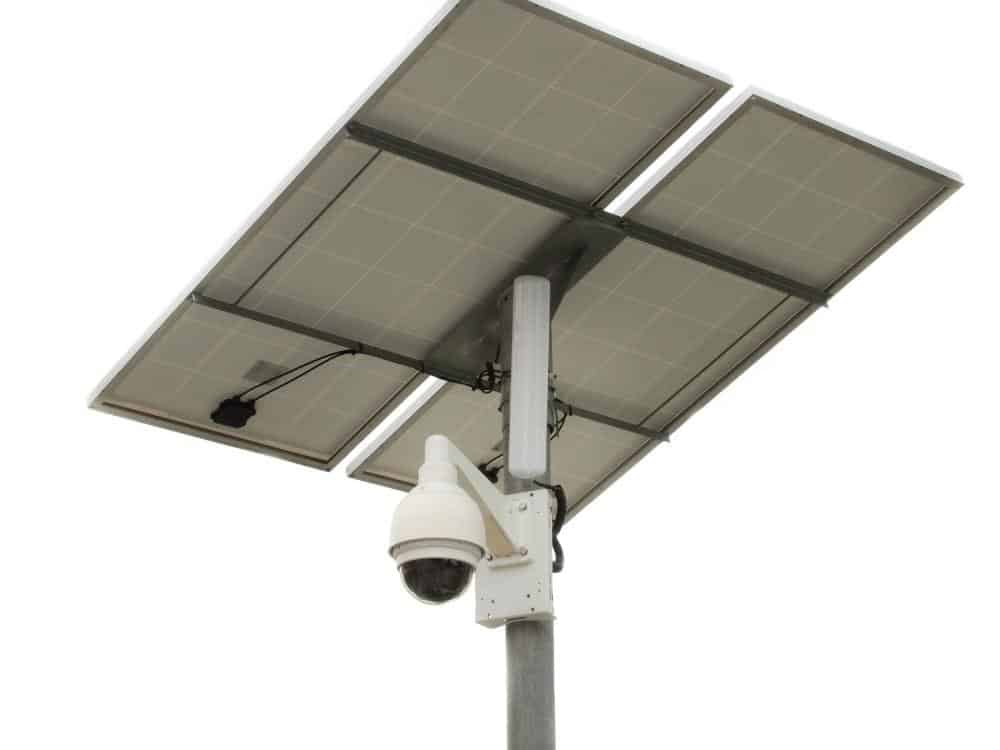 Does the Blink Have an Internal Battery?
Blink Cameras do include an internal battery. It comes with a USB port and cord to charge it. Another option it's powered by is batteries, precisely size AA 1.5 volt Lithium non-rechargeable batteries. 
The USB power adapters must be 5 volts, 1 amp. It's important to know that the lithium batteries are not rechargeable like the internal battery is, and even though it is powered by USB, there is a slight chance the batteries will have some drain.
Can You Replace Blink Batteries?
Even though Blink has an internal battery charged by a USB adapter, regular lithium batteries are required to be replaced now and then. Lithium batteries can last up to two years.
Can I Plug In My Blink Camera?
Your Blink Camera does have a USB plugin feature as it has an internal battery. As previously stated, to charge the camera's internal battery, a 5 volt, 1 amp USB power adapter is required.
How to Replace Your Battery for Blink Camera
For any Blink Camera type, replacing the battery is easy to follow. Below are the steps to replace the batteries on your Blink Camera:
Remove the device if it is on a mount, charging port, or other attachments. Sometimes, the device will have a silicone protective cover over the fastening screw. If it does, remove it before unscrewing.
Turn the screw counter-clockwise and remove the battery cover from the camera. Once removed, gently pry one side to carefully remove the cover of the device.
Remove the lithium batteries from the camera, then replace them with the new pair. Make sure that the batteries are in the correct place.
Place the battery cover back onto the camera and hold it in place. With that, firmly turn the screw clockwise, and you're done.
How Much Does Blink Cost Per Month?
When it comes to the pricing of Blink Cameras, the cost is different depending on which type you get and if you buy the bundle that Amazon offers. Luckily, the devices are less than $100. However, that is if you do not include the subscription.
Outdoor Blink Camera Pricing
Aside from the indoors and mini type, the Outdoor Blink Camera is more expensive than the rest.
It is priced above a hundred dollars, and it is most definitely worth it as it includes several more features and a specialized syncing module. Not only that, but it also features a customizable motion sensor.
Blink Camera Cloud Monthly Pricing
Of course, the Blink Camera itself costs one price, and you do not have to pay for it again. However, you would have to pay more for features such as live streaming, two-way talk, and other components. Blink Camera has two subscription plan options: basic and plus.
Both Blink Camera Subscriptions offer the same features. However, the plus bundle offers more than the basic cushion for a few dollars extra. The basic bundle, which costs $3, provides:
A one-year warranty
Coverage over one camera
The standard features that come with its device
Unlike the first option, the plus bundle provides all standard features but has slightly more advantages.
The plus bundle, which costs $10, offers coverage on any amount of Blink Cameras you have, and it has an extended-lasting warranty as long as the subscription is renewed monthly.
It does offer a 10% discount on any other Blink products, unlike the basic bundle, which doesn't.
How Can I Hide My Blink Camera?
You can hide your camera by blending it in with surrounding plants and objects. Safety is a top priority when it comes to Blink Cameras. Even though they are tiny, they can be an eyesore to some.
Also, you might want to hide the camera while having a complete view of whoever comes by your home.
Below, we will discuss how to conceal your outdoor camera discreetly, yet the camera is still visible to you.
use Nature to Hide Your Camera
There are a couple of ways to use the outdoors elements to hide your Blink Camera. One of the more popular hiding spots is to place it in the trees.
You have to consider the tree size, how thick the leaves are, and where to put it on the tree so the camera lens can still catch whatever's happening. You want to make sure that outsiders can't see your camera, so think about how you mount it.
Another way you can hide your Blink Camera would be to use thick foliage or bushes to conceal it. Keep in mind to trim the bush where you want to place the camera, making sure that nothing obstructs the vision of the camera lens.
Using What's Around Your Home Outdoors
What if you don't have a lot of trees or bushes to use for camera concealment? Luckily, there are other ways you can hide your Blink Camera around your home.
One of the primary spots to hide it would be the roof, but you risk your camera being completely exposed. A solution for this might be to either build a birdhouse facade or a fake nest.
Trying to hide it by the front door might also risk exposing the Blink Camera significantly. Though, if you're using this as a video doorbell, the benefits are that you have an upfront view of whoever enters the front section of your home.
Before you consider any of these ideas, make sure to have a sign notifying the outsiders that they are being filmed.
Blink Camera Frequently Asked Questions
Here are a few more quick answers about Blink products and what to expect from them.
Does Amazon own Blink?
Amazon acquired the company Blink in December 2017 and has owned the company ever since. They wanted to diversify their sales for home security as they also own Ring home security.
How does Blink Solar Panel work?
Blink Solar Panel External Mount is an add-on you can place onto your camera. During the day, the camera uses the energy from the sunlight to charge itself. It uses its batteries to keep its charge at night, but having batteries can be optional.
Does Blink work with solar panels?
Blink Cameras do work with solar panels. However, it does depend on what solar panel you get, as it has to be compatible with blink products. Amazon, Home Depot, and other stores provide an array of third-party options that can be used with this product.
Can my Blink Camera be in the sun?
Blink Cameras come in both outdoor and indoors. Any Outdoors Blink Camera can be in the sun. However, indoor cameras aren't durable for sunlight and an outside environment, so make sure you get a Blink Camera built for the outdoors.
Is Blink coming out with a new camera?
Blink is not coming out with a new camera at the moment. However, the most recent camera would be the Blink XT2 Outdoor and Indoor Smart Security Camera. Unfortunately, this model is discontinued, but you can find a second-hand device on eBay or Mercari.
How far away will a Blink Camera detect motion?
Every Blink Camera features a detect motion of approximately 20 feet. However, some of the factors that might affect the detection motion would be either due to the sensitivity setting, camera placement, object size, infrared illumination, and object temperature.
Can you have Blink Cameras at two different houses?
Fortunately, you can have Blink Cameras in two different houses. Though, in order to have Blink Cameras in other locations, you need an additional sync module.
You can also set up and access this second or separate Blink System from the same account using the multi-system support feature.
What does it mean when Blink Camera flashes red?
Usually, when your Blink Camera flashes red, it means either it's not functioning correctly, or the batteries need to be replaced.
Sometimes it means that the camera itself isn't connected to the wifi. Nothing is entirely wrong, and troubleshooting can efficiently resolve the problem.
Is Blink going to charge for storage?
Blink charges $10 a month for unlimited storage for their plus subscription plan. Their plus subscription plan includes 60 days of footage feature as well. However, they have their basic package subscription, with a limited amount of video storage.
Can Blink Cameras be hacked?
Unfortunately, Blink Cameras are vulnerable to security attacks. This can lead to data theft, unauthorized spying, and audio breaches. However, it doesn't mean that there aren't solutions to prevent or fix this.
Sources: