BougeRV is a company created from the need to provide Rv'ers and other outdoor enthusiasts with power capacity that would allow them to truly enjoy the outdoor experience by alleviating the concern for powering appliances and devices.
The BougeRV 200W 9BB solar panel is an exceptional solar panel offering 22,8% efficiency and is well suited for RVs and other outdoor independent power requirements. It is 8% smaller than most 200W panels making it ideally suited to the outdoor and adventure lifestyle.
So let's unpack this 200W panel and discover what's inside the box, more about Bouge, and how this solar panel could make your RV or outdoor experience that much easier by supplying power as and when needed.
Disclaimer: Sol Voltaics only collaborates with trusted brands – that's why we've received this product to review for you on behalf of BougeRV.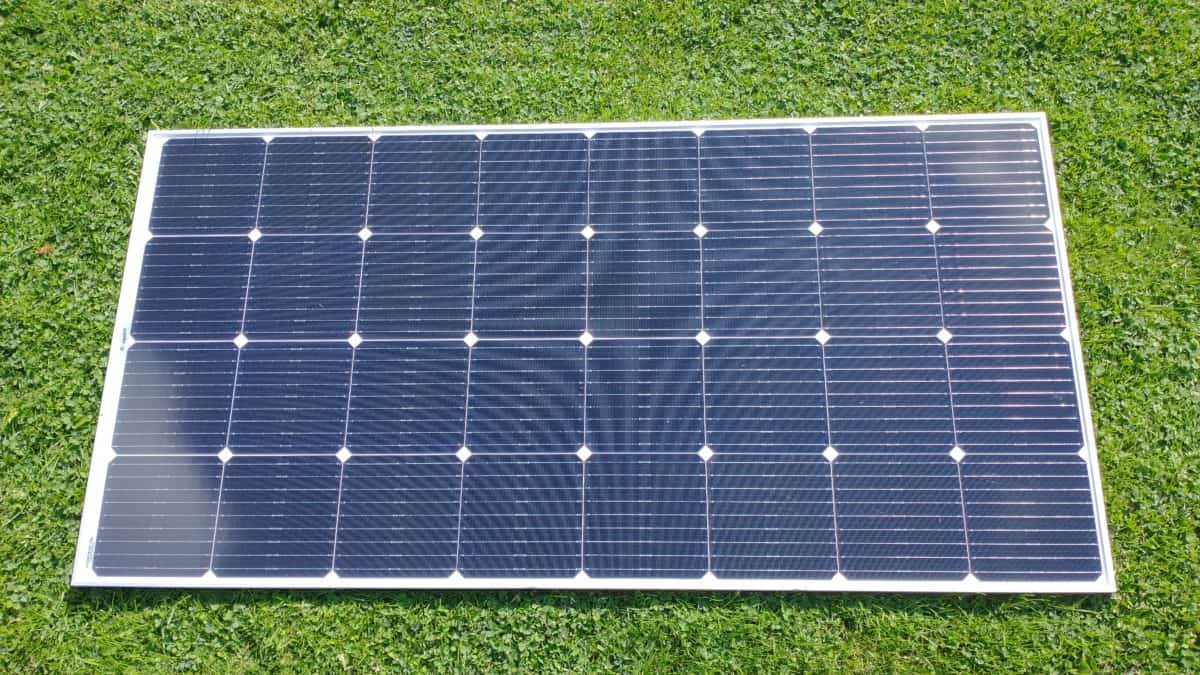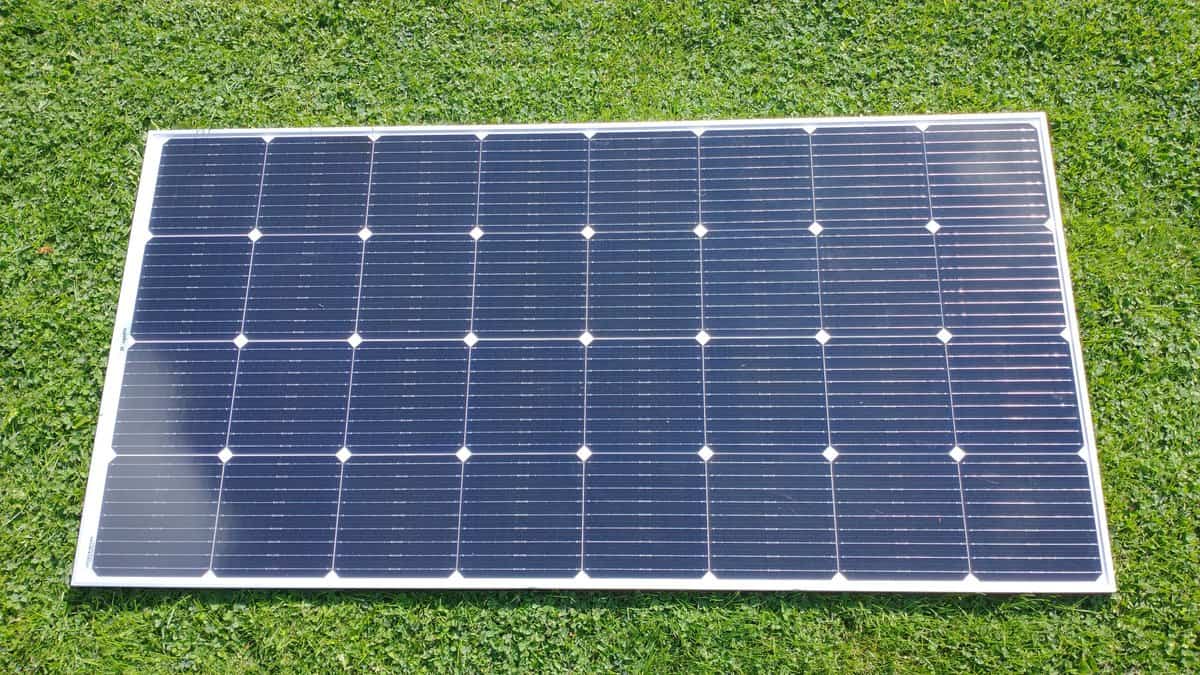 Who Is BougeRV?
BougeRV is a company that sells portable power-generating products to the outdoor market. It has made major inroads in this niche with its low prices while providing good quality products that offer top performance and efficiency.
BougeRV also has a range of outdoor appliances like portable fridges that are compact and efficient, and their appliances and power generation systems are compatible. BougeRV is focused on products to make the RV and other outdoor enthusiasts' lives that much easier, and they do it well!
COUPON CODE – 15% OFF: BJ15
Buy Direct From BougeRV
BougeRV 200W 9BB Solar Panel – What's In The Box?
One of the first things you will notice about this solar panel is its size! If you have unpacked 200W panels before, they are quite large, but this one is noticeably smaller by around 8% than standard 200W panels.
Compared to 100W panels, it's about 40% bigger, but even that is not a massive difference considering that it's double the wattage. Unpacking the box, we find the panel and the 3 ft 12AWG MC 4 connectors, and the junction box is positioned on the underside of the panel.
The box also includes four plastic corner mounting pieces that fit over the corners, and these will be used as the mounting attachments when installing the solar panel on the roof.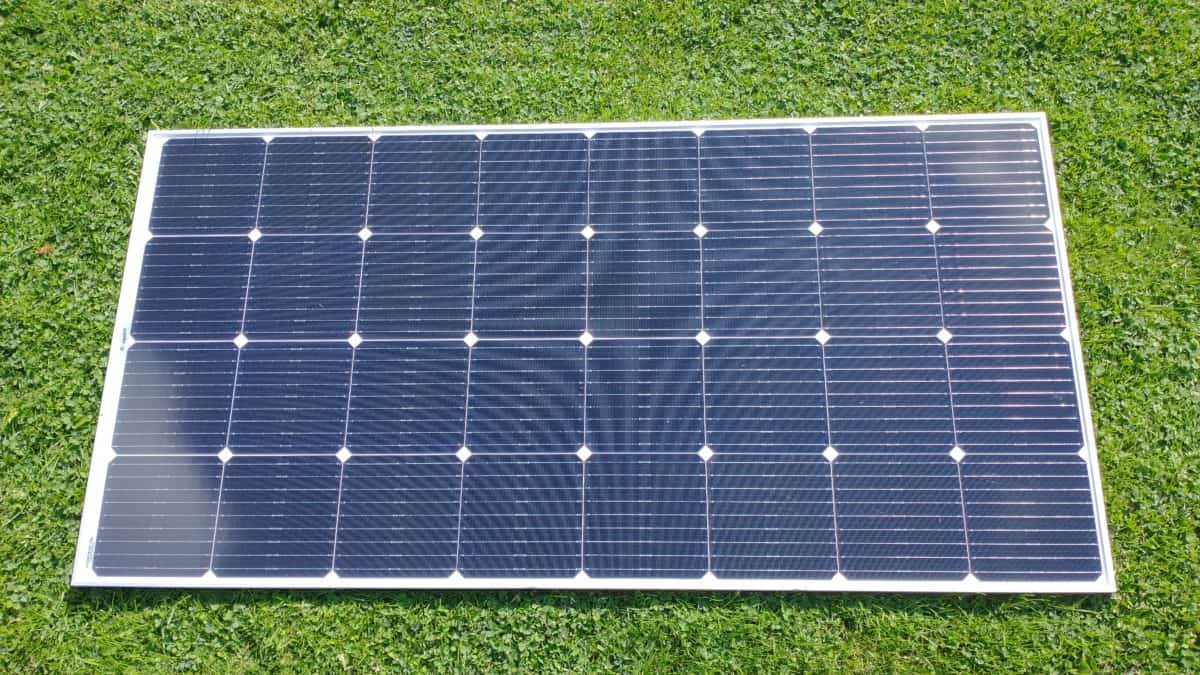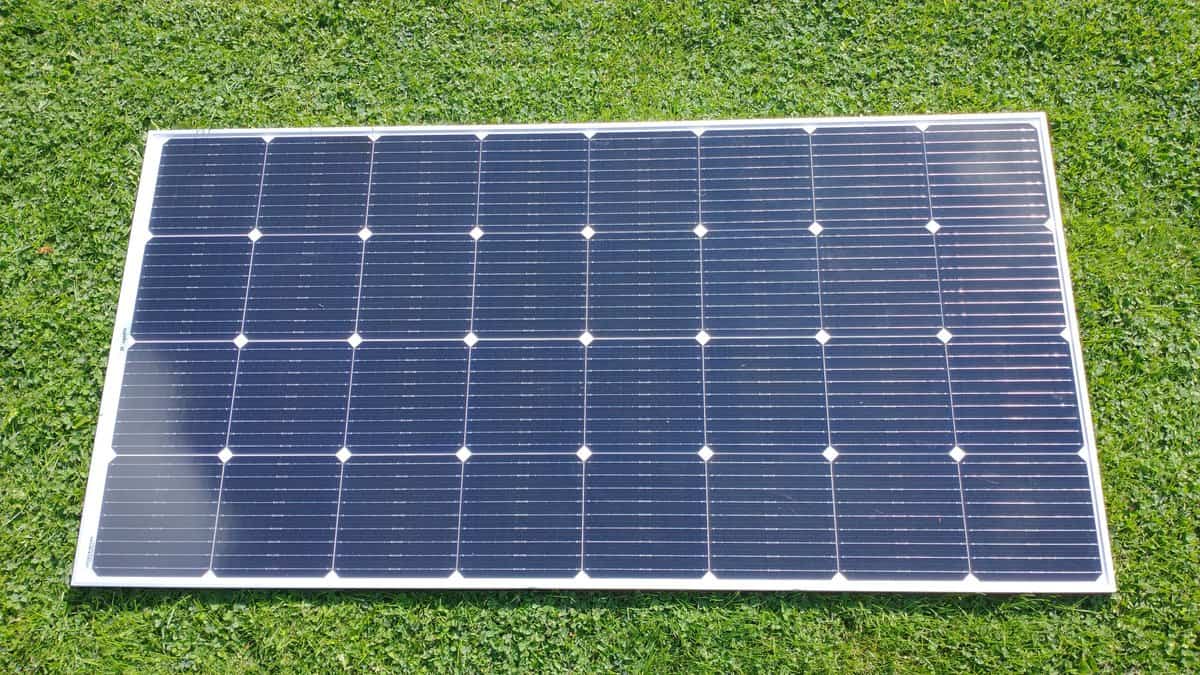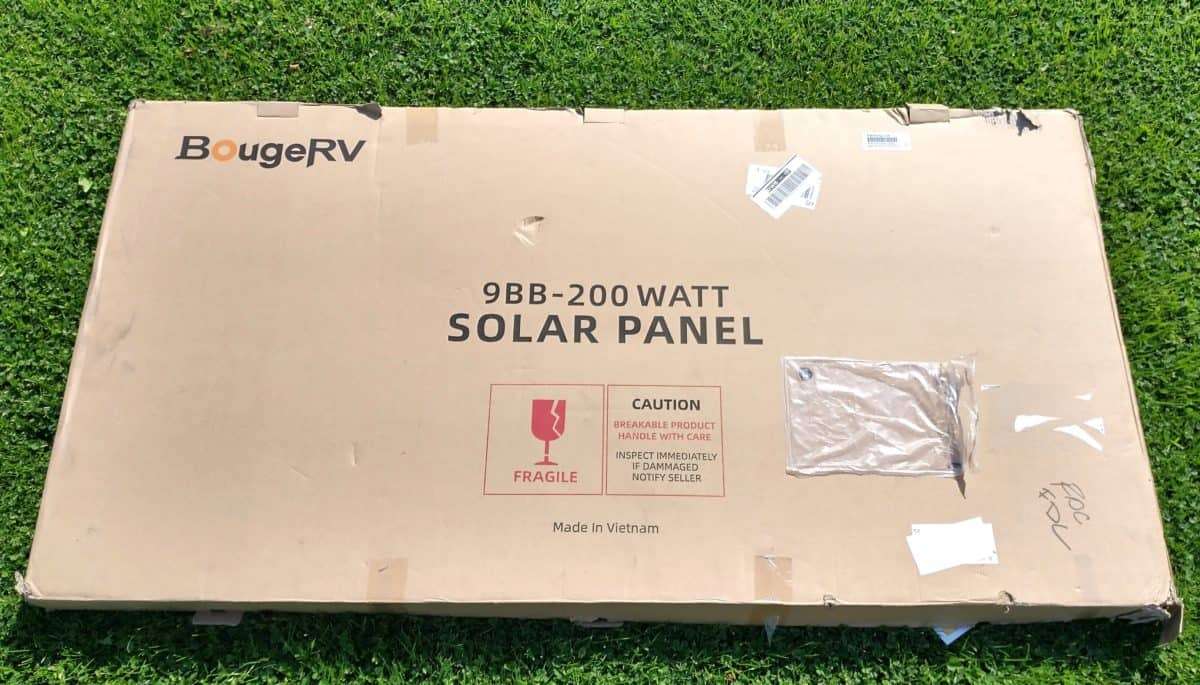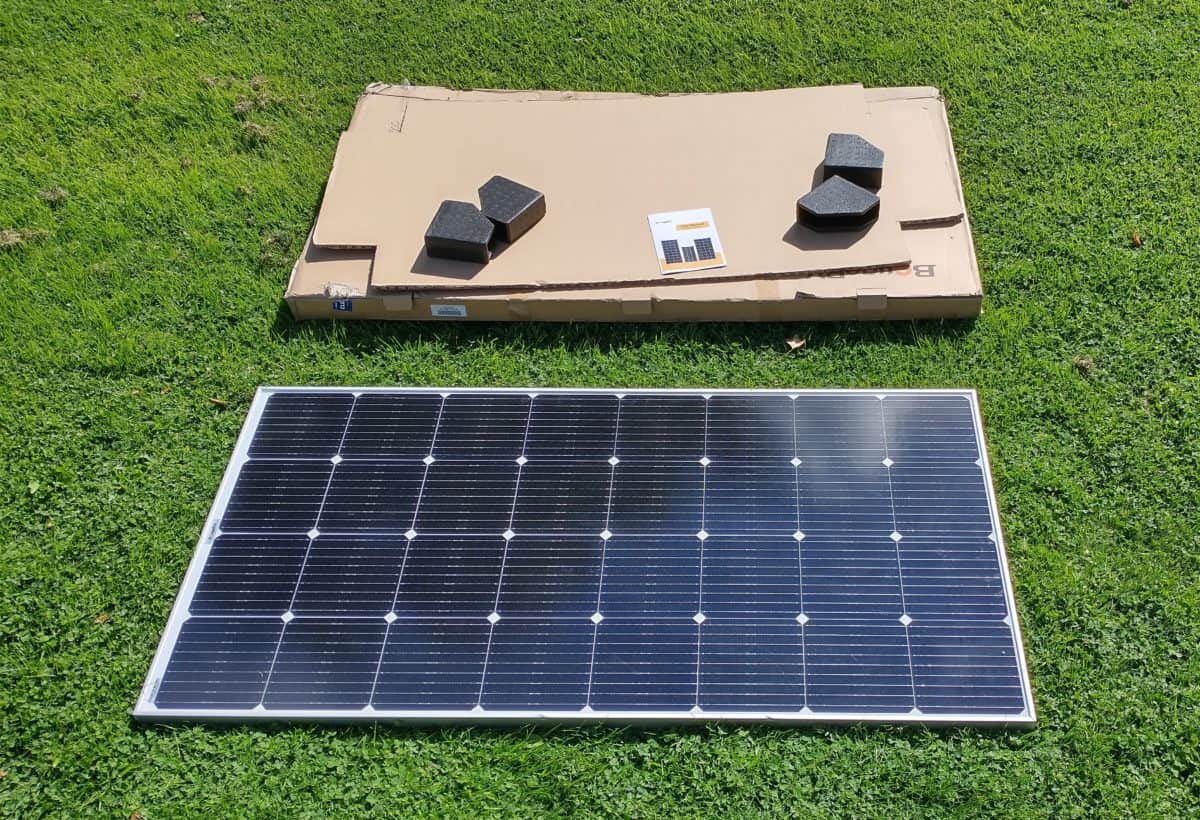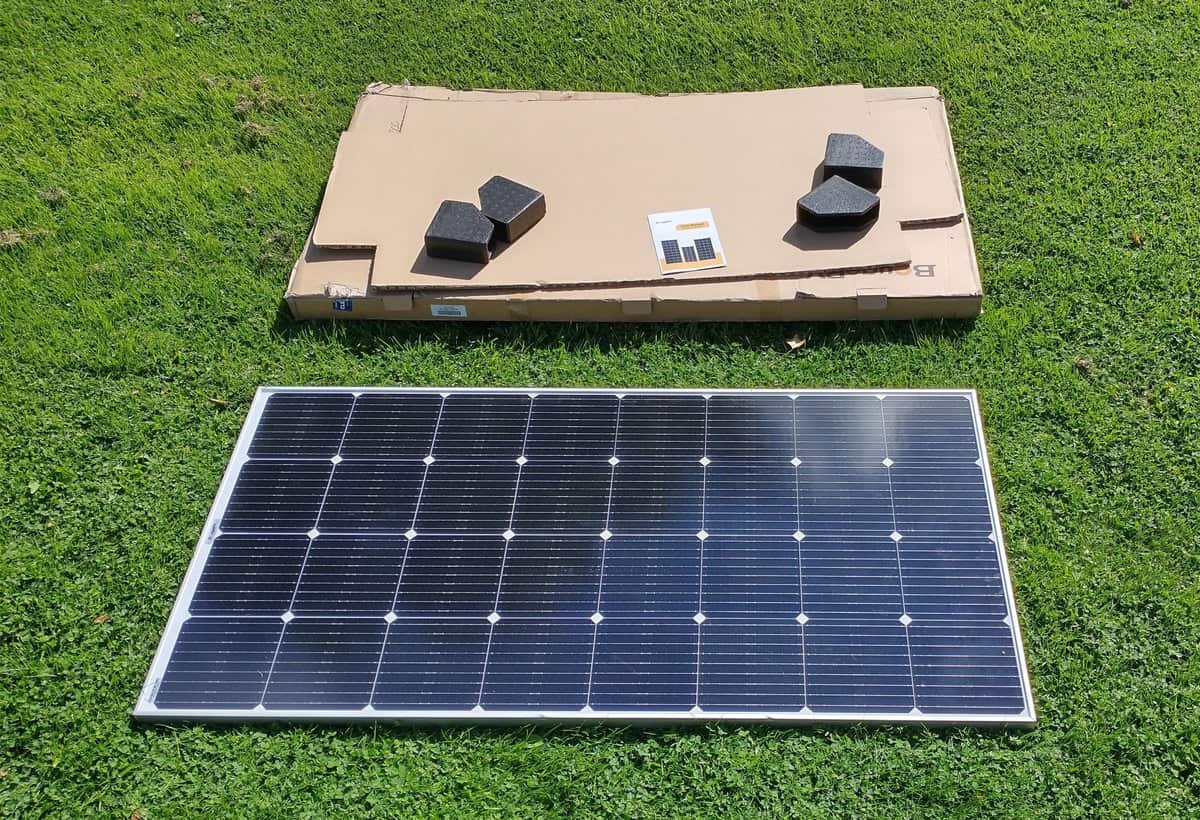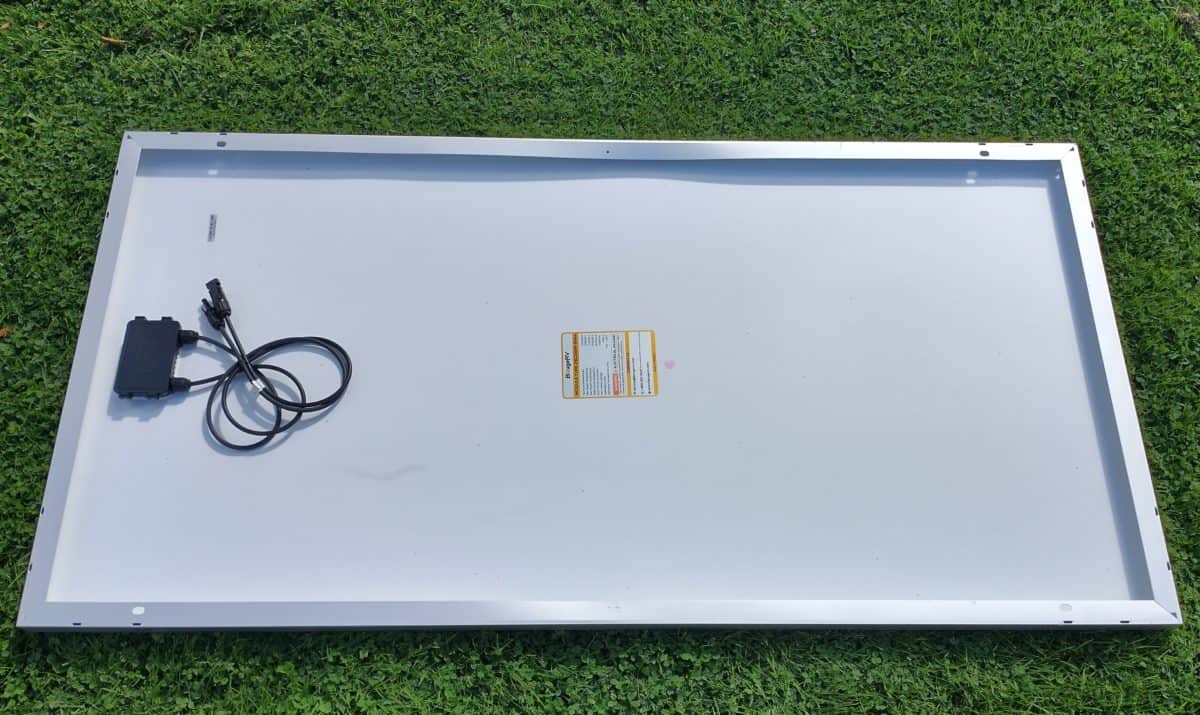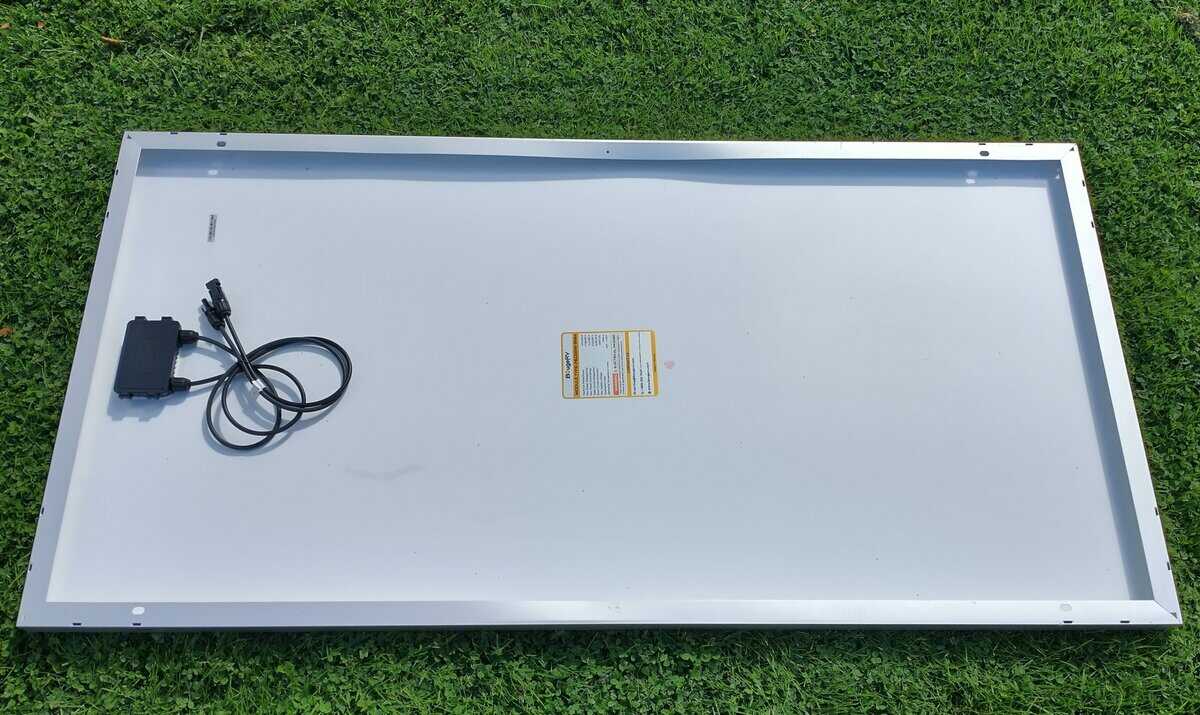 See also: 5 Best Solar Panel Companies (Top Panels Compared)
BougeRV 200W 9BB Panel – Impressive Efficiency
One of solar power's greatest challenges when it comes to solar panels is their efficiency level. This measures how much available energy the panel can utilize to produce power, which aligns with the top-rated panels available today!
The BougeRV 200W panel is rated at 22,8% efficiency, which places it alongside Sunpower and Renogy's efficiency and well above the average efficiency for solar panels.
The average solar panel efficiency globally for 2022 is between 16% and 22%, so any panel offering higher efficiency than 22% is in the top echelons, and Bouge's 200W 9BB is up there with the best available.
This is important because you don't have the roof space you would have in a domestic home; your solar panel on an RV needs to generate as much power as possible in the shortest time, and in this regard, the Bouge 9BB delivers!
BougeRV 9BB 200W Panel – Technical Specifications
This is a 200W solar panel that delivers a 23,4V open circuit with a maximum power voltage of 19,8V, a line current of 10,1Amps, and a maximum system voltage of 1000V DC.
Suppose you are going to be in colder climates. In that case, the 9BB operates at temperatures from -40F to 185F, so unless you are heading for the artic or the sun, it's unlikely this panel will freeze or overheat regardless of the conditions.
This is also a monocrystalline A-grade panel meaning it is made from a single silicon source and is uniform in cell structure across the board. The 9BB 200W panel can be wired in series to deliver greater voltage or in parallel to provide greater current, and if you have more than one, they can be connected using the supplied connecting cables.
| SKU | ISE114 | Application Class | Class A |
| --- | --- | --- | --- |
| Model: | 200W SOLAR PANEL | Weight: | 22.93lb(10.4 kg) |
| Peak Power Pm (W): | 200±3% W | Product diameter: | 54.72 x 27.8 x 1.38 inches |
| Open circuit voltage Voc (V): | 21.62±3% V | Series fuse rating | 15A |
| Max.power voltage Vmp (V): | 17.98±3% V | Operating temperature limits: | -40℉~~ +185℉ |
| Short circuit current Isc (A): | 12.09±3% A | Max. static load, front | 2400 Pa |
| Solar cells Efficiency: | 22.8% | Max. static load, back | 2400 Pa |
Technical Specification – BougeRV 200W 9BB Solar Panel
These panels are also pretty durable as they can take around 2400Pa of high winds and 5400Pa of snow and the junction box is IP67 rated. The solar panel's dimensions are 54.72 x 27.8 x 1.38 inches, and it weighs 22,93lbs.
The panel's design gives it excellent performance in low-light environments, and the corrosion-resistant aluminum housing means a longer lifespan in harsher conditions.
Bouge are suppliers of portable power stations as well. These panels can be used with their power stations to create available energy and store energy for use later using batteries.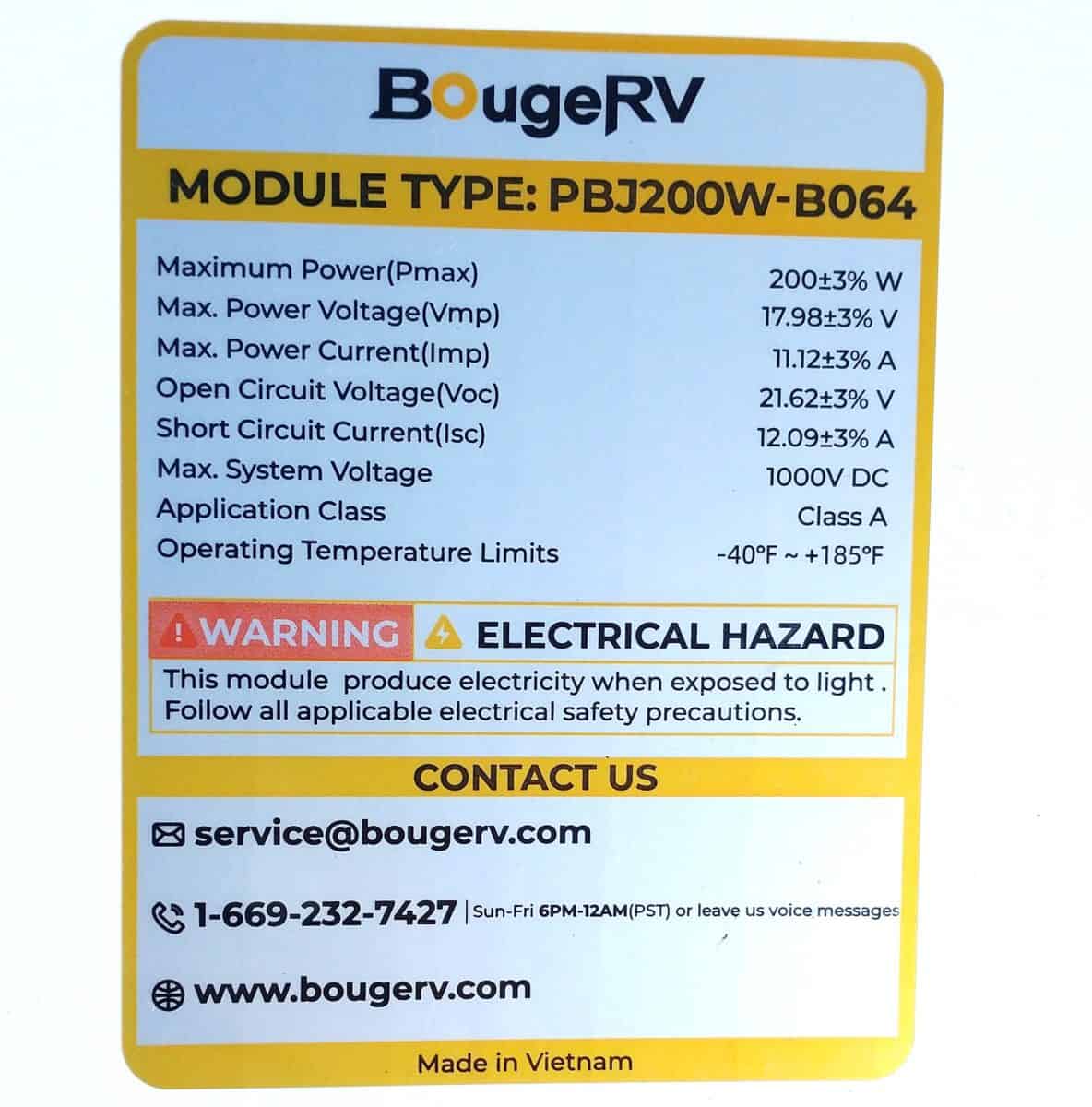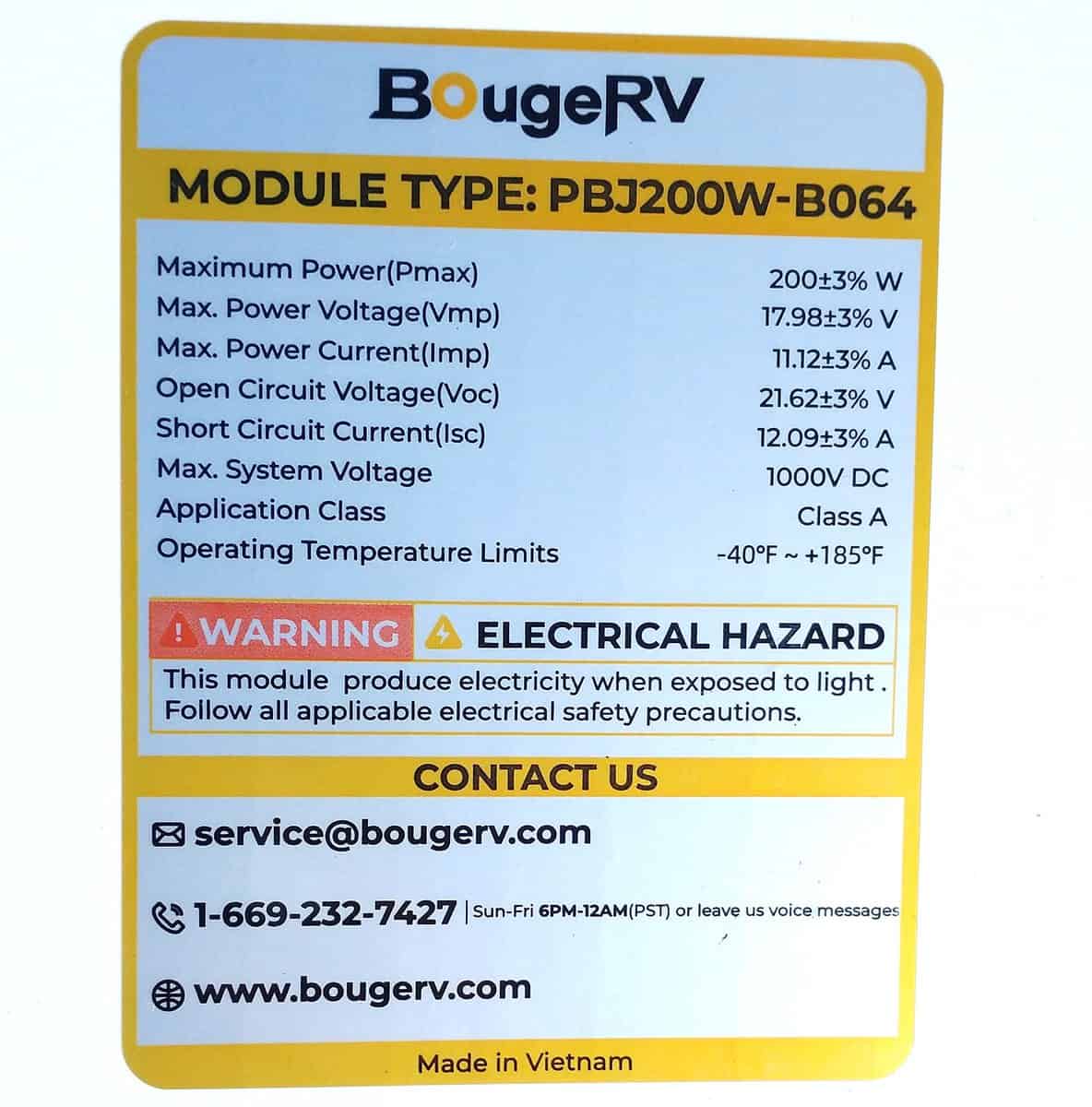 Installing The BougeRV 200W 9BB Solar Panel
Firstly, you need to determine how many of these you are going to install, and you can do this by calculating your power requirements and whether you will need an inverter to run AC appliances.
Because these panels are lightweight, they are ideally suited for an RV roof, so you need to find the space on the roof required and install them. It's wise to leave a little gap between each panel, and if you are only installing two, you can mount them on either side of the roof to dissipate the weight load.
The 9BB panel includes four plastic corner mounting pieces that can be glued to the panel using a quality adhesive once set. You can mount the panel by gluing it to the roof or using screws.
Once installed, you can have the cables running to the appliances directly or linked to the charge controller if you install storage systems.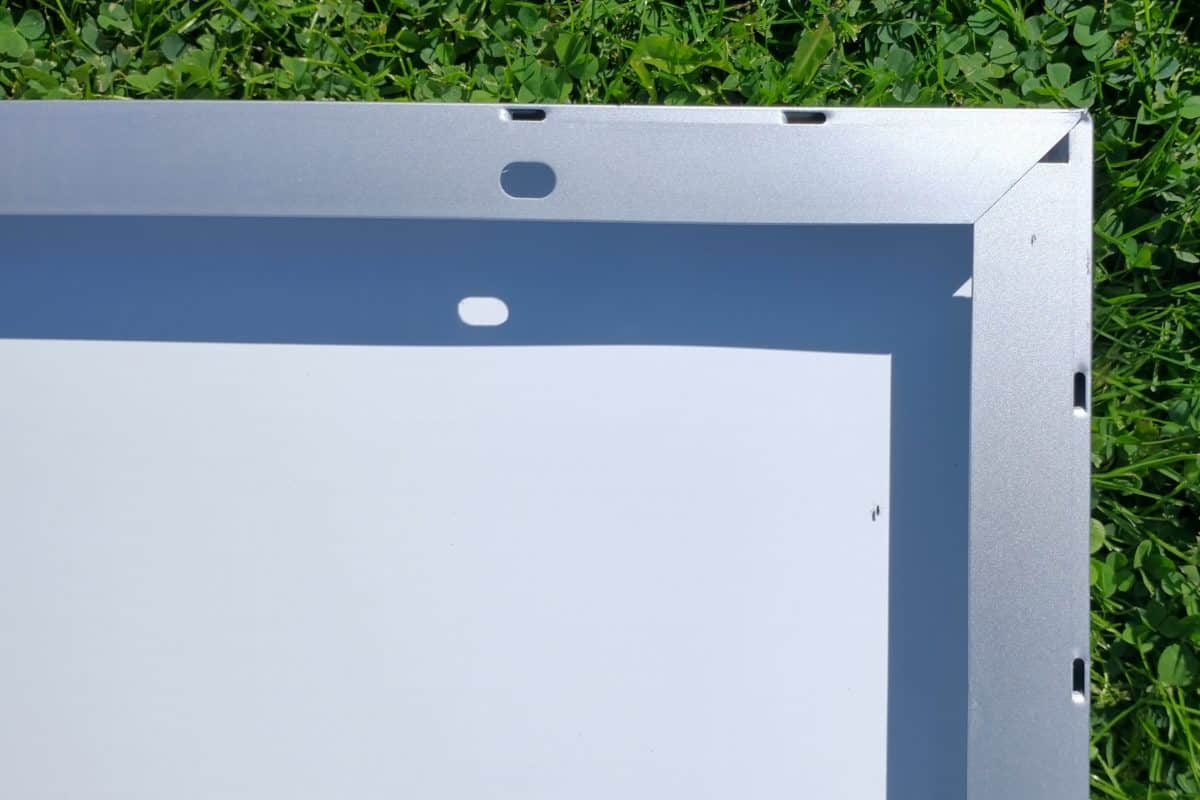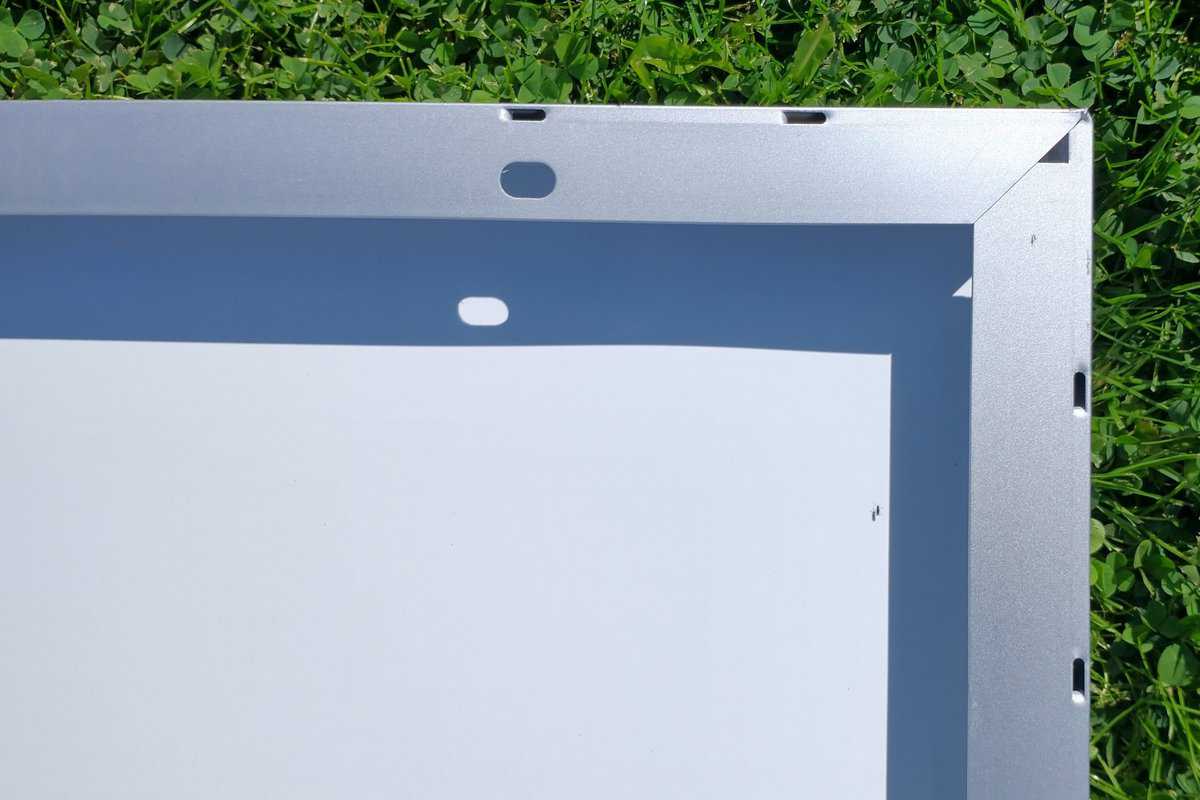 Is The BougeRV 200W 9BB Solar Panel Good For RVs?
BougeRV makes power generation components like solar panels, power stations, and appliances specifically for the RV market. To this end, they design and build their products accordingly.
Lightweight, ultra-efficient, and easy to install thanks to the pre-drilled mounting holes and supplied plastic corner mounts with enough power generation for most small appliances you would find inside an RV, this 200W solar panel perfectly matches the RV lifestyle.
Because this panel is smaller and more compact than other 200W panels, you would be able to add more to your RV roof than if you went with standard 200W panels without adding undue weight stress to the RV and generating higher wattages more efficiently – this is an ideal match for an RV lifestyle.
From a cost perspective, the 200W 9BB panel is reasonably priced from BougeRv.com, which is a competitive price relative to other premium brands. Still, the high-efficiency rating on this panel (22,8%) and its compact design make this a great choice for an RV. Use our coupon code to get it even cheaper!
What Warranty Does The BougeRV 200W 9BB Solar Panel Have?
Like most panels, this one does have an 18-month limited warranty and will cover replacement from factory defects or faults, but won't cover replacement caused by damage due to incorrect handling, installation, or negligent use.
Bouge provide a 25-year power warranty on their panels, offering their customers advice on installing and building a solar power system.
What Appliances Can This 200W Solar Panel Power?
This panel can power smaller appliances and devices like portable fridges, laptops, LED lights, and phone chargers. If you add a few more, along with a power station, charger, batteries, and an inverter, you would never lack power regardless of location.
Before you buy one, you need to know your power requirements, including the appliances or devices you want to power and whether you need an AC supply or only DC, as this determines whether you need an inverter.
You also need to know whether you would need storage capacity, so if your preferred campsites offer an on-site AC supply that you can plug into when parked, then the solar panel can be used to charge DC device appliances. At the same time, the supplied AC can power the rest.
If you are heading off-road and not going to have an available plug-in power supply, then knowing the total required wattage would be a pre-requisite before ordering panels, so if you have a 350W requirement, you would need two of these to cover that.
Along with the smaller appliances, the 200W panel can charge a 12V battery or even larger ones, but that would require more than one panel.
If you are looking at adding storage, you need to calculate the size and quantity of the batteries required. You would also need to add the charge controller; this panel would be compatible with lead-acid gel and lithium batteries.
What Kind Of Reviews Has This Panel Received?
Based on reviews left, this panel gets 4.9-star reviews from customers, with many citing the simplicity of installation and performance with almost instant power generation quality and capacity from the panel once installed.
Customers are happy with this company, which we here at Sol Voltaics value.
Conclusion
Overall, the BougeRV 200W 9BB solar panel ticks all the boxes when it comes to an ideal choice for an RV. A good price, top-class efficiency, and simple installation make this an excellent option for any outdoor or RV enthusiast looking for a reliable power supply.
COUPON CODE – 15% OFF: BJ15
Buy Direct From BougeRV
As self-proclaimed RV and portable power specialists, Bouge has taken the time to understand their customer base's requirements and produced a world-class series of solar panels to give those clients exactly what they want and a little extra!