Regarding portable solar panels, two names are trending right now: Go Power and Renogy.
What We'll Discuss in This Article:
Background information on each company
What types of products each company offers
What types of kits each of the companies offers
The pros and cons for each company's products
Tips for choosing the right company
Let's look at each of these systems in more detail so that you can get more familiar with them.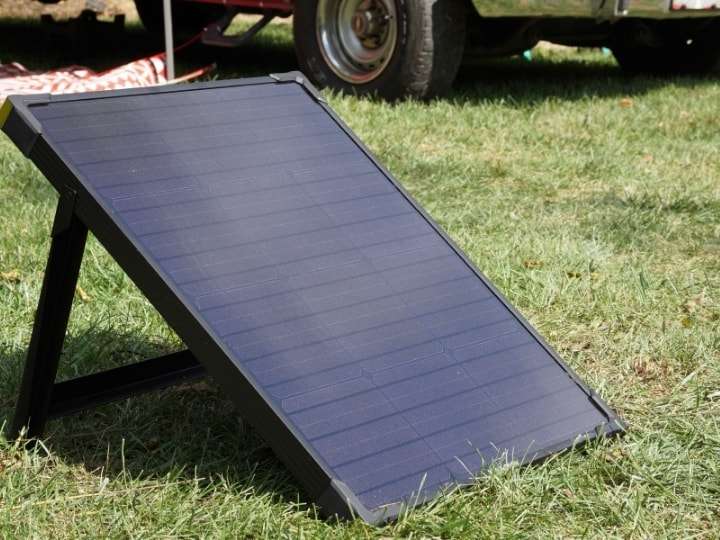 Portable Solar Panel Kits
Solar panels have come a long way in just a few short years, which is why they are no longer considered a luxury item that only the super-rich can afford.
With rebates and discounts being offered often, just about everyone can now afford solar panels.
And the best part is that solar panels are no longer just available for your rooftop.
In fact, people on the go appreciate portable solar panels because they can go just about anywhere and use these panels to produce energy and power different devices.
And not only do solar panels last a very long time – 20 to 30 years is average – but they come with excellent warranties as well.
The advancement in technology over recent years has provided us with great portable options, which are effective and at a good price-point.
Portable solar panels are great for busy people, and they can make the perfect accessory for your next camping or fishing trip.
Go Power Portable Solar Panels
Go Power makes excellent solar panels but they are sold mostly to fleet companies rather than residential and industrial customers.
You can even find Go Power panels on trucks that power lift gates. If you're a consumer and interested in their products, you can find them through various dealers.
They are also sold in three main kits:
Solar kits for RVs
These include three separate kits offering one panel with 190W of power, two panels with 380W of power, and three with 570W of power.
The 380W system can support full-time RV needs and charge all of your devices and medium-draw appliances.
They come with a five-year warranty, and you can choose from among these three kits depending on the RV you own.
Marine solar kits
These flexible solar panel systems offer 50W, 100W, and 200W systems to suit your needs.
The 50W kit is considered a starter kit. Even better, you can attach the system with either screws or adhesives, and they are so flexible that they can fit just about anywhere you need them to go.
Portable solar kits. Perfect for tailgating, RV-ing, and many other on-the-go activities, there are three of these kits available that range from 90W to 200W.
They are standard kits that are easy to use and include a wide variety of uses.
Pros and cons to the Go Power portable solar panel systems
Pros:
They come with a 25-year warranty
They are one of the most established solar panel companies
They come pre-installed on some RVs
Their panels are very flexible but rigid enough to be secure
Cons:
While sturdy, they are not cutting-edge
Their portable panels are not weatherproof
Go Power also sells everything you need to keep your solar power system going, including inverters, chargers, and batteries.
Their direct-to-consumer business approach is somewhat lacking, but you do have several avenues through which to purchase their systems.
This means that if you're one of those people who love to order things online, Go Power is an easy company to deal with because there are numerous online stores that sell their system.
You should also keep in mind that Go Power has a very long history of being an incredibly reputable brand, even being considered one of the largest competitors of all the other brands by many people.
Go Powers Best Portable Solar Panel System
Easy to get started
Foldable with carry case
90 watts per hour
Renogy Solar Panel Systems
A group of students at Louisiana State University started the Renogy Company, and by 2006 their reputation as one of the best brands in the consumer solar power market was solid.
In addition to solar panels, Renogy also offers batteries, tray cables, connections, and much more.
They offer five main kits, which include:
Solar kits for homes
These include three separate kits. The Tiny House package is 1,00W, the Cottage package is 2500W, and the Villa package is 4800W.
Through these kits, you can power everything from smartphones to tablets and laptops to washers and dryers.
Solar kits for vans/trailers/RVs
There are also three kits in this category as well, including an entry-level kit that offers 100W of power, a trailer package offering 200W of power, and an RV package that offers 400W of power.
Marine solar kits. Since boat sizes don't vary much, Renogy offers only two kits for marine customers.
The first is a 200W kit that you can hook up to a laptop, gaming console, or even fishing lights.
The second is a 350W kit that is even able to accommodate heavy-draw appliances.
Outdoor solar kits
Made especially for camping and other outdoor outings, this kit comes with a 100W Phoenix mini power station with 21W flexible solar panels.
With this kit, you can keep laptops, smartphones, tablets, etc. powered.
Trucking solar kits
The company's two trucking kits include a 200W kit that will power television sets, gaming consoles, and more, and a larger 350W kit that is strong enough to power refrigerators and even an HVAC system.
Pros and cons of the Renogy solar panel system
Pros:
There are kits for any and all uses
They sell everything that you need for the system to be used immediately
They come with a 25-year warranty
They offer a variety of mounting options and configurations
Cons:
The panels can take up a lot of storage space
Installing them isn't difficult but can be a little intimidating
Renogy even sells things not generally associated with solar power systems.
These include power stations, solar-powered flashlights, and solar-powered generators, among others.
Finally, because of its innovative products, Renogy is able to offer great solutions to both consumers and commercial customers.
Renogy's Best Portable Solar Panel System
All-in-one system – case and kit
20 watts per hour
Lithium batteries
Go Power vs. Renogy Solar Panels: Which One Should You Choose?
If you're not sure whether you should choose Go Power or Renogy, here are some tips to help you decide.
Choose Go Power if:
You want the freedom to go almost anywhere without breaking the bank
You want a very quiet solar panel system
You want a very reliable solar panel system
You want a practical and cost-effective alternative to a heavy, noisy generator
On the other hand, Renogy should be chosen if:
You want a lot of options, e.g., campers, RVs, etc.
You want to work with a very creative, forward-thinking company
You expect a wide array of innovative products from a solar panel company
You have a lot of different devices that you'd like to keep charged while on the go
And of course, regardless of what company you end up choosing, here are some things to consider when you need a good portable solar panel system:
How much can you afford to spend?
What devices or appliances are you buying the system for?
What will you be driving or operating when you need the panels?
How often will you be using portable solar panels?
How long will you be using the panels each time you're out and about?
The bottom line is that only you can decide which portable solar panel company is right for you.
Both Go Power and Renogy offer excellent products that are built to last.
All you have to do is determine what your specific needs are and what your budget constraints are, and the rest should be simple.
Portable Solar Panel Choices
Portable solar panels are very convenient, not to mention cost-effective.
They are also relatively low-maintenance because all you have to do to keep them around a while is keep them clean and inspect them regularly to make sure that there is no damage, loose connections, etc.
And when you consider how long they last as compared to their cost, you'll understand why they are such a great deal.
If you're an on-the-go person who is always looking for your next adventure, keeping your devices and appliances powered while you're on those adventures is now easier than ever.