While most people focus on fixed solar arrays, portable solar panels are a good alternative in some situations. Here's what you should know about these systems.
Portable solar panels are effective but only if you use them for the right purpose. Portable solar panels have the advantage of working almost anywhere you have continued access to sunlight, so they're ideal for hiking, off-road camping, and other activities.
However, before we go further, we need to define what portable solar panels are. In this context, a portable solar panel is either carryable or on wheels and designed to move from place to place without being affixed to a building or vehicle.
It means that solar panels that hang down from a backpack are portable, and so are foldable panels you can carry in a trailer behind an RV, but any panel affixed to an RV's roof is not portable.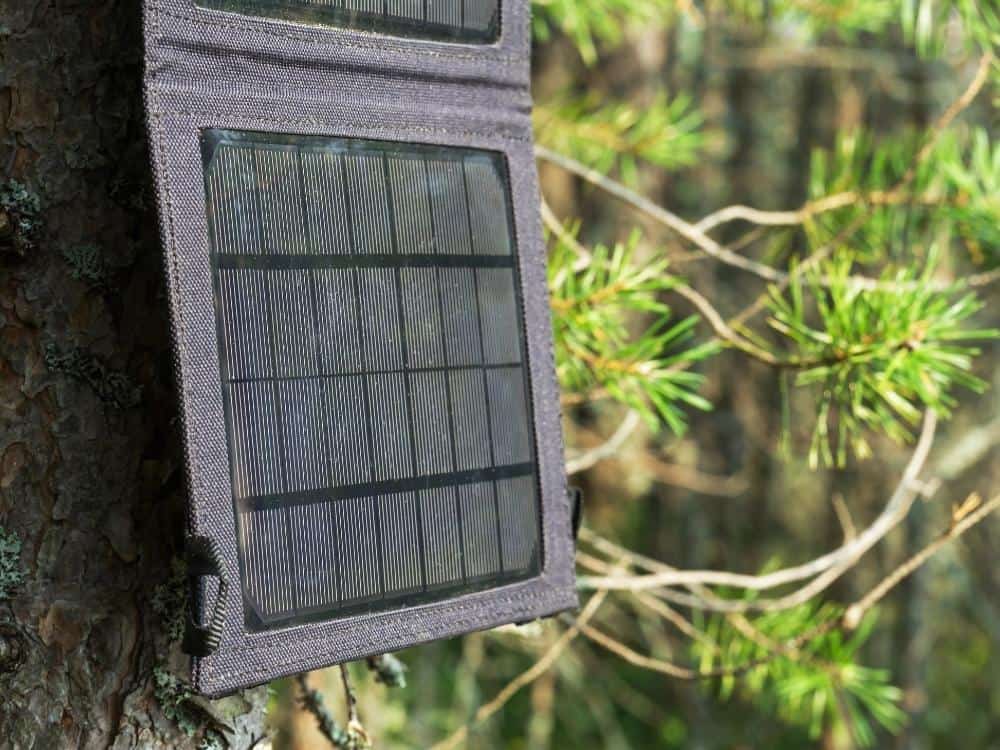 How Do Portable Solar Panels Work?
Portable solar panels usually work as portable solar generators, which means they constantly charge a battery that you can use to power various devices.
However, it's hard to predict how much energy they'll produce throughout a day as you travel, so their real-world production is usually lower than their theoretical maximum.
Using Portable Solar Generator
The best way to use a portable solar generator is by carefully calculating how much electricity your devices consume and how much energy you'll need to produce to sustain them. Remember that some appliances, like fridges, need a constant electricity supply to work.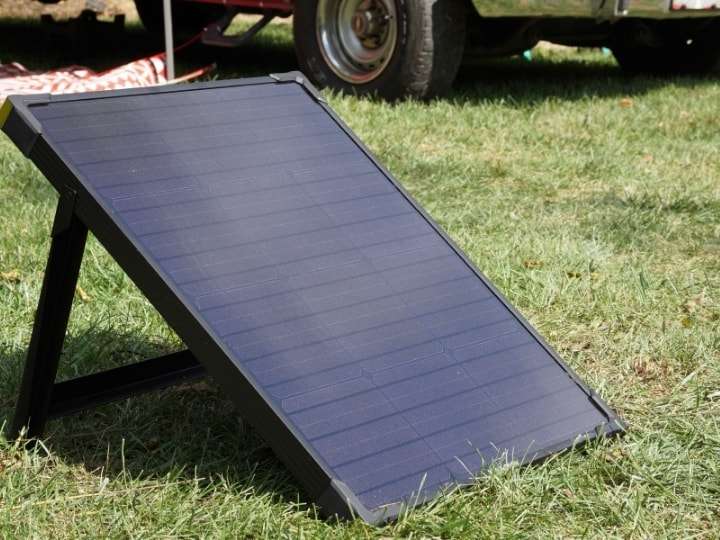 See also: Types of Solar Panels: A Comprehensive Guide for Buyers
Which Portable Solar Panels Are Best?
The best portable solar panels are the ones that produce enough energy for your needs while still being portable enough to move to and from your destination quickly.
Some people buy backpack-sized solar panels that store enough energy to power smartphones and similar devices, but these aren't nearly enough to run a fridge or other major equipment. Reliability is also good, as panels that fail too soon are usually a waste of money.
See also: Renogy Solar Panel To Jackery (Important Steps)
How Much Power Can You Get From a Portable Solar Panel?
Size correlates directly to power for solar panels. While newer panels may be more efficient, this is usually incremental development and can't get around the fact that bigger is always better for producing power.
See also: Solar Panel For Camping (Are They Worth It?)
Is a 100w Solar Panel Enough?
A 100w solar panel is usually enough to power things like:
A smartphone or tablet
A ceiling fan
Several lights, especially with LED bulbs
WiFi routers
See also: How to Bypass the Regulator on A Portable Solar Panel (Here's How)
Will a 100w Solar Panel Run a Fridge?
No. 100w of power from a solar panel is too little to run any fridge, even the most efficient models. At a minimum, you'll need to link several panels together.
See also: How Do Portable Solar Panels Work? Understanding Solar Power On-The-Go
Can a 200 Watt Solar Panel Run a Refrigerator?
No. 200 watts is still too low to run most refrigerators – even compact mini-fridges, never mind a full-size one like you might find in an RV.
See also: Are Portable Solar Panels Worth It? Unveiling the Truth Behind Solar Energy
How Many Solar Panels Does It Take to Run a Refrigerator?
It usually takes at least 300 watts of power to run a fridge, but 400 watts is better if you can manage it. The reason for the extra power is that most solar panels do not produce their listed energy rating all the time.
It's more common to see them produce a capacity of 50%-70%, so you need extra panels to make up the difference.
See also: How to Clean Portable Solar Panels: A Comprehensive Guide for Maximum Efficiency
How Much Solar Power Do I Need for a 12v Fridge?
If you have a modern 12v fridge, you might be able to run it from a 150w solar array linked to a 200-watt battery. To be safer, however, it's worth having at least 200w in your panels and 300w if you can manage it.
See also: How to Use Portable Solar Panels: A Comprehensive Guide for Outdoor Enthusiasts
What Can I Use Portable Solar Panels for?
You can use portable solar panels for many low-electricity needs, such as:
Charging laptops
Watching television
Recharging vehicle batteries
Heating water
Running GPS systems
Powering a satellite phone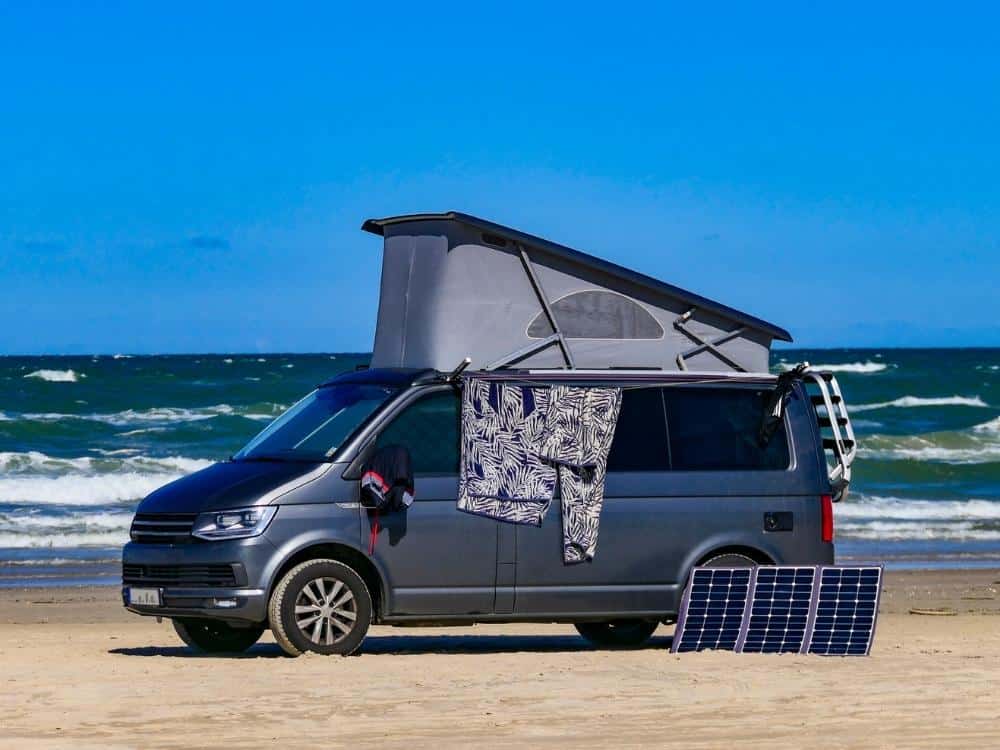 See also: Can You Charge a Tesla With Portable Solar Panels? Exploring Solar Energy Options
Are Small Solar Systems Worth It?
The only one who can decide whether a small solar system is worth it is you. Some people get a lot of use out of panels, linking two or three portable systems together to provide an impressive amount of electricity when camping. Other people think it's not worth the fuss.
That said, small solar systems are one of the few options for generating meaningful amounts of electricity almost anywhere. You can use them hundreds of miles away from a regular grid, and they're far lighter and more reliable than most other generators.
For low-energy needs, small solar systems are often the single best choice.
See also: How to Keep Portable Solar Panels from Being Stolen: Security Tips and Tactics
What Should I Look for in a Portable Solar Panel?
The main things to look for in a portable solar panel are:
Power generation
Durability
Portability
Power generation and durability are straightforward, but portability is more complicated. That factor includes the physical size and weight of the panel, including any associated battery packs. Batteries tend to be heavy, so they can add weight.
Larger portable systems tend to fold up and come with wheels so you can maneuver them over moderately-rough terrain, but they may be too heavy or hard to move through rougher areas.
A portable solar panel isn't good enough unless you can bring it where you want to go. If it can't get all the way there and back again, there's no point in getting it.
See also: How Much are Portable Solar Panels? A Comprehensive Price Guide
How Long Does a Portable Solar Panel Last?
The lifespan of a portable solar panel depends on factors like the quality of its materials and what kind of environment you bring it to.
It will quickly break if you constantly bump a panel against stone as you go rock-climbing. If you keep it in a locked, insulated compartment, it will last a long time.
A modern, high-quality portable solar panel can last 20 to 30 years of moderate use or about 15 years of heavier use. Any solar panels with rigid frames are likely to last around this long. Ultra-small portable panels, including folding units, rarely last more than a few years.
Can I Use a Portable Solar Panel At Home?
Yes. You can use portable solar panels almost anywhere, including at home. However, if you don't need to move your solar panels, it's usually better to get fixed panels because they're bigger, more durable, and ultimately more cost-effective.
Portable Solar Panels for Home Use
Portable solar panels for home use may also have value in other areas, like powering cameras or lighting systems. Some people use solar panels and batteries to provide on-demand illumination for paths and driveways,
How Much Is a Portable Solar Panel?
Prices for solar panels generally correspond to their size. Most portable 100W panels start in the $80 to $200 range, and some come with a battery to store energy. Buying sets of panels often means that you'll get a discount, but manufacturing costs limit how much you can save.
Where Do You Place Portable Solar Panels?
The best place to put a portable solar panel is wherever it can get the most sunlight during your trip. It usually means positioning the panel at an angle to get more sun. There isn't much point in having a portable solar panel if it's facing the shade all day.
Portable solar panels can be elevated depending on the time of year.
Placing the panels on the roof of an RV or up a hill can help keep them away from shadows and let them produce as much electricity as possible.
What Is the Smallest Solar Panel?
The smallest solar panels that exist separate from devices are only a few inches big. Size corresponds directly to power generation for solar panels, so they can't run anything that requires significant energy, but they are helpful for small things.
A miniature panel may produce as little as 0.06w of energy, although slightly larger panels can produce about 4 watts.
The Best Portable Solar Panels
Here are some things to consider when looking for solar panels for different requirements.
Best Portable Solar Panels with Battery
Portable solar panels with batteries usually need to power several different devices. The size of the battery is the most important thing here. You can charge items comfortably with 60w to 200w flowing in, but a large battery pack is what can help that power last for a week or more.
Also, consider the number of plugs. Many portable solar panels with linked battery systems have one or two output slots, usually USB ports. If you want to power anything that doesn't have a USB plug, you may need to look for a different panel or some converters.
Batteries are heavy, so try to ensure you can keep them in a backpack or on wheels. They're too unwieldy to carry normally, especially if you want as much energy as possible.
Best Portable Solar Panels for Home
The best portable solar panels for home environments are those for seasonal needs or places that are inconveniently far away from plugs and other outlets. There are four common reasons why people might want to use portable panels at home rather than completely fixed systems.
The first reason is lighting. You can pull out portable panels during the times of year you want to use them, providing extra power for light along with walking areas, driveways, etc. Some people also use solar panels to light up ponds and other water features.
The second reason to use portable solar panels at home is for heating. Some people install systems under their driveway and walkway to melt snow off.
A system independent from the grid will keep functioning even in the event of a power failure, helping ensure you can get in and out of your driveway safely.
The third reason for having a portable solar panel at home is to operate equipment like pool motors. These can be ideal for keeping things running throughout the year, especially if they don't need much power.
They'll also keep functioning if you want to shut off power to the rest of the house because you're leaving for an extended vacation.
Finally, portable solar panels can be valuable for unique or personal needs. For example, you can wheel out a portable generator if the power goes out and you need to keep running medical devices.
These function as reliable, independent devices that can work even if you don't have access to gas or other fuel sources.
Best Portable Solar Panels for Survival
The housing uses for portable solar panels are relatively rare because most people prefer permanent panels. However, for survival needs, portable solar panels can mean the difference between life and death.
In this context, by survival, we're specifically referring to emergencies. General outdoor activities like camping are covered below.
Portable solar panels can help you keep a charge in devices like smartphones that you can use to find your way to civilization if you get lost. They can even help you use GPS systems and navigate to safe areas as needed.
In other situations, portable solar panels can help you keep a charge in radios or other transceivers that can get information and help you decide where to go.
Information is critical in emergencies, and there's essentially no time in which having access to portable power generation is a bad idea.
Best Portable Solar Panels for Camping
Portable solar panels are an increasingly popular tool for camping and similar activities. Whether you're driving in an RV or an SUV, portable panels can provide electricity at your destination to help make things more comfortable.
It can range from operating a fridge or television to running an electric grill or purifying water. Camping panels are usually relatively large, perhaps 500w or more, with rigid frames you can unfold and a larger battery capacity than other devices.
The main difference between portable panels and regular RV panels is that you can take the portable panels away from your vehicle and deeper into campsites.
They also have the advantage of being silent, so you can use them for electricity at campgrounds with noise restrictions and ban regular generators.
Best Portable Solar Panels for Backpacking
Solar panels for backpacking tend to be significantly smaller than those for camping. Most are about the size of a backpack, hanging down along the side to collect light from the sun. 
More recently, some companies have been developing clothes with solar panels that can get more light.
The real trick here is getting a portable solar generator with enough capacity to charge your devices several times. That's enough power for most backpacking trips. If you need more than that, expect to shell out for a bigger unit or leave some electronics home.
Sources: