Rich solar panels are available in today's market, and they are ideal for off-the-grid energy requirements.
With so much information on this subject scattered, we will guide you on the best Rich Solar panels and explain the main considerations you need to make before getting a Rich Solar panel.
Read on to understand what you are supposed to do to get the best panel that suits your needs.
Top Choice From Rich Solar
What Should You Consider When Getting a Rich Solar Panel?
Our needs, preferences, tastes, and financial abilities are different. Believe it or not, you need to make serious considerations to ensure that you get a product that truly satisfies your needs.
The following are some of the essential factors you should put into consideration – this is before we look at the specifications of Rich Solar;
See also: 5 Best Solar Panel Companies (Top Panels Compared)
Panel's Efficiency
The efficiency of the solar panel you get matters a lot, and it refers to how good the gadget is at converting input (solar) energy into output (electric) energy.
You will be glad to know that a solar panel with high efficiency not only charges the batteries faster but also ensures that you get more power even when there is low light outside.
However, how do you choose the panel with the best efficiency?
Anywhere between 15 and 19% is considered average, with anything above 19% being on the higher end. Solar panels with a 20+% efficiency are mostly in the top tier.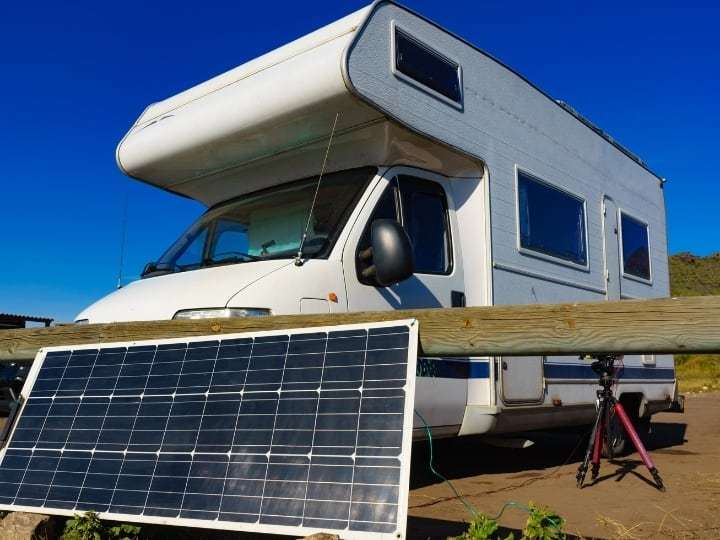 Energy Requirements
The difference between you and your friends and neighbors is that you have varying power requirements, whether you are using the solar panel in your home or on your RV.
This depends on how many gadgets will be using solar power and the number of people who require this power.
This means that you have to be on top of your electric energy consumption to know how much solar energy is required.
Total Costs
You may not know it, but the cost of solar panels goes beyond their prices. What does this mean for you? You have a different budget from your friends and neighbors.
In this regard, you have to consider all other involved expenses, including the installation costs and the price of all necessary accessories. Such accessories include batteries and inverters.
Here is the interesting part: you will also need to cater for transportation if the technician you hire is traveling from their location to yours.
Warranty
Like any other devices and gadgets, solar panels may get damaged before you even install or use them.
That means you will have lost your money in the process if you did not take the warranty part of the purchase seriously.
Warranties are there to ensure that you get refunded, or the panels are replaced in case of unintentional accidents.
Besides choosing a panel with a longer warranty period, you should also check out those manufacturers who offer a performance warranty.
Here are the details for Rich Solar warranty – like many they are limited and not for the estimated life of a solar panel;
Solar panels: 5 year workmanship and materials
Portable power stations: 2 year
Solar charge controller: 2 year
Inverters: 2 year
Flexible Solar Panel: 1 year workmanship and materials
For performance, in most cases, manufacturers put the performance warranty at about 80% of their rated performance efficiency.
Panel Size
It comes as no surprise that different solar panels come in varying sizes in today's market.
However, the panel size you choose depends on where you will be installing it.
Rich solar panels are ideal for RVs and off-grid homes, which means you may want smaller panels, but with the same power output.
Durability
Did you know that solar panels are designed to last from 10 to 30 years? However, durability and shelf life are determined by the rigidity of the panel frame.
A rigid frame means that the lifespan of your panels is significantly increased while lowering the overall cost of operating the solar system.
Rich Solar has excellent reviews for its durability. Customers have repeatedly reported their happiness with the craftsmanship of their products.
While at it, consider checking the failure rate of the panels you choose to ensure that they are reliable even in harsh weather conditions.
where are rich solar panels made
Rich solar's head office is in Ontario. Although there is no information to say where their panels are made.
The majority of solar panels are imported from far eastern countries. With the total number of solar panel imports in 2019 as much as 94%.
Are Rich Solar Panels Any Good?
If you are looking for a solar power system that is worth your money, you can never go wrong with a Rich Solar panel.
These panels are created with state-of-the-art technology. As if that's not enough, their durability and sturdiness are unrivaled.
I have used these panels in a number of applications, and you can take my word for it that they are reliable.
It's not just myself that vouches for them, thousands of customers have left positive reviews.
Which are the Best Rich Solar Panels?
As I mentioned earlier, there are different options when choosing the best rich solar panel. However, you have to be sure of what you are going for so that you can get the product that suits your needs better.
Here are the best Rich Solar Panels on the market today. Let's have a look at the specs to see if they fit your needs;
New Rich Solar Panel – 200W Portable Solar
RICH SOLAR 200 Watt 24 Volt Moncrystalline Solar Panel
If you are yearning for a life-saver in the outdoors experience, we have the right product for you.
This rich solar panel is ideal for mounting a recreational vehicle and heading out. You can be certain that, as long as you are within sunny areas, you will not incur any electricity bills.
Besides a recreational vehicle, you can use this system to power your home or any commercial property you may own.
The following are the features, pros, and cons of this product that you may want to consider before purchasing it:
Features
Low-light efficient performance – this solar panel can function effectively in mornings, cloudy days, and evenings.
Built with strong and durable reflective coated tempered glass and an anodized aluminum frame.
25-year limited power production warranty
200w maximum power output.
It weighs about 26.5 pounds.
It measures 58.7 x 26.8 x 1.4inches in length, width, and height, respectively.
It comes with 14 pre-drilled installation holes that rhyme with tilt mounts, ground mounts, Z brackets, and side pole mounts.
Pros
Easy to install
Strong and durable
Can withstand challenging environmental conditions
Cons
Possibilities of damage on delivery.
Complaints of production of higher voltage by some clients.
RICH SOLAR 100 Watt 12 Volt Premium Monocrystalline Solar Panel
Having some way of saving energy costs can be relieving for you. But let's suppose you do not get the right product – how will that playoff?
That is why this product was introduced on the market. The competition has been stiff, but this panel has maintained its top position for different reasons.
Let me clarify that this item is essential in your outdoor endeavors, especially when rolling in your RV.
Here are the features, pros, and cons of this product to help you make an informed decision about whether it fits you or not:
Features
A 12 voltage maximum power outlet.
Durable, thanks to the strong tempered glass and aluminum frame that make up the panel.
Used on different machines.
22.5 v open circuit voltage
Weighs about 15pounds
It measures about 45.5x 20.5 x 1.4 inches in length, width, and height, respectively.
Pros
Easy to install and use
Lightweight
Certified to ensure that it is in compliance with the environmental requirements
Performs efficiently even in low light, including in the evenings, mornings, and during cloudy days
Durable and long-lasting
Cons
It needs a controller to charge some batteries, such as the domestic PLB 40.
Some clients complain the solar system does not charge their batteries.
RICH SOLAR 170 Watt 12 Volt Moncrystalline Solar Panel
Rich solar panels have been on the market for a while, but such is the norm for quality products.
This product is reliable and steady for all your off-grid power requirements.
Take, for instance, if you are camping in a remote area: this gadget will provide you with all the required energy to power your vehicle and other accessories, such as bulbs, a fridge, and a television in your RV.
Features
Efficient performance even in low light
14 pre-drilled installation holes
Waterproof
It measures about 58.7 x 26.8 x 1.4inches in length, width, and height, respectively.
Weighs about Weight: 25.5 lbs.
25-year limited power output and a 5-year warranty for workmanship and materials
Click the image to see more details on Amazon.
Pros
The installation process is simple and straightforward.
You can use this solar panel with both on-grid and off-grid converters.
The pre-drilled installation holes are compatible with Z brackets, pole mounts, tilt mounts, and ground mounts.
Works perfectly in low light during evenings, mornings, and cloudy days.
Durable, thanks to its frame made of anodized aluminum and the tampered glass-coated using strong and high transmission anti-reflective material.
Cons
Adequate ventilation is needed for the panel's efficiency.
Complaints from clients that the power output is way below the rate
It cannot be used with some solar electric systems.
Solar energy has become a viable energy alternative, especially during these times when the world is faced with the potential dangers of global warming.
Rich solar panels have been on the market for quite some time, which is why they are a solid choice for efficiency and longevity.