Maybe you've thought about going solar, but don't really like the idea of all those panels on your roof. Or, your roof faces the wrong direction to house an effective array.
And who wants a big ground-mounted array in their yard? If any of these sounds like you, a solar canopy may enable you to go solar and gain a useful structure in the process.
Shaded car park.
Boat cover.
RV cover.
Shaded pool deck.
Shaded play area .
Anywhere you would like shade is an opportunity to install a solar array in the form of a canopy or awning.
If you have no building skills, there are contractors who specialize in solar canopies.
If you are a DIYer, there are prefab kits available in both metal and wood frame canopies.
If you are hardcore, you can do it all on your own.
A solar canopy is an opportunity to improve your family's comfort while joining the solar revolution.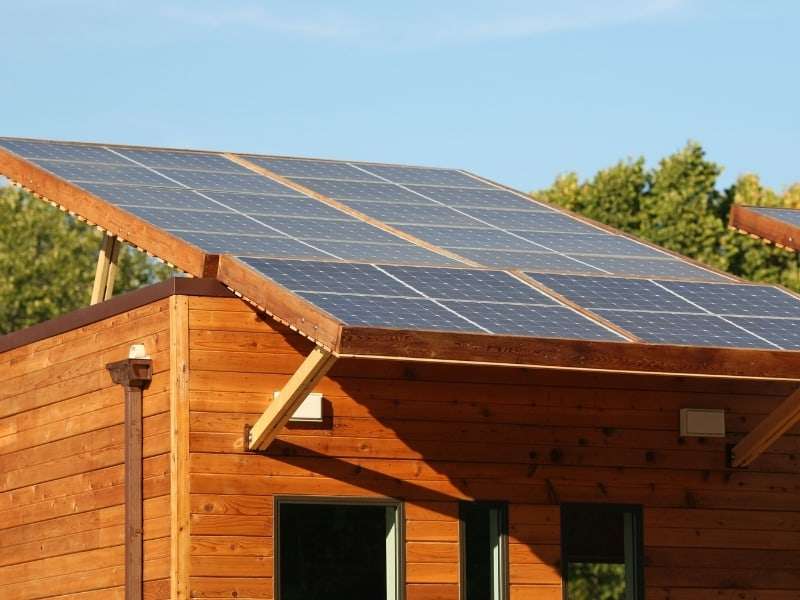 Most Common Solar Canopy Uses
It has become common to see solar shade structures in public spaces. Parking lots are undoubtedly the most common.
Shaded parking provides comfort for customers as well as creates power for the property owner. Office building courtyards and patios are routinely shaded by solar arrays these days.
Such arrays obviously provide power, but also help create cool zones around the structure that contribute to the cooling of the building's interior. This logic can be applied to domestic solar structures.
Covered Parking
A shady spot to park adds a bit of luxury to a home. It provides extra comfort to visitors and provides a shady spot to maintain your own vehicle.
When that shade also produces power it is a double win. A solar parking canopy can also add value to a home.
While a solar car canopy is not a small investment, the return makes it worth the effort.
PROS
Cool parking in hot weather.
Protect vehicles from baking in the sun.
Space for up to 20 panels (6000 watts!) per covered parking spot.
Potential tax credit for going solar.
Utility grid tie programs may help defray costs.
CONS
Single vehicle structure alone can cost upwards of $5000.
Some may consider such structures unsightly.
A solar car canopy is a big investment in going green. The only big downside, like with most solar projects, is the initial investment.
After that, it is all positive. Sell power back to the grid, power your own home, even charge your E-Car for free. Definitely an investment in the future.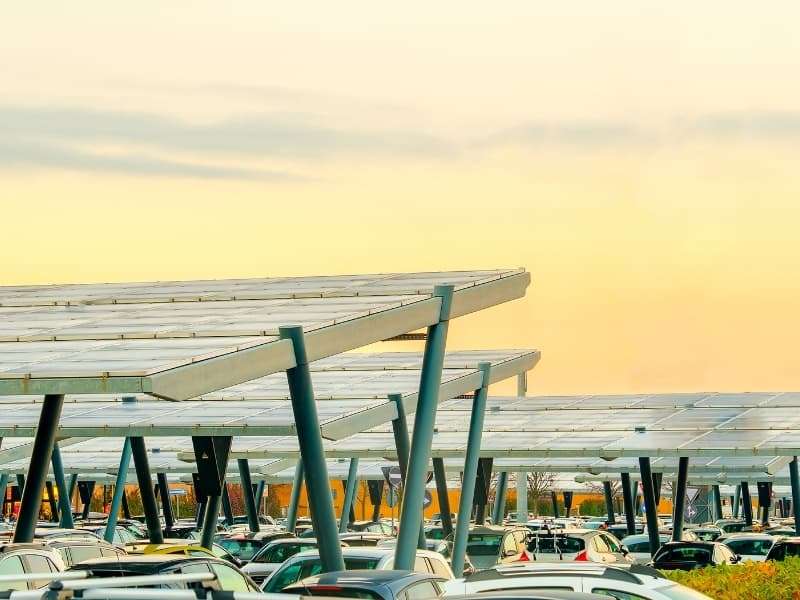 Patio Cover
Outdoor living areas are popular spaces for solar canopies. They provide a cool spot to relax while you make free electricity for your home or the grid.
Reducing sun exposure on the exterior of your home also helps reduce cooling costs. A solar patio cover or pergola is an excellent addition to a home.
PROS
Cool outdoor living while making free power.
Can help keep indoors cooler as well.
Scale-able to meet your needs.
Can be constructed in a louvered pattern to increase airflow.
CONS
Being near a house may cause exposure issues.
Shade will be there in the winter too. May limit natural light.
May not require enough panels for a grid tie system.
Solar panels can be thought of as modular roofing material. The panels can be arranged in any configuration to accommodate the homeowner's requirements.
A single row of panels can create a shallow awning along an entire wall of a home.
Three or four rows of six panels can cover a square patio or deck. Your imagination is the limit when designing a solar canopy.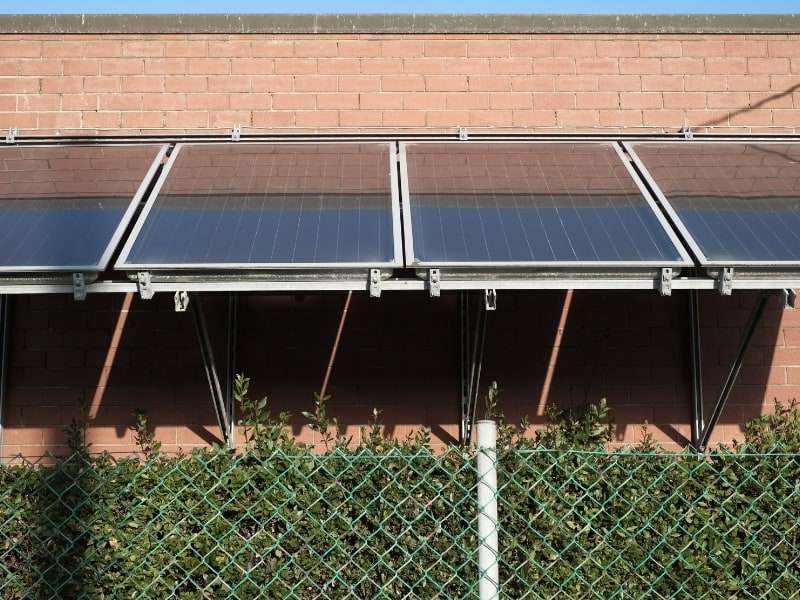 Less Common – But Still Pretty Cool – Places For a Solar Canopy
While shading the house and outdoor living spaces are the most common uses of solar canopies, they are by no means the only places.
Anywhere you would like shade is a good spot for a solar canopy. Some of these areas are quite large, thus suitable for grid-tie or off-grid charging.
Others are small, so are only capable of providing auxiliary power. A smaller canopy is more suited to being a DIY project.
Motor Home or Boat Cover
Recreational vehicles don't get used every day. Even if well used, a boat or motor home spends a lot of time sitting in the weather.
A well-planned Solar Canopy can provide considerable relief from sun, rain, and snow. Due to the size of some RVs and Boat Trailers, an appropriate canopy could consist of over 40 large panels (10,000+ watts !).
Such an array would be a substantial Grid Tie system or a power source for a large off-grid home.
PROS
Large array potential
Scale-able to meet requirements.
Protect RV from weathering.
Investment in property value.
Possible tax credit or write off.
CONS
Big investment ($25,000 +).
Probably not a DIY project.
Requires substantial yard space.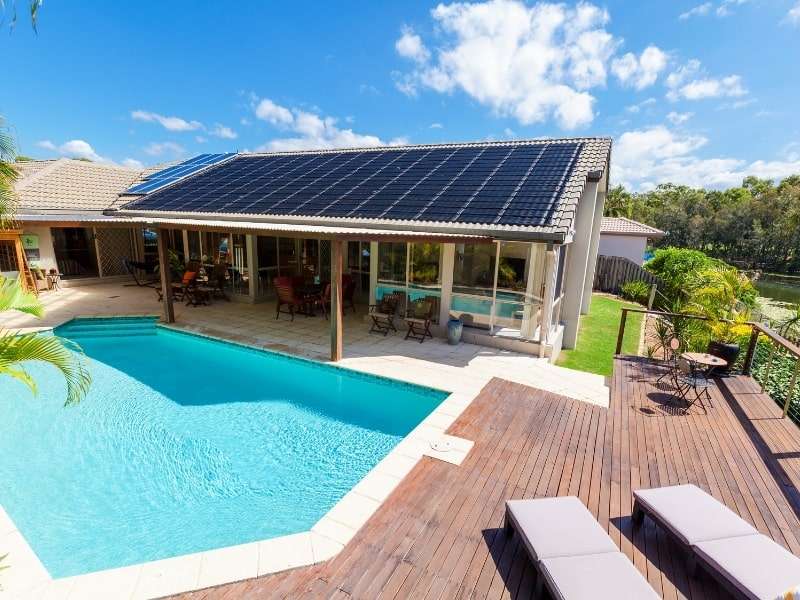 Backyard Play or Work Area
If a shaded picnic table, outdoor workspace, or kids play area is in your dreams, a small solar canopy may fit the bill.
A small array or 10 or 12 panels would provide enough shade to sit out and enjoy nature, play in a sandbox, or work on gardening projects.
Such a small array would not be enough to run a home or qualify for a grid-tie system. It could supply power for fountain pumps, small power tools, or an outdoor entertainment system.
PROS
DIY project potential.
2500 – 3000 watts supplemental power.
Self contained power supply.
Disposable income project. Pay as you go.
CONS
Not Grid Tie scale.
Limited power.
Existing vs New Structure
When considering a Solar Canopy around the home, it is natural to think about converting an existing structure. This option eliminates the "building" portion of the project and greatly reduces cost. However, in most cases a new structure is preferable.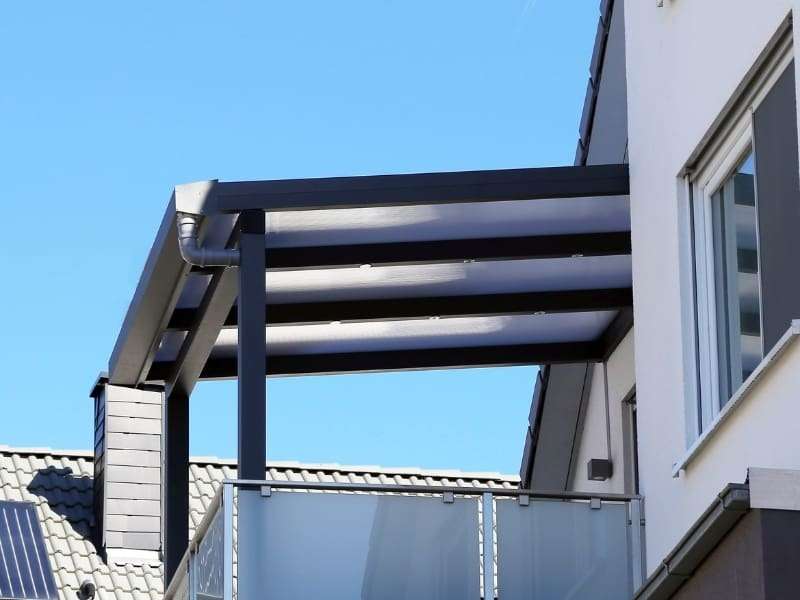 The Trouble With Existing Structures.
While it sounds simple enough to put panels on an existing roof, there are some factors that must be addressed.
The main issue is weight. While a solar panel is not particularly heavy (25-40lbs), several panels begin to represent a considerable weight. Most domestic canopy structures are designed to hold themselves up and not much more.
Some builders even cringe at putting a solar array on a house roof.
Existing structure considerations.
A patio shade designed to hold shade screen will not support solar panels.
A pergola is designed to hold up itself and maybe some mood lights.
One end of a porch cover attached to a house is usually hanging on the house.
While these concerns are generalizations, they must be taken into account before trying to convert an existing structure to a solar canopy.
It would be wise to discuss your plan with an engineer or contractor before bolting a solar array to the roof of your patio.
If your existing framing can bear the load, a solar rack system and some panels can convert your old patio cover into a solar canopy.
The Benefits Of A New Solar Canopy Structure.
Having a task-specific structure designed to act as a solar canopy will give your project its best chance for success.
Information on contractor constructed, prefabricated metal, prefabricated wood, and DIY plans for a variety of solar canopies can be found online.
In every case, homeowner participation can be part of the plan. If you only need a structure, that can be arranged.
If you want a turnkey project, that is available too. Your involvement is essential for the success of the project.
New Canopy Structure Advantages.
Ensured structural integrity.
Optimized solar orientation.
Can provide new functionality to property.
Panel orientation can provide improved ventilation.
An entirely new solar canopy can be a substantial investment. Drawing on the expertise of experts can help ensure the investment pays off.
There are many sources of information online. From local contractors to basic DIY plans and everything in between. Domestic solar is in a boom mode.
There are some resources below to help start your search. Take advantage of the boom and go solar!
Sources