So, you've got a shiny new pool in your garden, and it's ready to show off to all your friends and family – you can finally have the pool parties you always wanted.
Or perhaps you are looking to get one and want to know what accessories you'll need. One absolute must for any pool is a heater to keep it at an ideal temperature all year round. It's fine not to heat your pool in the summer, but once the weather gets cooler, you will need extra help.
After all, you would hate it if someone came to try it out for the first time and jumped in with enthusiasm, only to get a nasty shock when they realized the water was colder than expected.
Having a heater extends the usable season of your pool to much later than it would be without. This is particularly useful in cooler regions where the summer is shorter, so you can continue to take a dip even when it's not too warm out.
As well as weather, the warmth of any pool will also depend on several other factors, such as where it's positioned, how big it's, and how much rainfall it receives.
If your pool is shaded, it won't get as much natural heat as a pool directly in the sun. Likewise, large pools and ones that get rained on a lot will understandably be colder overall.
Best Solar Heater For Above Ground Pool
As you can see, having a pool heater eliminates most of the problems you will face in regulating your pool temperature. Now you're faced with choosing which sort of heater to get.
Various heaters are available, so it's best to make an informed choice: heat pumps, gas heaters, and solar heaters. Out of the three, we recommend a solar heater for all our heating needs.
Above-ground pools are often smaller than pools built into the ground, so solar heaters present the best solution, balancing efficiency with cost-effectiveness.
Below, we explore some of the best solar heaters for your above-ground pool and answer any questions you may have during purchasing.
XtremepowerUS 75070 Pool Solar Panel
This solar heat mat measures 1m x 1.33m and is durable rubber. The particular rubber type is NBR, or nitrile butadiene rubber, which is a synthetic rubber often used for industrial applications in the automotive sector.
It's also used for making protective gloves and is very stable at high temperatures. It has good resistance to oil, acid, and fuel, making it the perfect material to fulfill a whole range of functions.
Because it handles heat especially well, the heater can heat the pool effectively without compromising its quality or safety. You will be able to enjoy your solar heater for a long time to come.
The heater has been tested thoroughly to determine how well it performs when heating water.
See also: Solar Panel for Pool (Complete Guide)
Temperature
Over 2 days, it can raise the temperature of a pool from 20 degrees C to 36 degrees C – a difference of 16 degrees C in total, and certainly a very noticeable amount.
While your pool may start at room temperature, which can be unpleasant for a leisurely swim, it will soon warm up to be more comfortable for you and your family to enjoy.
All that remains now is to make sure you have enough mats for proper coverage, which equates to approximately 75% of your pool volume. You can buy these all together and lay them end to end for a simple setup.
Pros:
Good size and shape to fit most spaces.
Easy to combine with other pieces to suit the size of your swimming pool.
Warms to desired temperature in around 2 days.
Very durable material that will not warp or tear, even in extreme weather.
Cons:
Only the mat is included – you will need to buy a pump separately.
Here is a large solar heater to cater to all your heating needs. It comes as 2 separate panels, each measuring 2 feet by 20 feet.
That's a total of 80 square feet altogether, which is excellent for the money you pay and should be plenty for most above-ground pools up to 31 feet round.
The panels are made of polypropylene, which offers excellent chemical and water resistance, as well as a high level of insulation. On top of that, it's inexpensive to get hold of, so the manufacturer's savings are passed on to the customer.
The panels' strength is obvious, and they make a robust investment.
Temperature
The maximum output of the heater results in your pool increasing by 15 degrees Celsius – this is a significant change that makes it easier to make adjustments.
The heater works from the filtration system you already have, so you don't need to worry about buying any additional fixtures.
It's also incredibly easy to install because it comes with flex hose adapters that you can quickly implement.
The heater can be used on its own or in conjunction with additional panels, which fit together without issue and will be able to heat the pool much more quickly than just one.
Pros:
Offers an extra 15 degrees Celsius of warmth for your pool.
Versatile and can be installed wherever you have enough space – even on a roof!
It comes in 2 individual pieces, which are easier to manipulate than a single larger block.
Tube-on-web design lets the heater harness as much sun as possible, maximizing its efficiency.
Cons:
Requires a pump with a minimum output of 1 horsepower.
Even though it comes in separate parts, it can still be an inconvenient size for transporting.
This is a more unusual design than the other ones we're recommending here; when someone says 'solar heater', you probably think of long, flat panels that take up a lot of room.
However, the VEVOR Solar Heater is made in an innovative dome shape that effectively absorbs heat and warms your pool nicely.
We've already learned how polypropylene is an ideal material for water heating, and it's no exception in this case. The dome cover is made of polyvinyl chloride (PVC) and has locks to affix it to the base.
This part also has the secondary job of keeping out anything that isn't meant to be there, such as leaves and other garden waste.
Temperature
The instructions give a specific range for the temperature increase gained through this heater: between 37.4 and 39.2 degrees Fahrenheit.
This equates to 3-4 degrees Celsius, which is still a substantial and noticeable difference. For best results, it's recommended that you position the dome so that it's facing the sun – the 2 foldable legs included in the package help you to do this.
The heater also comes with all the accessories you need for installation, such as long and short hoses.
A single heater will be sufficient for pools up to 2641 gallons, but it's a good idea to have 3 or 4 of them for large family pools that get a lot of use.
Pros:
More compact compared to traditional solar panels.
The unique design is aesthetically pleasing and makes an interesting addition to any garden.
Includes everything you need to set up the heating system, so there are no surprises during installation.
Cons:
Achieves less of a temperature increase than some other models.
You need to be careful not to let the pressure exceed 0.8 kPa, with a daily air pressure of 35 PSI.
Since you will most likely need multiple units to heat your whole pool properly, Intex has saved you the trouble of ordering extra with its handy pack of 4 mats.
This significantly increases the pool size that one pack can sufficiently service – it will heat pools up to a maximum of 8000 gallons with ease.
It's compatible with various Intex filter pumps so you can use the one that works best for you. The vinyl material makes it flexible yet robust and barely susceptible to wear and tear.
Maintenance is straightforward because you can just wipe the mats clean when you need to, and they are also highly waterproof for peace of mind.
Temperature
This solar heater can raise the temperature of your pool by 5–9 degrees Celsius, but it really depends on the weather conditions at any one time as to how big of a difference it makes.
One of the best things about this particular model is how easy it['s to install, as you just have to hook it in securely and it's good to go.
Along with the mats themselves, the package includes quarter-inch hose attachments, 2 adaptors for a 1.4-inch hose, and a bypass valve.
The exact measurements of the mats are 47.25 inches by 47.25 inches, and they weigh 6 pounds.
Pros:
Easy and quick installation so you can set up the system in no time.
Caters to larger pools than many other models, since there are 4 mats in each pack.
A 30 day warranty gives you confidence in your purchase.
Cons:
Comes with a California Proposition 65 warning for chemicals that could be harmful.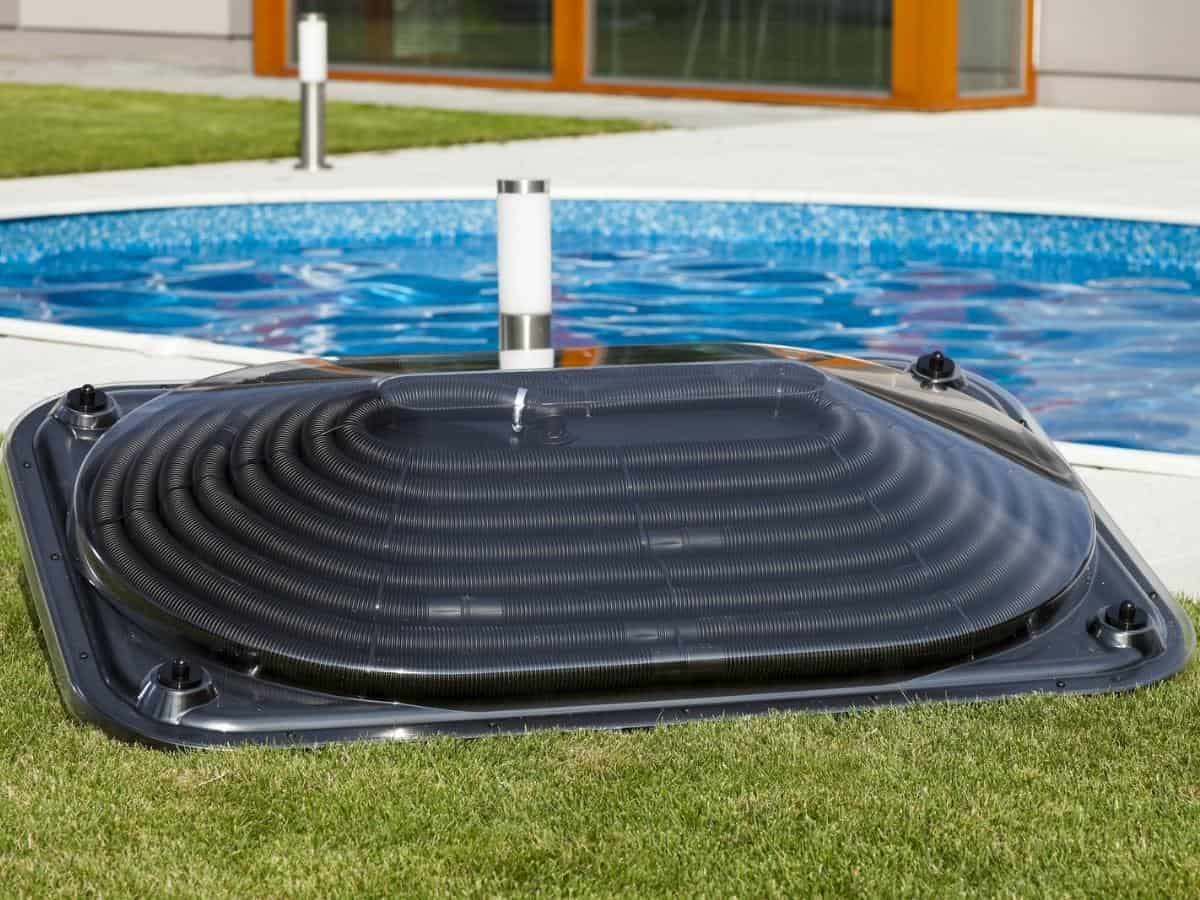 Solar Pool Heater Buyer's Guide
If this is your first foray into the world of home swimming pools, likely, you don't know what to look out for when deciding on a solar water heater.
Below are some considerations you should take into account during this process.
Panels VS Tubes
There are generally two types of configurations for solar water heaters. You will be familiar with solar panels, the traditional form of solar collection that you often see en masse in open fields and roofs.
These usually work best when the panel is angled directly below the sun's rays, i.e. in the middle of the day. After this peak, their performance gradually declines as the day wears on.
On the other hand, solar tube panels contain several individual tubes in a row that each absorb heat.
These have a better chance of staying put rather than getting knocked out of place, and they are overall more efficient.
Both types have advantages and disadvantages. It's just a case of assessing your personal needs.
Instructions
While many solar water heaters are designed for simplicity of installation, you will still need access to clear instructions to talk you through it.
This is because you are unlikely to have done this before, and it's a different process from most DIY tasks.
If you're not careful, you could still get it wrong, which can be expensive to rectify – you may have to get someone out to do the job for you when you weren't expecting to need any outside help.
You can read what previous customers have said about the installation process; even though a review won't necessarily mention if instructions are easy to follow, it will always mention it if they are incredibly confusing.
Operation
This leads nicely into our next point: as well as the initial setup, the overall usability of your solar heater should be high.
There's no point getting everything ready only to discover that you can't make it do what it's supposed to do because the controls are too fiddly or complicated.
The controller will ideally be intuitive to navigate, mainly if you use various electronic gadgets daily.
Also, make sure the heater isn't too heavy to transport to where you need it; the weight will often be included in the product specifications online so you can check before you buy.
Materials
The products we've explored above give you some idea of the sorts of materials solar heaters should be made from to perform well.
They should be durable, strong, water-resistant, UV-resistant, and easy to care for. Therefore, choosing materials for the panels themselves include polypropylene, vinyl, and NBR.
Any accessories also need to be high quality since they help support the heater system; make sure metallic parts are rust-resistant and everything can fit together correctly with no gaps.
Pool Heater Frequently Asked Questions
Why Is A Solar Heater Better Than Alternative Pool Heaters?
As you know, anything solar-powered harnesses the sun's energy to produce useful electricity. This can then be used to power anything, from small electronic gadgets to indoor lighting.
Water heaters are no exception, and this is an especially great use because it takes quite a lot of energy to heat an entire pool.
Therefore, if you use a normal electric heater or a gas heater, it will cost you far more money to access enough electricity. With a solar heater, the electricity comes from the sun, so it's free to collect.
The upfront costs are relatively high, but this will even out after only a short period. It's also a clean energy source, so you can have your pool and care for the environment all at once.
Of course, due to its nature, a solar heater requires consistent sun for optimum performance. If there is a lot of cloud cover, this is not the best condition for harnessing sunlight and you may find your heater struggling to heat properly.
It also needs the pump to run the whole time to keep the water temperature even, and the total solar panel surface area should be roughly equal to that of your pool. This means you have to keep that same amount of space free for the solar units.
These are the potential disadvantages to having a solar heater, but overall, it represents a more cost-effective, eco-friendly, and highly durable solution.
How Does A Solar Heater Work?
The concept of a solar heater is pretty simple, and it works in much the same way as a traditional water heater. There is an inbuilt filter through which water gets pumped to cleanse it of any contaminants.
After this step, it passes through tubes inside the collectors, becoming warmed by the heat already in the tubes. Then, the water flows back into the pool, so the whole thing gets heated evenly.
The idea is that the pump stays on constantly to keep the water flowing at an optimal temperature.
Is A Solar Blanket The Same As A Solar Heater?
It may seem confusing, but a solar blanket is a different product from a solar heater. A solar blanket is designed to cover the pool when it's not in use so that it keeps in as much heat as possible.
These blankets are compatible with any kind of water heater, so you can reduce your heating costs, whatever heating system you have.
They essentially act as a lid, trapping the heat effectively and letting you enjoy your pool for longer.