As solar power is becoming increasingly popular as a sustainable energy source, we have seen more solar inverter models coming onto the market.
Some clever inverters even offer smart home energy management features, while others allow you to track your energy use online.
Although these features are great, it's early days in the development of solar technology and the use of solar home installations.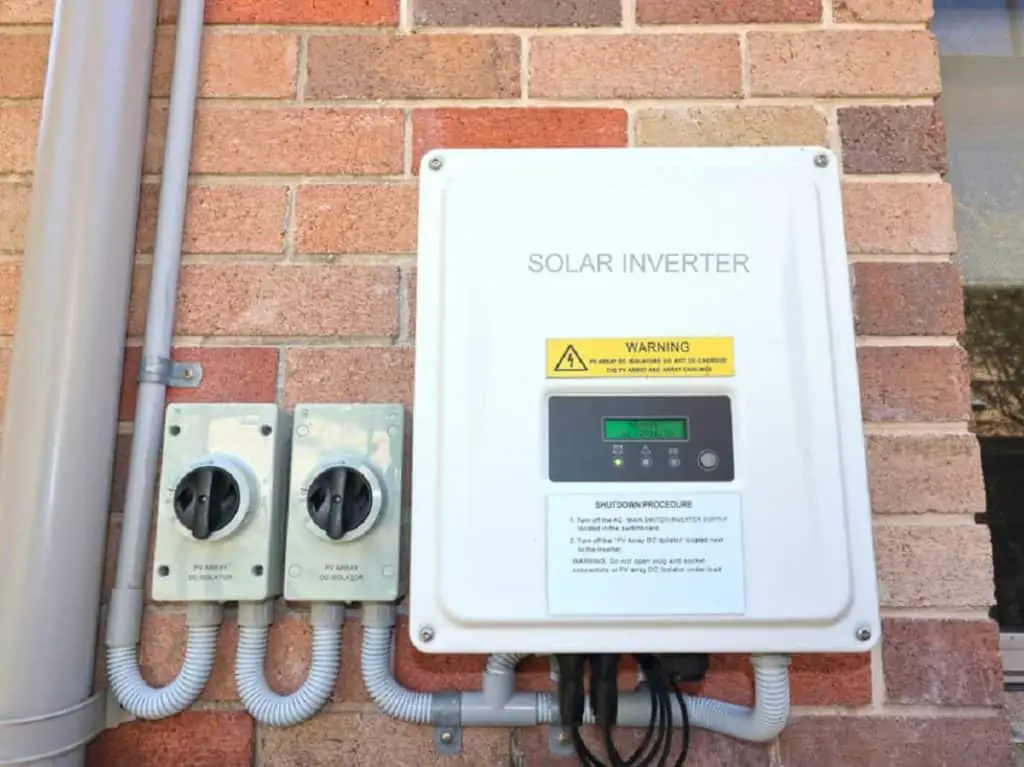 Best Solar Inverters For Solar Systems
Solar inverters are an essential part of every solar-powered system.
Solar panels generate a Direct Current (DC). You need a solar inverter to convert this into Alternating Current (AC), the kind of electricity used for your home and RV.
With the solar inverter being the most complex part of any solar system, it's also the part that is most likely to have problems.
When buying a solar inverter, you need to make sure that your solar inverter is of good quality and durable in all weather conditions, as well as powerful enough to generate thousands of watts of power for your home.
We put together a list of the best solar inverters that keep your solar panels going for longer.
The Fronius Primo solar inverter is consistently at the top of the list for best solar inverters, and very good reasons. It has become an extraordinarily dependable and high-quality residential string solar inverter.
It's easy to set up, service and monitor, and with a range of features, this solar inverter deserves to be our number one.
One feature that makes the Fronius Primo solar inverter a trademark is its active cooling system that ensures the power is lowered when the inverter reaches a specific temperature.
See also: Types Of Solar Inverters (String – Power – Micro)
Quiet
Every solar inverter runs with a fan to keep it cool, which usually generates a fair bit of noise. However, we noticed that the Fronius Primo solar inverter is relatively quiet.
With its slim, small size and integrated DC isolator, the Fronius Primo solar inverter takes up little space.
A snap-in design means you don't have to remove it from the wall. This allows a quick installation and makes it easy to operate.
Another feature adding to the ease of monitoring is its built-in Wi-Fi. You can access any data from the solar inverter through a web app.
The included Fronius smart meter also monitors the electricity produced.
Pros:
An active cooling system with a fan prevents overheating
Integrated data communication so you can monitor your energy
Integrated DC insulator for maximum safety
Very easy installation and operation
Cons:
Although relatively quiet, when positioned right outside a window, it can be noisy
The SMA Sunny Boy inverter has a feature you won't find so quickly in other inverters: Secure Power Supply (SPS). This handy feature offers you a backup power source for any emergencies.
If there is a power outage, you only need to plug into the SPS, and it takes only a few seconds to have a 2,000-watt power source available.
Optimizers
The SMA Sunny Boy solar invert is ideal for homes and small commercial properties. This solar inverter is so versatile that you have complete flexibility over your optimizations.
You can start with the base package and then retrofit some optimizers. However, adding optimizers will remove the inverter's Secure Power Supply functionality.
The SMA Sunny Boy solar inverter has a Cellular LTE modem kit as an alternative to Ethernet and WLAN. You can also opt for an integrated DC disconnect allowing quicker installation and maintenance.
Pros:
Single-phase inverter with 97% efficiency
Lightweight and compact
A free monitoring system alerts users about faults
Cons:
It doesn't have a display, so tricky to install
The 2,000-watt power inverter from GIANDEL is an excellent budget solar inverter. Although it's a little less powerful than other solar inverters, the GIANDEL inverter can deliver an efficiency rating of up to 96% (the power is derived from the inverter's batteries).
This safe-to-install solar inverter comes with a 2-feet long battery cable and a battery charger, which is standard for most off-grid inverters. This feature can recharge the batteries when it's freezing outside.
For temperatures on the other side of the spectrum, the GIANDEL power inverter has a built-in cooling fan that starts automatically when the temperatures climb over 104 degrees Fahrenheit.
This keeps the device cool even in more exposed places, like a garage.
Pros:
Affordable for low budgets A reliable, well-known brand creates it
One-year warranty
It comes with a user manual and customer service support
SALE
Cons:
No remote switch
The inverter's AC outlets are loose
The SolarEdge's HD-Wave inverter offers up to 99% efficiency, and its integrated DC optimizers, coupled with a classic design, make this an excellent choice for all solar fans.
The best feature of the SolarEdge HD Wave is its power optimizers. They allow the inverter to measure and optimize the power output per solar panel.
This means that it will automatically make adjustments as and when needed to ensure the entire system generates good levels of electricity.
Compliant with the rapid shutdown requirements of the latest National Electric Code, the SolarEdge HD-Wave instantly shuts down the inverter's arrays in case of a power outage.
Then the inverter's panels produce less than 1 volt.
Durable
The inverter's temperature ratings are also in line with increased tolerances, so you can trust this solar inverter to work even in extreme weather conditions where the temperatures drop below zero.
You can monitor and check the power via the full-feature monitoring portal. View and control the power production of each panel, and you also detect any faults in the system.
Pros:
A single-phase inverter with lower heat dissipation
Monitor and manage battery storage and system energy
Smaller and lighter than other solar inverters
Cons:
Requires power optimizers
Micro-inverters are slowly and steadily rising as the new stars in the solar inverter market because they are a great alternative to string solar inverters.
Most micro-inverters have the great advantage of having much better system monitoring.
With this, you can monitor the power output of each solar panel separately and optimize the entire system's performance.
The Enphase micro-inverter even alerts you with a warning when one of the panels is underperforming, preventing labor-intense downtime.
Instant Inverter
Like any other solar inverter, the Enphase micro inverter converts DC power into AC, but (unlike many others) it does this immediately.
This is important as the voltage from DC electricity can create an electric arc, which could lead to potential fires. The Enphase micro-inverter prevents arcing from happening.
Another big advantage of micro-inverts is that you don't need to limit yourself to a certain number of panels. This means the panels are less affected by shading and can expand quickly.
Pros:
Extra safety features in line with rapid shutdown codes
Easy to install and set up with a monitoring system, ideal for challenging conditions
Great product quality with a 25-year warranty
Allows for easy system expansion
Cons:
No monitor, which makes installation difficult
Buying Guide Solar Inverters
From budget to features, a range of essential factors might influence your choice of a new solar inverter. We look at what a solar inverter is and how it works.
What Is A Solar Inverter?
All our household appliances that need electricity run on alternating current, and a solar inverter converts direct current (DC) from the solar panel into alternating current (AC).
How Does A Solar Inverter Work?
When the sun shines on your solar photovoltaic system, the sunlight causes the electrons in the cell to move around within the solar panel.
This movement is what generates a direct current that is collected by the circuits of the solar panel. This is, unfortunately, not the type of electricity our homes need, so we need to install a solar inverter.
When you have a solar inverter, the electric energy produced by the panel cells flows into the inverter, and the DC is converted into AC.
You can then use this energy to power lighting and appliances in your home.
However, your solar inverter can do much more. If your solar-powered home system is linked to the power grid, your inverter can connect your home to the electric grid.
Grid Excess Power
That's why solar inverters are also known as grid-tie inverters. This handy system means that your home's power supply is never interrupted, even when your solar panels produce less energy.
When your solar panels produce more electricity than your home needs, the inverter will feed this excess power back into the grid.
On the other hand, when your solar panels don't generate enough power, the inverter will run both solar power and grid power.
These features can work at any time of day, including at night when you don't need as much energy.
Where Should An Inverter Be Located?
An excellent solar inverter should be weather-rated and can be installed outside.
However, installing solar inverters in a shaded and protected location can withstand extreme weather variations much better.
The right location can extend its lifespan and improve its performance.
That's why the life of a solar inverter can be significantly increased by installing it inside, for example, in a garage, under a carport, and out of direct sunlight.
With a solar inverter generating a lot of heat and using power to run its fan to stay cool, it's important to avoid locations exposed to the hot afternoon sun.
If you cannot find a place away from the sun, you can also get a sun cover for the solar inverter to help prolong its life.
Solar panels, like any electric device, can also suffer from weather wear and degradation over time. This can lead to poor performance.
Commonly, a degrading solar panel doesn't result in the shutdown of the entire system.
However, it's worthwhile buying good quality and durable solar panels, together with a solar inverter that allows you to measure and optimize the performance of your solar panels regularly.
Solar Inverter Types
Many different inverters are available for energy and solar storage systems. Here are some of the most common types used for rooftop solar panels.
String Solar Inverters
String solar inverters are the most common type in Europe, Australia, and Asia, but there are growing more popular in the US.
String solar inverters are connected to a line of solar panels linked together in series.
Hybrid Inverters
Also called 'battery-ready inverts', hybrid inverters are very similar to string inverters as you can also connect them to a row of solar panels.
However, battery-ready inverters also allow you to connect a battery storage system, so you are much more self-sufficient with your solar power.
Saying this, they are not designed for full off-grid use, although they do supply a basic level of backup power in case of a power outage.
With more advancements in battery technology, hybrid inverters also become more and more cost-effective every year.
Off-Grid Inverters
Stand-alone or off-grid power systems need much more powerful battery inverters with inbuilt chargers that can be set up as either AC or DC solar systems.
The best flexible, off-grid inverters and chargers (also known as multi-mode inverters) can be used to install a hybrid system connected to the grid.
Micro Inverters
As the name suggests, microinverters, also sometimes called micros, are small solar inverters directly attached to a solar panel.
As each micro-inverter and solar panel work independently, they are a fantastic option for more complex roof layouts and places with more shade.
Micros are more expensive, but they are very popular in North America.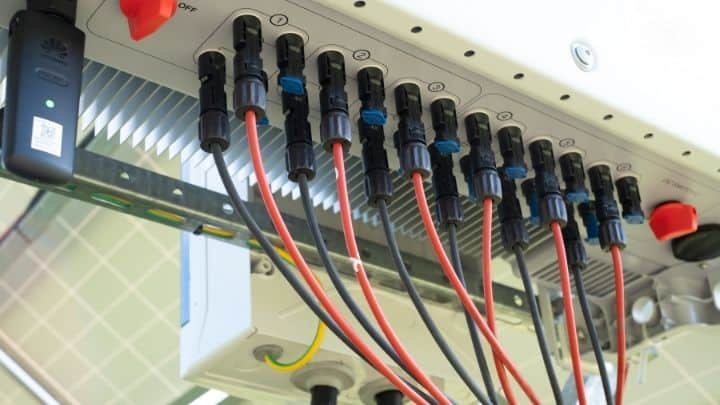 What Are The Benefits Of A Solar Inverter?
Solar inverters can come with a whole host of great features. Here is an overview of all the main solar inverter benefits.
Monitor Your System Output
Solar power systems can produce thousands of watts in a day without a cloud. This is when you, as a homeowner, want to measure the performance of your solar unit.
After all, you want to ensure that your system performs as well as it can and you get the most energy from it.
Solar inverters allow you to check the energy produced, and it's also a way to keep track of the health of your system components.
Some inverters even offer you a mobile app or web control dashboard to monitor power output.
If something is wrong with your panels or the entire system, most solar inverters send alerts to warn you when something isn't working efficiently.
Optimize And Maximize Solar Energy Production
Solar inverters commonly measure and monitor solar array voltage to ensure the solar panels generate maximum power. That's the best option to keep electricity produced as clean as possible.
Inverters also measure the levels of your solar battery bank. If there is too much electricity, the inverter will feed it back into the grid, and you can save some cash with energy credits.
Utility Grid Communication
Solar inverters also prevent power transmission from your solar panels to external electricity lines when there is a blackout.
That way, they don't add any more power to the grid, and line workers can fix the issue more quickly.
Detecting Faults
With the continual use of power in our homes, it's natural that solar equipment and electric wiring wear over time. However, this can quickly become tragic and expensive, causing house fires.
This is a vital safety argument for solar inverters, as they can detect any issues and shut the system down. This means they don't just protect the solar panels but also keep you safe.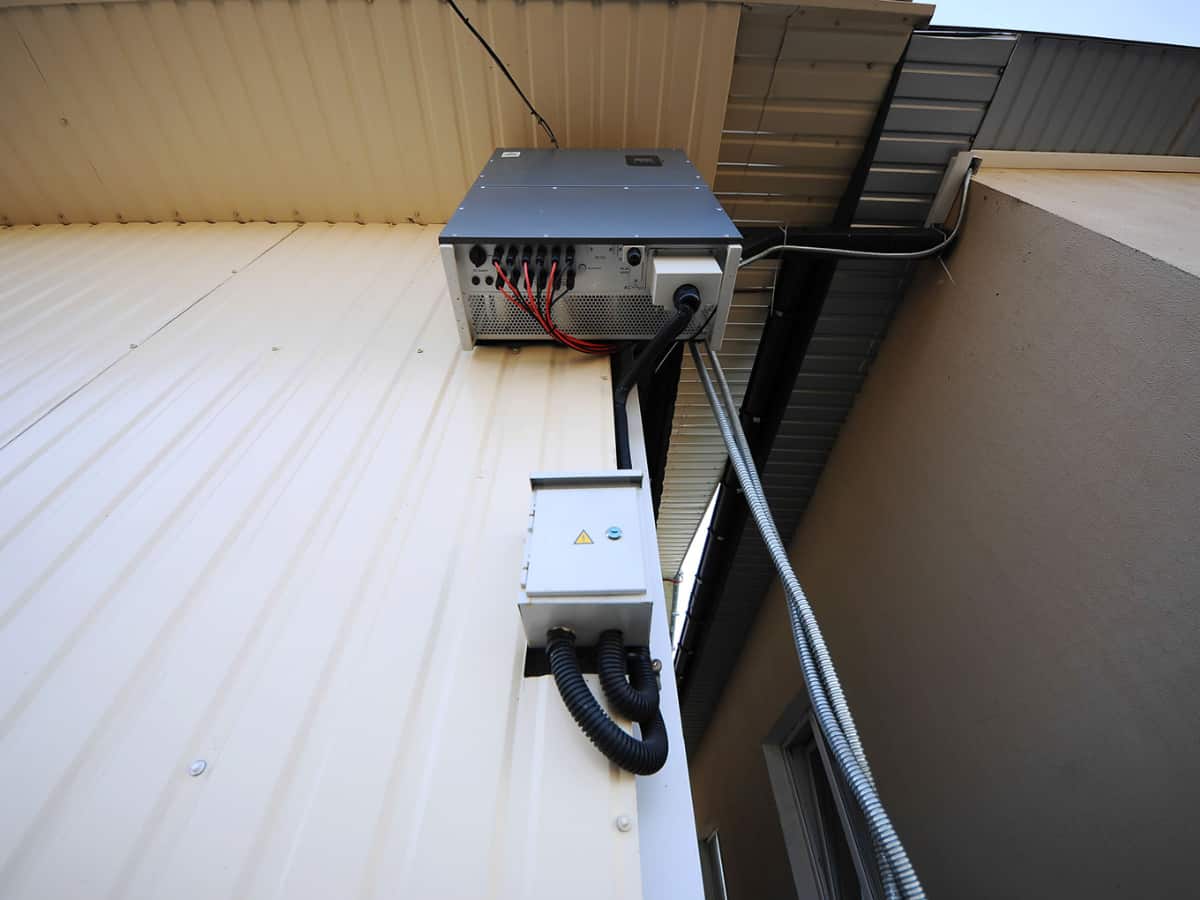 Converter Frequently Asked Questions
How Much Does A Solar Inverter Cost?
How much a solar inverter cost depends on the quality and its features. The more functionality and power you need, the more expensive the device.
The basic string solar inverters are less expensive than off-grid inverters, as off-grid requires a much greater power output.
Do I Need An Inverter With My Solar Panels?
Yes, a durable and good-quality solar energy inverter is integral to your solar panel setup. Solar inverters are essential because they change the DC from the panels to AC to make it compatible with home appliances.
Solar inverters also have other great features; for example, you can monitor and optimize your solar panels' energy output.
How Reliable Are Solar Panel Inverters?
A standard solar inverter can put out around 95-98% electricity. This means the device loses around 2%-5% of the power it converts. Different factors cause this loss, but the inverter also requires electricity to power itself.