Using solar panels to provide power to your mobile home can be a cost-effective measure. Solar panels are also healthy for the environment. Harnessing the power of the sun is a great option when it comes to setting up power for your mobile home.
In this article, we'll explain everything you need to know about powering your mobile home using solar panels, including what type you should use and how much they will cost.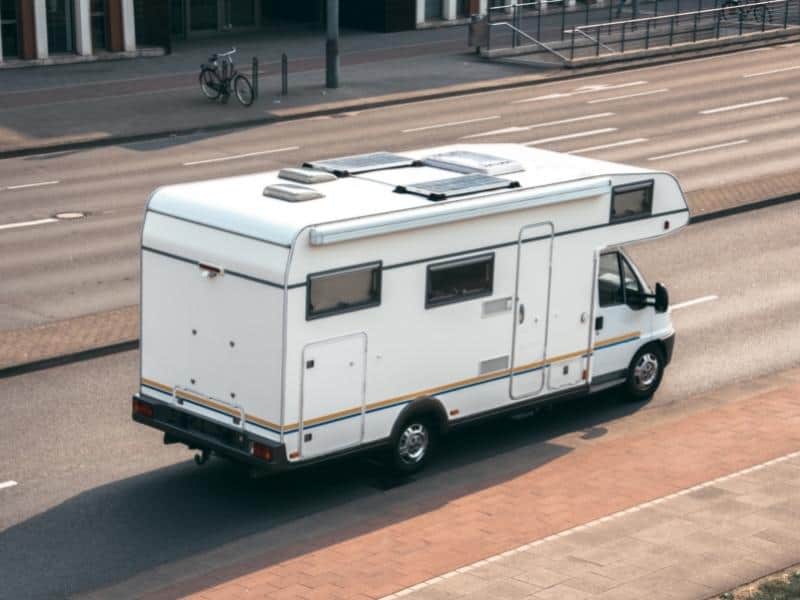 Using Solar Power to Power a Mobile Home
Solar power can be used to provide power to your mobile home. However, depending on the size of the panels and how much power you use, you may also need an alternate source of power. Some mobile home residents combine solar power with traditional electric power.
Solar panels are only able to store power on sunny days. They cannot store power during the night, on cloudy days, or if they are dirty. Since solar panels are limited in how much power they can store, it is important to determine how much power you will need in your mobile home.
Estimating How Much Power Does a Mobile Home Uses
When it comes to energy efficiency, mobile homes use much more electricity than other styles of homes. On average, a mobile home uses 50 percent more power per square foot than a single-family home. Inefficient heating and cooling, along with poor insulation contribute to this.
The amount of power that your mobile home uses will vary based on what type of appliances you are using, how long you are running them for, and the efficiency of the appliances. The average mobile home uses approximately 4400 watts per day or 4.4 kilowatts.
In addition to heating and cooling the mobile home, appliances such as your refrigerator, stove, or microwave also use energy. If you use a television, computer, or any other electronic equipment, this will add to your usage.
Though some appliances or electronics may use a lot of power, they are only used for a short amount of time. Other appliances use low power but run continuously, like a refrigerator.
See also: RV Solar Panel Mounting Ideas (Best Solutions)
What Size Solar Panel Do I Need for My Mobile Home?
Using the estimate of 4400 watts per day, we can determine how many panels you need and what size. If you want a more accurate estimation of your energy usage, you can use an online calculator or calculate this yourself by looking at the wattage of each appliance in your home.
A general rule of thumb is that solar panels will store energy for an average of 4 hours per day. Considering that some days will be sunny for several hours, while others will be cloudy all day, this is a general estimate. If you plan for 4 hours of storage, this gives you a bit of wiggle room.
If you have a single 100-watt solar panel, you can assume that you will get 400 watts per day of power from it, on average. Thus, to get 4400 watts per day, you will need panels that add up to roughly 1100 watts to get all of your power from solar panels alone.
Solar panels come in various shapes and sizes, so you can choose the ones that work best for you.
To get a total of 1100 watts, you could use 11 100-watt panels. Alternatively, you could use five 200-watt panels and one 100-watt panel. Consider the amount of space you have first.
What Kind of Solar Panel Do I Need for A Mobile Home?
Mobile homes are unique in that you generally can't use a standard solar panel on the roof. Standard solar panels are heavy and require additional equipment for installation. The small roof joists on mobile homes are not usually able to handle this much weight.
In addition, mobile homes do not have a permanent, concrete foundation. This also impacts their ability to withstand the heavyweight of standard solar panels and related equipment.
Lastly, depending on where you live, your local building codes may not permit standard solar panels to be installed on mobile homes. These three factors suggest that solar panels are not an option if you live in a mobile home.
You can still use solar power for your mobile home, however. The three options to consider are ground-mounted solar panels, solar roof tiles, and flexible solar panels. Each of these solar power options will vary in price and efficiency.
Ground-Mounted Solar Panels
If you don't have a building on which to put standard solar panels, you can mount these panels on the ground. Typically, the panels will be attached to a metal frame and situated in an area that receives a lot of sunlight. If you have space on your property, this can be a good choice.
Ground-mounted panels are usually more expensive than putting panels on your roof. In addition, building codes will determine whether you can have this type of system on your mobile home property. Even if you have the space, not all places will allow you to install the panels.
Solar Roof Tiles
Another option for using solar power for your mobile home is getting solar roof tiles. Tesla has designed tiles that are similar to roof shingles but have the ability to store solar power. Each tile features a power output of over 70 watts.
Tesla's solar roof tiles are about 17 by 45 inches and only 5mm thick. The weight of these tiles is comparable to standard solar panels, at 15 kg per square meter.
Due to the heaviness of these tiles, most mobile homes will not be able to withstand their weight.
Instead of installing these tiles on the roof of the mobile home, they can be used on the roof of a permanent structure on the property such as a storage structure or other outbuilding.
These tiles are a good option if you have other structures on which to install them.
Flexible Solar Panels
The best choice for mobile homes is to use flexible solar panels. These are specially designed to be lightweight and portable. In addition to mobile homes, they can also be used to provide power on boats, recreational vehicles, and even tents.
Maxeon makes a flexible solar panel that weighs only five pounds and measures 46 by 22 inches. Made of lightweight polymer material and a copper base, they are able to resist corrosion and can stand up to extreme weather conditions.
Topsolar sells monocrystalline flexible solar panels that are easy to install and lightweight. These panels are waterproof and resistant to high temperatures.
Their 50-watt panel is 20 by 25 inches and weighs 2.4 pounds. The 100-watt panel is 20 by 42 inches and weighs under 4 pounds.
Renogy also makes flexible solar panels. They offer a 50-watt panel measuring 26 by 20 inches and weighing less than 3 pounds. Their 100-watt panel is 48 by 21 inches and slightly over 4 pounds. They have a 175-watt panel that weighs just over 6 pounds and is 59 by 26 inches.
SALE
What Do Solar Panels for Mobile Homes Cost?
The cost of solar panels for your mobile home will depend on what type of panel you choose, the size of the panels, and how many you need. Prices may also vary based on your location.
Assuming the average mobile home needs its solar panels to provide 1100 watts, you could use 11 of Topsolar's 100-watt panels. Each panel is priced at just over 100$, so you would be spending just over $1500 in total.
Alternatively, you could choose to go with Renogy's 175-watt panels. You would only need seven of these to provide 1100 watts. At around 300$, you would have a total cost of about $2000.
Is Solar Power Cost-Effective for Mobile Homes?
Yes, while the price might be steep upfront, it will pay for itself if you keep up with it over time.  Let's compare the cost to typically electric power.
The average price of electricity in the United States varies widely. It can be as low as 10 cents per kilowatt-hour in Washington and Idaho or as high as 33 cents per kilowatt-hour in Hawaii. On average though, Americans currently pay just over 14 cents per kilowatt-hour.
The average home uses around 30 kilowatt-hours each day. At a rate of 14 cents per kilowatt-hour, this adds up to $4.20 per day. Over the course of a year, this is over $1500 in electricity costs.
In comparing costs, we can see that the solar panels would pay for themselves after about a year of use. Solar panels would be particularly cost-effective in States that have the highest electricity costs.
Hawaii (33.97 cents)
California (23.76 cents)
Massachusetts (23.32 cents)
Rhode Island (22.84 cents)
Alaska (22.60 cents)
Connecticut (21.35 cents)
New Hampshire (21.17 cents)
Vermont (20.15 cents)
New York (20.04 cents)
Resources