Wouldn't it be nice to have an automatic gate? Wouldn't it be even nicer to have one with solar replenishing the batteries?
You'd be able to make that gate swing open automatically without worrying about the power grid or distance to an electrical outlet.
Here are some points I'll cover on selecting and installing a solar panel for your gate opening system, plus more you'll need to know:
• Benefits of solar power
• Selecting a system
• Energy needs
• Installation procedures
• Leading brands
Using a solar panel is so handy and inexpensive for powering your automatic gates. But you'll be surprised to learn how many factors you need to consider while choosing just the right solar panel for the job. For more information, read on.
Why Should You Use Solar Panels to Power Your Automatic Gates?
Your gate will likely be too far away from an electrical power source for a plug-in. So, you're far better off having an energy source near your gate.
You're worried about any environmental impact your energy use may have, and you want to save money on power. Solar power is the answer to both of those concerns.
You're worried about power outages making it impossible to open your gate when needed. Solar power solves that problem, too.
Before we look at the best systems on the market, let's look at how they work and the parts you'll need.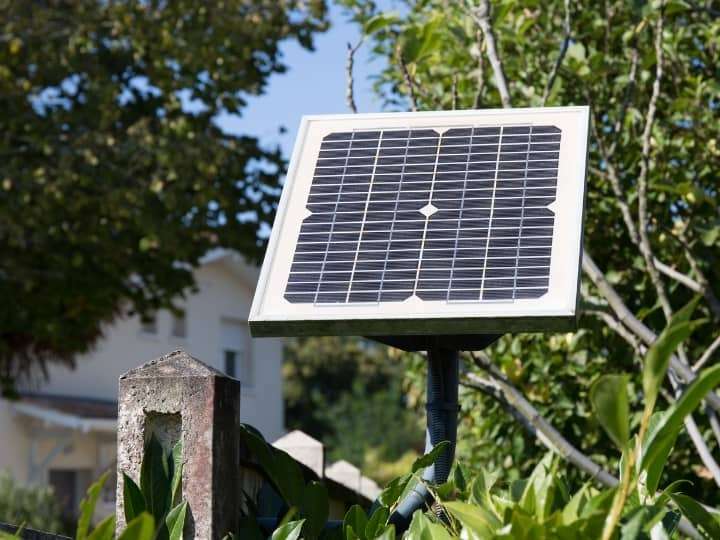 How Does a Solar-Powered Gate Work?
It works exactly like a gate running off the electrical grid, except the solar panel continually recharges the batteries.
See also: Solar Powered Products: Top 10 You Should Invest in Today
What is a Solar Panel kit?
A kit will include a solar panel, mounting clips, steel support beam, wire connectors, and low-voltage wire.
Some kits are designed specifically for gates. They come complete with swing arms, brackets, control panel, batteries, battery charge controller, keypad, and remotes.
Which Solar Panels Work For Gates?
Solar panels generate from 5 watts to 170 watts of energy. They come in 12 or 24 volts DC.
Check the weight the swing arm can handle, the wattage and voltage the swing arm and the rest of the equipment need. Factor in extra for safety.
If you live up north in a cloudy climate, you may have too little solar output for one solar panel. If so, install a second panel. You may need one solar panel per side if you have twin gates.
Also, consider what kind of gate you have. Swinger or slider, steel tubular or wooden. These aspects will affect your choice of solar panels.
Swingers and sliders use different amounts of torque. Steel and wooden gates generally weigh differently.
Hooking Up the Panel, Gate, Motor Arm, and Battery
Mount the control panel, the solar panel support bar, and the battery box to the post to which your gate's hinges are attached.
Attach brackets to your solar panel and to the support bar. Make sure it slopes north so it will be facing south when you slide your solar panel onto the bar on its brackets.
Secure the panel to the bar, attach the cable to the back of the panel, and connect it to the control box.
Install the batteries and hook up all leads to the control box as instructed by the kit. Make sure a battery charge controller is included.
Follow instructions on how to hook it up to your batteries. Your solar panel will now be able to recharge the batteries.
Install all other parts of the gate opening system unless they are already installed.
Make sure the keypad is in place.
It's best to mount it on a post several yards in front of the gate so your guests will have room to maneuver.
Level of Energy Your Gates Require
Check the wattage and voltage requirements listed on your gate kit if you have one. If not, estimate the weight of your gate. Aim towards the high end.
Then, check the weight rating in the specifications of the solar gate-opening kit you are considering buying.
If the weight rating seems low, find another kit that lists a higher rating.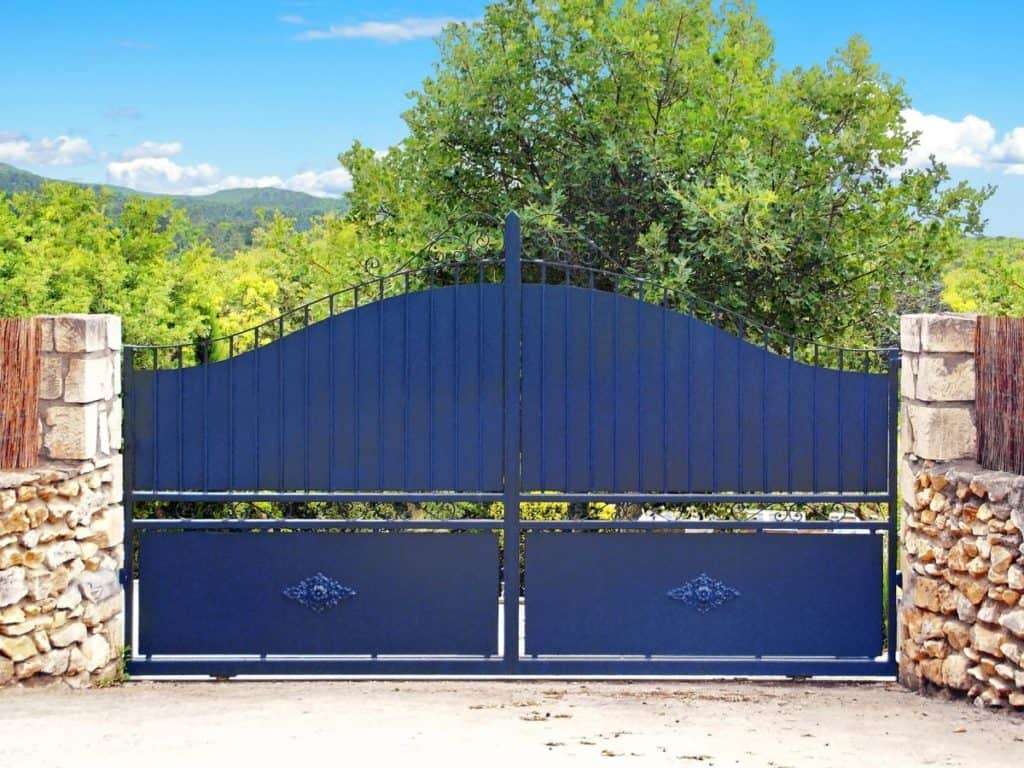 Test, Inspect, and Maintaining Solar Panels
Follow all instructions included in your kit for installation and testing. Do the same for inspection and maintenance.
Testing
Test the system after installing and connecting all components. Test it again after the panel has had time to collect solar energy.
Test the control panel, test the remote, and make sure the entire system works well together.
Test the locking mechanism on the other end of the gate if you need one. Some gates will simply stop where you want them to and won't move unless activated by the remote or the keypad.
Inspection and Maintenance
Check all wires, leads, and control components. Elements corrode over time.
Make sure all moving parts are well-lubricated.
Replace batteries every 4 to 5 years.
Keep elements clear of dirt and bird droppings.
Make sure to remove snow after a heavy storm.
Snow can add a surprising amount of weight to a gate.
Make sure you don't get a bug in your system–literally. Insects can get into the works and foul them.
Troubleshooting
If your system is not working, first check your solar panel. Is it in the shade more often than you anticipated? You may have to engage in some tree trimming.
Is the panel aimed properly? The wind might have nudged it out of alignment.
Test the leads. Some may have loosened. Also, check the batteries for energy production and retention. They may need replacing.
The Best Solar Panel Powered Gate Opener
Bearing in mind the many other factors in deciding on a solar kit for your automatic gates, price, customer satisfaction, trustworthiness, ruggedness, and high quality are also extremely important points to consider.
Purchasing Factors
Warranty
Compare kits. Compare warranties. The longer your solar kit is covered, the better. Likewise, the more components are covered, the better.
Safety Features
A start and stop feature is vital to safety. So is an emergency release. Make sure your kit includes these.
Sun Badger Solar
This company has received over 100 reviews, with the highest marks for its products. Customer service, product quality, and energy savings were cited.
The products are well-crafted and rugged. The company's products come with 25-year equipment and a 10-year workmanship warranty.
Ghost Controls TDS2XP
This company's solar gate openers are designed for dual gates. The kit includes two operator arms, two standard 3-button remote transmitters, a 10-watt monocrystalline solar panel, and all mounting hardware.
This system will work with gates weighing up to 900 pounds and gates up to 20 feet long.
The solar panel will charge a 12V battery, which is not included in the kit. You can purchase separate accessory packs, including a battery box kit. 2 12V 7Ah batteries are included in that accessory pack.
Mighty Mule FM500
This solar gate opener kit can open gates up to 850 pounds and up to 18 feet long. It's a flexible system. It can operate chain links, panel vinyl, ornament iron, and wooden gates.
The kit includes an ABS housing, cast aluminum brackets, and a 10-watt solar panel. It also includes an extra-large control board pre-wired for two batteries and a 120V AC transformer.
This will allow you to connect your gate opening system to the grid if desired.
Safety is incorporated into the system with an auto-close sensor and obstruction-sense technology.
USAutomatic 020320
This commercial-grade gate opener handles heavy-duty farm gates with ease. Its linear actuator provides up to 400 pounds of thrust and a compression rating of 1000 pounds. The gate can be up to 20 feet long.
It's powered by a 6-watt solar panel and a 12-volt battery. Mounting hardware, an AC transformer for power from the grid, 2 LCR dual-button remotes, and a fixed push-button are also included in the kit.
Sources
https://forum.solar-electric.com/discussion/3394/solar-powered-gate-opener
https://howbuild3dsolarpanel.blogspot.com/2021/09/discover-new-video-guide-on-how-to.html
https://ecotality.com/best-solar-gate-openers/
https://www.homedit.com/best-solar-gate-opener/