Solar panels for a van are a great way to charge on the go. While the sun shines you have power and it's set for 20 years.
Pulling power from your van easily drains the battery and puts it under too much demand and it limits what you can do on the road. With solar panels on your van, you can size the system for the power you need – without worry.
We've put together this guide to help you learn everything you need to know about solar panels for vans. Let's find out what size you need, the power generation, and the best ones out there.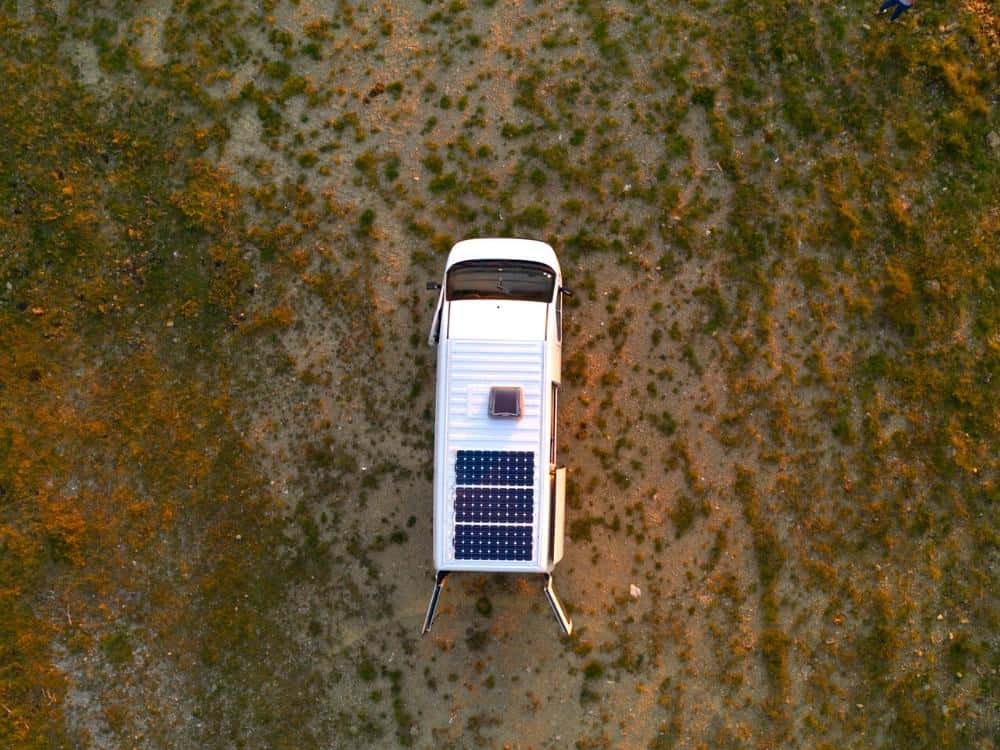 Which Solar Panel Is Best for Van?
The best solar panel for your van, RV, or truck camper is the one that can reliably and efficiently recharge your house battery bank over the long haul.
But which one will do that best? You'll need to choose between monocrystalline and polycrystalline. Monocrystalline panels have the highest efficiency rates since they use the highest-grade silicon. They are also better in low-light environments.
The design of mono panels is continuous crystal. They don't lose as much power over time as polycrystalline panels do. Polycrystalline solar cells will still work just fine for most applications!
How Many Watts of Solar Do I Need for My Van?
The most common way of calculating how many watts of solar power a van needs is by taking 200 watts per 100 Ah (Amp Hours) in your battery bank.
If you're using an inverter with 200Ah deep cycle batteries, you will need 500 Watts worth of solar panels.
See also: Best Solar Panels for RV: Your Ultimate Guide to Optimal Off-Grid Living
How Much Are Solar Panels for a Van Conversion?
You will typically pay between $400 and $2500 for an off-the-shelf kit. If you're trying to minimize your costs, it's also possible to make your system from scratch using second-hand solar panels and components found online.
Their prices can be as low as $100 per 100W panel.
How Much Power Does a Van Life Need?
You can calculate the average daily energy consumption in kilowatt-hours per day (kWh/day). Your van will need anything from a 100 W solar for lights and phone charging to 450 W run ACs, and fridges.
You can do your accurate calculation. Start by making a list of all the electrical devices and appliances you plan to use in your campervan. Add up their wattage consumption to determine how much power you need daily.
Can You Use Any Solar Panel on a Campervan?
Yes, but there are some considerations to keep in mind. Your choice of the panel depends on what kind of weather conditions it will be exposed to (rain, snow, high winds), your location, and how often you plan to move your van.
For example, if it's sunny most days, an amorphous silicon panel would work. If rain or snow covers most days, crystalline silicones may not work well because they need direct sunlight exposure.
You can choose the right solar panel based on:
Efficiency: How much power can it produce concerning its size?
Size and shape: Will the size and shape of the solar panel fit your van's roof?
Durability: How often will you be using your campervan? If it's only occasionally, do you need something with a longer warranty that can withstand years of abuse?
Can You Put Solar Panels on a Van?
You can't just stick a solar panel on the roof of a van and think it will power everything.
Here is what you should do in order to put solar panels on a van properly:
Follow the step-by-step instructions that come with your solar panels, making sure you mount them properly. The goal is to bolt them onto the roof, so they won't fall off while driving. You'll need roof bars for this purpose as well.
Wire the solar panels together, then wire them into your battery bank with a charge controller. Doing this will keep your batteries from overcharging, which can cause damage from high voltage levels.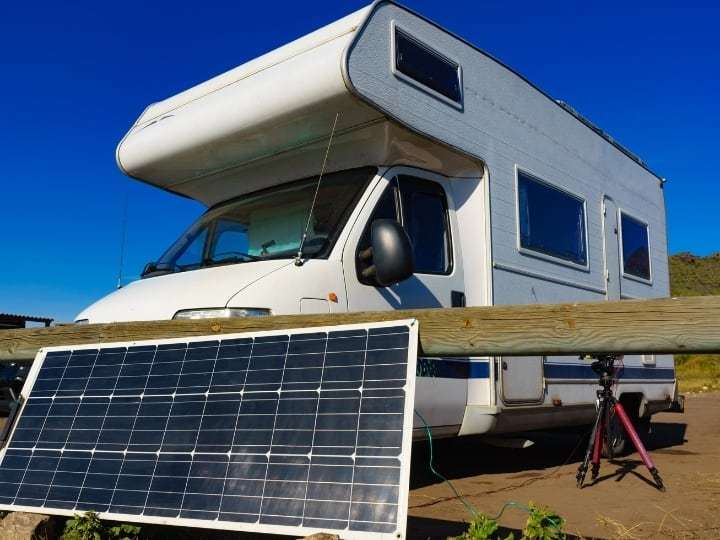 How Much Solar Power Do I Need for My Van?
How you power your van is one of the most important decisions. It can impact how much money you spend, what kind of appliances you can use, and even how long you can live off-grid.
The amount of solar power needed to power a van life fully depends heavily on what type of appliances you plan on running and how often.
How Many Watts Does a Campervan Fridge Use?
If you have a small, 12-volt compressor refrigerator with a capacity of 60 liters, it'll need about 250 watts on average. The larger front-opening fridges with a 100-liter capacity will require around 350 watts of power.
Here's the breakdown:
Portable fridge/cooler – Up to 50 watts depending on your model and size
Icebox – Up to 40 watts depending on your model and size
Small fridge – 150 to 200 watts (12V) or 400 to 500W (24V) for 12 volts systems
Large fridge – 1,000 to 1,200W for 24 volts systems
How Many Amp Hours Do I Need Van Life?
Before you can find out the many solar panels you need for your van, you need to know how much energy (measured in amp hours) you will use in a day.
If you don't have an exact idea of your daily energy usage, there is a calculation that will help you figure this out:
appliance amp draw X total hours of use) / battery voltage = estimated daily use
Suppose your energy usage looks like this:
Fridge: 50 amps
Lights: 24 amps
Laptop: 14 amps
Fan: 12 amps
In that case, you will need a battery with 100 amp hours daily to meet your energy usage needs. For a lead-acid battery (they yield half of their ratings), you will need a 200 amp hour battery for daily energy storage.
How Much Does a 300w Solar Panel Produce?
The amount of electricity a 300w solar panel produces depends on several factors. Most notably, the amount of sunlight your panels is receiving. It's important to note that we are referring to peak sunlight hours.
If you were to install 300w solar panels in Texas, you would be able to produce about 1,800Wh each day (6 peak hours x 300W).
How Much Solar Power Do I Need for a 12v Fridge?
A standard 12V fridge uses about three amps per hour, so a 100 amp battery should last you about 33 hours.
Solar Panels for Van On Amazon
Here are some options to consider when choosing the best solar panels for your van: Some of the best solar panels for vans at Amazon include:
PAXCESS 120W Portable Solar Panel
The PAXCESS 120W portable solar panel is efficient, lightweight, and easy to set up. It comes with a USB port and an alligator clip making it an ideal power source.
You can use it to charge your car, RV, or even your boat batteries. It can also charge the 12-volt deep-cycle batteries, common in RVs and boats.
Dokio is a well-known brand in the portable solar panel industry. Their portable solar panels feature high-quality materials and components.
The Dokio 110W solar panel has one of the highest conversion efficiency rates on the market, which means it can harness the sun's energy quickly and efficiently. The 110W model comes with alligator clips, making it easy to connect to any battery or device.
The Dokio 110W portable solar panel is equipped with a five-stage PWM charge controller, allowing you to track how much power your battery is receiving.
This panel also has a USB output for charging your cell phones, tablets, and other electronic devices.
The TP-Solar 100W Solar Panel is a great panel for those looking to get more for less. The 100W solar panel is flexible, lightweight, and portable. This model is ideal for looking for a solar panel that doesn't sacrifice power for portability.
The module efficiency of this mono panel is up to 17.8%, meaning that it converts more sunlight into energy than many of its competitors.
This panel is perfect for mounting onto your RV or boat, built to withstand the elements. It's also an affordable option with a durable build and great performance.
It has an output of 50 watts at 18 volts, which means that it will charge your battery pretty quickly if you have enough sunlight hitting the panels. If you need something with more power, this model also comes in 100-watt and 200-watt variations.
The Go Power! GP-PSK-130 Solar kit comes with a 130-watt solar panel that is durable, easy to operate, and highly efficient. It is also foldable, lightweight, and easy to store inside your van when not in use.
This kit can withstand harsh weather conditions like strong wind and rain. It features robust latches to keep the panels securely in place.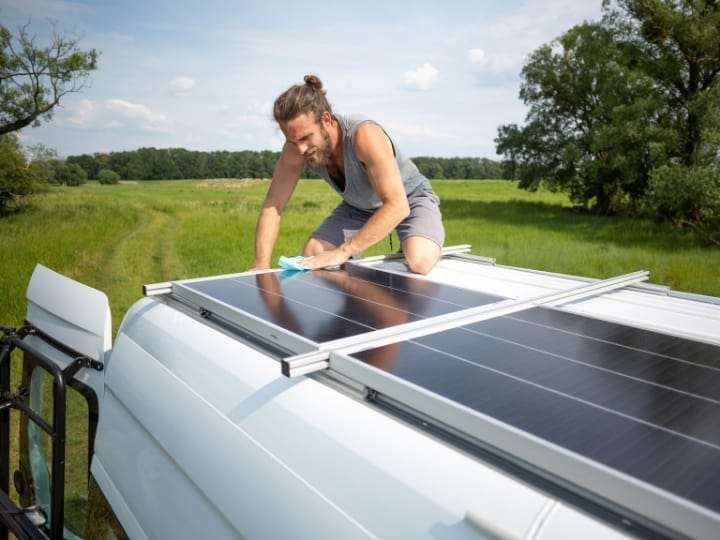 Camper Van Solar Panels
Many campervan conversions install solar panels to keep their batteries topped off. When choosing the best solar panel kit for your camper van, there are a few questions to ask.
How much power will you need? What space and mounting do you have available? What's your budget? We'll go over all of these factors in this guide.
What Size Solar Panel for Campervan
How do you decide what size solar panel for campervan conversion? Look at what kind of load you will have on your system (fridge, lights, laptop, etc.).
Purchase a system based on those needs rather than purchasing more panels than needed. If you have an inverter and a fridge, consider something above 120 W.
300w Solar Panel for Campervan
A 300W solar panel kit will produce more power than a 200W kit, but it takes more space. If you want to be able to move your system around, smaller panels are easier to handle if they are removed from your vehicle or boat.
If you have a large RV or van parked in the same location for several days at a time, a 300W+ solar panel kit will work best.
What Size Solar Panel for a Campervan?
A critical step in choosing the right size solar panel for a campervan is understanding how much power you'll need on an average day.
You can work this out by analyzing your energy usage and then multiplying it by the number of days of travel you expect to do.
200W Solar Panel for Campervan
A 200w solar panel is a great choice for your RV or Campervan. They are affordable and deliver a good amount of energy considering their size. 200w solar panels are easy to install, making them a great option if you don't want to spend much time wiring them.
Flexible Solar Panels for Campervans
If there is not enough space for the solar panels, you could use portable solar panels by putting them on top of the van when parked up.
You need to look at your van and work out where you will put the solar panels and then get some efficient, flexible panels that will fit onto your roof.
They are cheaper than having permanently fitted panels, but they do not work while driving.
RV Solar Panel Kit With Battery
The most common solar panel batteries used in RVs are lead-acid batteries and lithium-ion cells.
Lead-acid batteries, which have been around since 1859, were originally designed for use on submarines by the French government. Today's RV owners use them mainly because they're cheap and reliable.
RV Solar Panel Kit
Solar panel kits typically include a solar panel, a solar charge controller, and a wiring set. The solar charge controller regulates the power from the solar panels to the battery to prevent overcharging.
Are you going to be using your campervan daily for traveling? It may not be feasible to use the campervan solar panels as your main power source. We suggest purchasing a generator to keep up with your energy demands.
Van Solar Panel FAQ
Here are the most common questions and answers about solar panels for van life.
Why won't a solar panel power my fridge?
A solar panel is only able to charge a battery. The battery can then power an inverter, which can supply electricity to an appliance like a fridge. The number of batteries and inverters required will depend on the size of your system and the appliances you want to run.
How many watts do I need?
The answer depends on how many devices you want to run and how much space you have available on your rig. If you use a small fridge, TV, cell phone charger, and laptop computer, you could get by with as little as 300 watts.
What will a solar panel kit do for my RV, boat, or travel trailer?
Solar kits serve as an alternative to running your generator, propane, or 12V battery. They are great for boondocking and keeping electronics charged while on the road.
What comes in a solar kit?
Most kits come with a solar panel(s), charge controller, mounting hardware, cables, and connectors.
Sources