It's the end of summer. You've had a great time out in your beautiful pool, having a blast with friends and family. Many parties have been had, and many moments have been made. It's been such a good time, you never want to see it end.
But, unfortunately, fall is just around the corner. The days will get shorter, cloudier, and colder, and you'll need a solar pool cover to heat your pool up more quicker.
The problem may be even longer if you're in a high or cold area, where the summer seems to pass in the blink of an eye.
But, there is a solution to this – solar pool covers. Or at least, a way to get a few more weeks, or even months out of your pool, before you have to move your good times indoors again.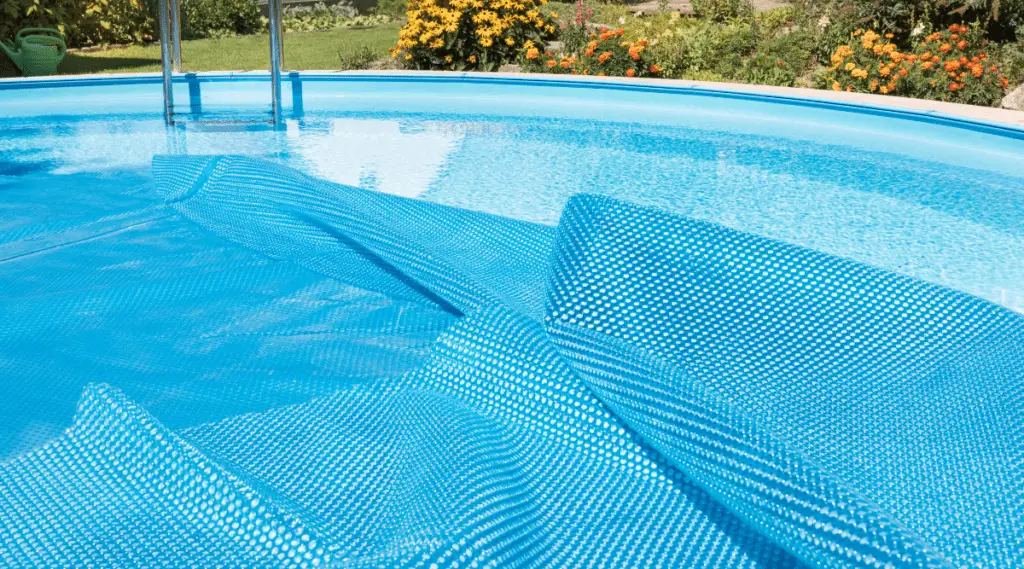 Best Solar Pool Covers
Solar pool covers can absorb the heat they get from the sun in the day, and release that heat they've gathered during the night, keeping your waters nice and warm.
This means if you've had a good spell of whether a little overcast cloud won't stop you from enjoying your pool's waters for just a bit longer.
Plus, it'll save you having to keep your pool warm with a pump or by some other means in those hotter times. Saving you both money, time, and effort. What could be better than that?
To help you find just the right cover for you, we've made this handy buyer's guide to some of the best solar pool covers on the market.
Your above-ground pool cover needs are certainly covered with this Solar pool sheet by Blue Wave products.
With this optimized cover that retains heat for longer, even in non-ideal weather, you be able to swim in your heated pool, even when the skies are overcast and cloudy skies. No need to wait for the sun to show its face with this pool cover!
And thanks to the high-quality solar blanket having such good heat retention, not only will your pool be warm on cloudy days, but the pool-party season is well and truly extended with this cover.
Whilst everyone else is trying to get their pools prepped or emptied for fall, you'll still be good to swim to your heart's content for longer, and warmer than your neighbors.
See also: Solar Panel for Pool (Complete Guide)
Resistant
And don't worry about chlorine or other substances ruining your high-quality pool blanket.
The pool cover is made of a strong UV-resistant polymer, that is well-prepared for dealing with both chemicals and the sun's UV rays. This is a product that is built to last!
Pros
Extended summer swim season – Swim well past prime pool season, whilst still staying warm with this great heat-retaining material.
Chemical and damage resistant – No need to look for a replacement for a while once you have this pool cover. This one is built to last!
Great heat retainer – The sheet's thermal cells trap heat excellently, for when you feel like going for a swim on those cold, cloudy days.
Great at reducing water evaporation – Up to 95% of water and chemicals that evaporate under other conditions are saved with this solar pool blanket, saving you time, effort, and money as well!
Surprisingly flexible – The 8-MIL thickness means that this sheet can be rolled in ways that its thicker competitors might not be. A great design for those who want to take storage in mind with their pool covers.
Cons
Too thin? – Whilst this pool sheet does a great job at keeping heat with its 8-MIL thickness, you might find yourself wondering if a thicker sheet might keep the heat even better.
Buyer's Experience
We found that the sheet works as well as the manufacturer said it would, with the pool we were using it on was kept warm, even on a particularly cloudy day.
And whilst the thinness of the sheet is a concern we have, it also means that it's also light, and pretty easy to take off the pool when we were handling it.
We did find that after a decent amount of use though, some heat retention bubbles had started bursting, though we're not sure if that was due to a chemical imbalance in our pool water, whether it was too strong or not.
Sun2Solar, a brand dedicated to making the best pool cover they possibly can, released their 1200 series of their rectangle solar pool covers. Does it live up to expectations?
Well, the deep blue design is certainly pleasant to look at, especially when it's fitted and covers your rectangle pool.
Plus, the bubble design, coupled with the darker blue color to absorb more heat, is an excellent way of transferring whatever heat the sun sends its way to the pool water underneath.
Provided that the bubbles are facing down, of course. This is a great way of reducing your water loss, and your pool-heating bill, little by little.
Functions
Plus, it functions just as well as regular pool covers at protecting your pool from falling debris and detritus. The tough resin that makes up the material used in Sun2Solar works like a treat for keeping leaves, twigs, and other litter from getting into your pool.
Not only that, but the material is pliable and flexible enough that you'll be able to trim it to fit your pool's shape, in case your pool isn't rectangular. And it won't affect the manufacturer's warranty. How about that!
Pros
Great heat retention – This design, filled with thousands of heat-pocket bubbles made to purpose, create the effect of keeping your pool gently warm, just like the design intends. Just make sure you have it the right way down!
Prevents water evaporation – Chemicals and pool water have no chance of escaping with this solar pool covering. Up to 95% of evaporation is prevented!
Trim to your liking – Are those round edges getting in the way of a good fit for your pool? The material is flexible enough to be cut to your needs, whatever shape your pool might be.
Durable to the elements – Worried about your pool filling with leaves, branches, and all sorts of other trash that you'll need to fish out later? Have no fear! This 16-MIL thick cover is durable and thick enough to stop those pesky bits of nature from falling into your pool.
Cons
Maybe has some longevity issues – With no note on how many years this covering is supposed to last, we have to wonder if that means that it has some durability issues in the long term.
Buyer's Experience
The durable resin and relative thickness of this solar cover made it a little trickier to handle with just one person, but it also made sure that the pool was even warmer than we anticipated when testing for heat.
We can see how this is a popular product with other pool owners, especially since it was fairly easy to cut to fit, but was pretty much impossible to tear by hand, so we're pretty confident that it's as durable as it says too!
We have heard stories from other pool owners of the heat bubbles falling off and getting stuck in their pump systems, though. Whether they were faulty products, or there were issues with the chemicals in their pools, we can't say for sure.
Whilst there are arguably cheaper options on the market, Midwest Canvas's Space Age Solar Pool Cover is definitely built with long-term durability and other practical features in mind.
For a good, practical solar pool covering that isn't going to be a pain to move about and manage? The Netuera's cover will be just up your lane.
Want to spend your time playing in your pool, and less time cleaning out the trash and debris that has fallen in? Then this high-quality sheet will be just the coverage that you are looking for.
Worried that the cover won't fit your pool, and unsure about cutting and trimming up your newly-bought sheet?
Shapes and Sizes
Don't worry: Netuera sells this sheet in a variety of different shapes and sizes, whether that's as squares for your little jacuzzi, or as larger rectangles for your indoor or outdoor pools. You'll find something that is right for your needs.
Plus, if your pool is outdoors, the heat-retaining features that all good solar covering needs are built into the sheet too. Swim in Fall, or go for a hot exercise lap in colder and cloudier weather.
This solar cover will keep your warm water hotter. Plus, it will divert almost all evaporation onto the sheet, and back into the pool, with only about 5% at most. Save your heat, and save your money with this sheet!
Pros
Great choice of options – Square or rectangle. Big or small. Great for trimming, or leaving untouched. You have plenty to choose from with this make and seller.
Great heat retention – Stop that free solar energy from going to waste, by using these sheets to capture some of that precious warmth on those colder ways where you feel like swimming.
Seasonal swimming extender – not done getting into the pool as the cold weather creeps in? With this great solar pool cover, you'll be able to swim for just that bit more before saying goodbye for the winter.
Cons
Can get pricey when looking at different options – Although the smaller price label on the square sizes can seem enticing, make sure you are looking at all the size options first before making a decision. Chances are that the size you are looking for, might not be as much in your price range as you were expecting.
Buyer's Experience
We realized that we would need to cut our solar pool cover down when we got our hands on it. Fortunately, it takes to be trimmed very well with a good pair of scissors. We were surprised at how well it could hold heat as well.
Whilst we were filling and heating our pool, we quickly hit our ideal temperature, actually going a bit above it.
Alternatives Available
This might be a useful thing to keep in mind for other buyers. You don't want to jump into a pool that feels like it's burning you.
Looking for the right solar cover for your smaller set and frame round pool? Intex has you covered, with their round covers for easily set-up pools.
We've talked a lot about solar covers for large, built-in pools, without really mentioning that we want our smaller portable outdoor water baths to keep their heat just as much, especially if they don't have a powerful pump to help circulate warm water.
Smaller Pool
If you have a smaller pool that you set up for the summer swimming season, but still want to keep some of its heat, then this is an ideal piece of kit for you.
Ready straight out of the packaging for your pool, this cover is ideal for easy set and frame pools with a diameter of 12 feet. The reusable packaging allows you to store this solar cover when the time comes for the sun to come out, and the pool to be set up.
With a smaller volume of water, you might be worried that the heat from your water just won't stay in long enough for you to enjoy on a cooler day.
Well, fret no more: This solar pool sheet has pockets that can fill up with warmer air that helps give it a great heat retention rate, especially if you compare it to any of the larger sheets we have discussed so far.
Pros
A great compliment to an easy set and frame pool – For a cover that is just as easy to move and adjust to your liking as your portable pool is.
Great heat retention – Keep your pool warmer for longer with this amazing cover, which also reduces water evaporation by up to 95%
Cons
Only available in one shape and size – If you have a rectangular set and frame pool, or a round pool larger than 12 feet in diameter, you'll struggle to get your money's worth out of this solar sheet.
Buyer's Experience
The bag really saves on the hassle of figuring out where to put the solar cover in the colder times of the year. We also found that its heat-keeping properties were better than they were described, and we saw some pretty high temperatures at the peak of pool season.
Definitely, something you'll want to keep in mind when looking for a smaller round pool cover.
The only concern we had was the quality of the heat bubbles on the underside of the sheet.
The bubbles feel pretty thing to the touch, almost like bubble wrap in some ways, so I'm curious to see how long it lasts with the level of heat it retains.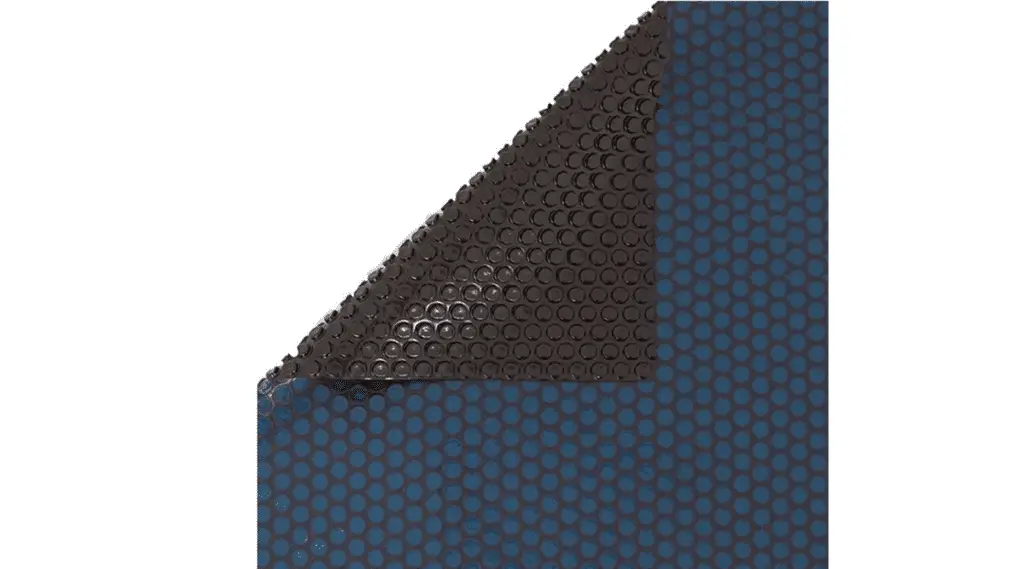 Looking for a reliable way to extend your peak swimming season? Then you need to check out The Swim store and take a look at their In the Swim Premium 12-MIL rectangle solar pool cover.
Made to a large size so that almost all pools can be covered by it, this material that the solar sheet is made from is great for being trimmed.
Simply let it sit over your pool for several hours, ideally a day, so that it can merge better with your pool, then just cut out that merged shape!
The heat retention for this solar cover is amazing. Even without a built-in heater, you'll be surprised how warm your pool can get with just a few days of this sheet being in the sun.
If you, like us, find the ending of summer a tragedy, why not put it off for a few more weeks with this excellent cover?
Material Quality
And the exceptional build quality of the material is thick enough to repel even the most annoying of trash that falls on your pool.
Say goodbye to leaves and branches falling in, this plastic shield is stopping them dead in their tracks from sneaking into your crisp and clean waters.
Pros
Great heat retention – With a boost of up to 8-10 degrees, this solar cheat sheet is great for getting those hot days to stretch their heating just a little further with this handy piece of kit.
Durable and long-lasting – Able to both keep all that pesky nature and other trash off your pool water and stay usable for several years. Why keep looking around every 2 or 3 pool seasons, when you can have this one for 5 to 6?
Great Warranty period – Depending on where you purchase this solar pool cover from, with a warranty of up to 7 years, you'll be well and truly covered with this purchase!
Cons
Getting your right cut can be a hassle – getting your cut right whilst it's on your pool water, whilst also not damaging your heat bubbles in the sheet, is very difficult.
Buyer's Experience
We found that this was a surprisingly easy sheet to handle, especially once it was cut down to the right size, and retains heat better than expected, especially in a colder area.
We have heard problems from other buyers of this sheet about the durability though. In some cases, they seem to be deteriorating a few years sooner than their packaging implies.
Make sure that your chemical balance in your pool isn't too strong, in order to avoid this issue. Whilst it can protect against trash of all kinds, it seems to have a problem dealing with strong chlorine or other cleaning agents in your pools.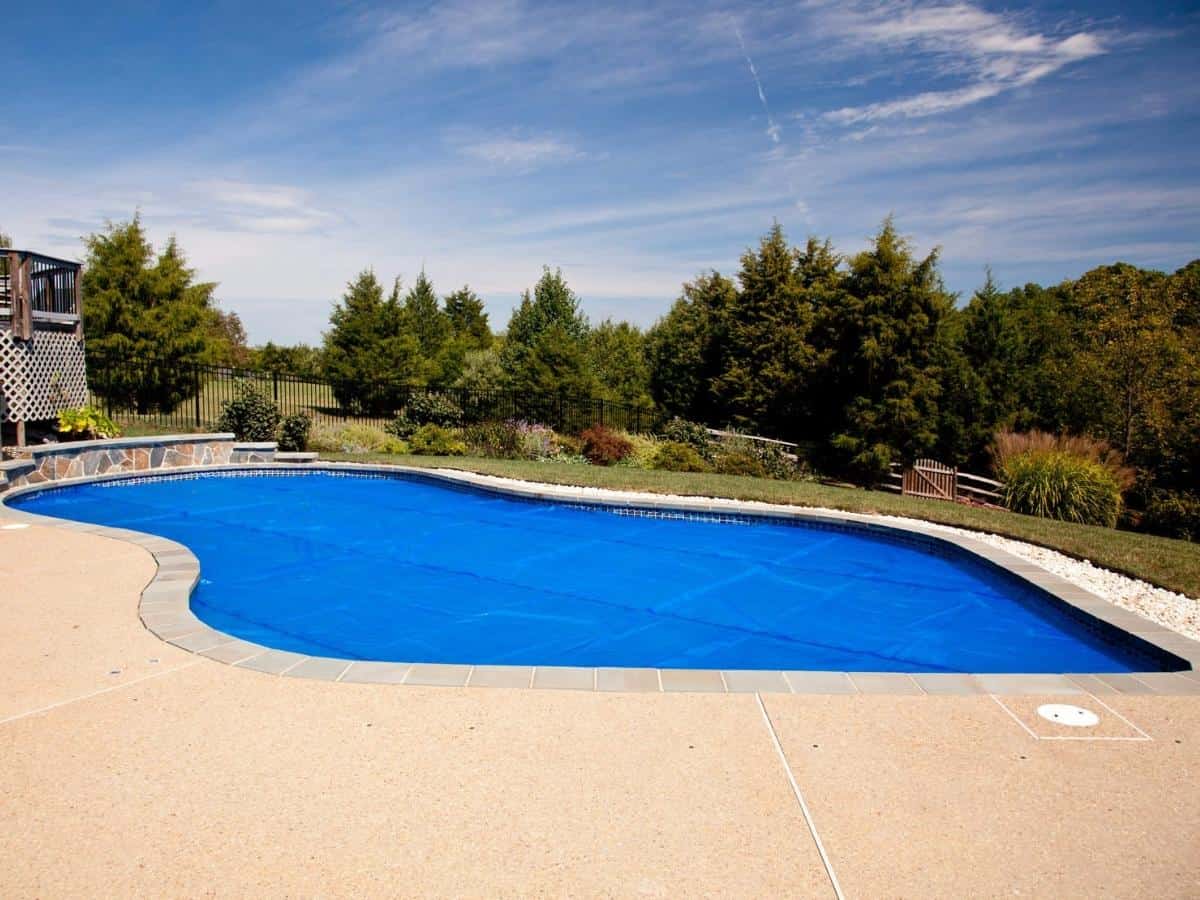 Pool Covers Buyer's Guide
Local Climate
If you live in an area where the nights are particularly cool, but the days are just warm enough, then you should definitely consider finding a solar pool cover.
This will help you get as much of your money's worth as possible. It can be a total pain to have to reheat an entire pool if the hotness it did have escaped overnight. 
It might be surprising, but we have found that color will also matter how heat is kept inside the solar cover. You may have noticed that many covers are a strong blue or black if they aren't a see-through material.
That is because solid colors are better at trapping that heat under them than clear sheets, which allow for UV rays to pass through, but may not retain as much heat in the long term.
If you are in a temperate area, this will likely not be as much of a problem for you.
But if the area can stay cold for days at a time, you may end up regretting buying that clear sheet when you try and take a swim, only to find that the heat has escaped.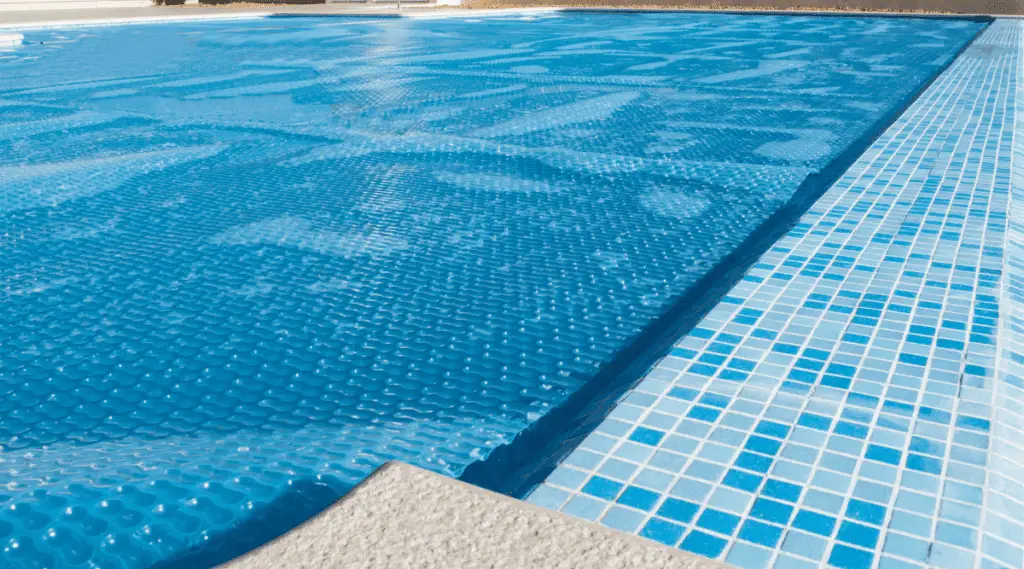 What is MIL?
The abbreviation 'MIL' you might have seen whilst searching online or in this article just refers to how thick your sheet is.
A larger MIL count means that the sheet you are looking at is thicker, and will probably be able to maintain heat and water levels much better than a thinner solar cover for your pool.
However, the extra thickness will become an issue when you try to move the sheet, as it will be heavier than its lower MIL counterparts, as well as more difficult to roll up or fold.
Make sure that you have a good balance of thickness, so you can have good heat retention and an easily movable and flexible cover over your pool.
Solar Pool Cover Frequently Asked Question
Why Shouldn't I Just Use A Pump To Keep My Pool Water Warm?
This is certainly a valid question if you have the resources to spare, or if you live in a warmer area. A pump does a good job of circulating water around your pool, giving you a nice thorough temperature.
However, maintaining your pool heat can quickly become a massive problem on your wallet, especially if you live in a colder area, where that heat will be trying to diffuse out of your warm water and into the cool skies through steam and evaporation.
Not only do solar pool covers stop your water's warmth from leaving, but they stop rising evaporation from leaving your pool.
This means that you'll be spending far less on keeping yourself warm in the water or keeping those water levels topped up, something that even a pump might struggle with on its own.
Even if you already have a heat pump, a solar cover will help keep that runtime down, so it's definitely worth considering.